Fashion e-commerce platform ZALORA ran a customized TikTok Branded Hashtag Challenge in Singapore with excellent results. Here's how they did it.
ZALORA, a hip fashion e-commerce platform in Asia wanted to tap into TikTok's huge audience of trend-setters, by running a campaign on TikTok to drive awareness and new shoppers during its "ZALORA Fashion Festival," and drive new app installs.
To do so, the brand ran a customized Branded Hashtag Challenge in Singapore, supported with performance ads designed to generate buzz and drive app installs. The results were impressive, with over 991K video views, 1.1K+ user-generated videos, and 19.75% brand takeover CTR.
ZALORA's Branded Hashtag Campaign, set to the tune of custom Branded Music, invited participants in the #ZStyleNow Challenge to flash a "Z" hand signal, which would then "trigger the guise of an instant outfit change." This was an opportunity for TikTok users to show off their wardrobes as well as their creativity and "inner fashionista" to their friends and followers.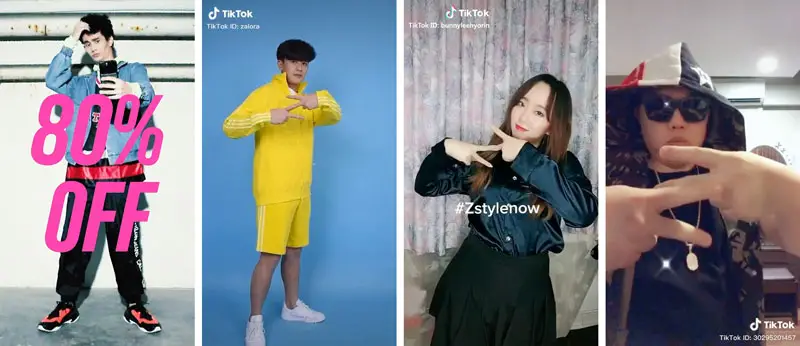 The activation resonated perfectly with TikTok's young audiences, but ZALORA further incentivized engagement and participation with a giveaway of up to $200 in ZALORA products for each winner.
For the campaign, ZALORA ran TikTok's Brand Takeover and in-app banner ads, ensuring higher exposure by A/B testing and optimizing ad creatives throughout. The campaign also drove new visitors to the brand's website, and new app installs. Finally, many participants in the #ZStyleNow Challenge also attended the offline ZALORA Fashion Festival in Singapore and extended the campaign by sharing moments from the event on TikTok.
Videos related to the #ZStyleNow Challenge were viewed nearly a million times in total, with 62K users engaging with the videos that were submitted for the challenge. Furthermore, the campaign helped ZALORA "build genuine brand affinity and engagement, thanks to the overwhelming submissions it received from as many as 1.1K users."
By A/B testing, ZALORA was able to lower the cost of its campaign significantly: Cost per click (CPC) lowered by 54.3%, cost per install (CPI) lowered by 27%.
Finally, the campaign also brought a 19.75% Brand Takeover click-through rate (CTR).
You can find out more here.
---
You might also like
---
More from Featured
--- TIkTok is pulling the plug on TikTok Now, its BeReal clone, a little over nine month after it was first …