Twitter has released its year in review #ThisHappened, examining what kept us entertained and the messages we shared. This is what happened on Twitter in 2020.
Twitter has released a year in review report for over a decade, looking at the trends, the moments, and the memes that dominated; this year is no different. Or, is it? For many, 2020 has been a terrible year – and one we'd rather forget. I mean, even YouTube is skipping its Rewind 2020. Recently Twitter asked its users to summarize 2020 in one word – we all know how that went.
2020 has been "different," so it's a challenge to encapsulate it in any way. As Tracy McGraw, Global Head of Consumer Communications at Twitter explains: "The world saw heartbreaking loss but also tremendous courage. How do we possibly recap a year like this?"
Despite the difficulties we all faced, the world also "conversed, coped, and even celebrated" in 2020 – and everyone did their part. "Twitter was the place where we came together to keep our sanity during quarantine, be forces of change, and yes, still jump in on the latest viral meme," says McGraw.
So… #ThisHappened on Twitter in 2020:
Most Retweeted and top Liked Tweets of 2020
Encapsulating the full spectrum of life in 2020: loss, contemplation, distraction, entertainment, and a dash of humor.
The Tweet announcing the death of Black Panther actor Chadwick Boseman was the most Retweeted of the year – and the most Liked of all time.
— Chadwick Boseman (@chadwickboseman) August 29, 2020
Most Retweeted
Never Not 💜 pic.twitter.com/Ag9oUTJvrN

— 방탄소년단 (@BTS_twt) May 2, 2020
What a headline pic.twitter.com/x8GGKL0VMc

— King Myle$ (@1kingmyles) May 28, 2020
Quarantine day 6. pic.twitter.com/er652Oy3Ki

— jamie (@gnuman1979) March 16, 2020
This Tweet from Andy Milonakis was also one of the most liked posts on Twitter in 2020.
Congratulations to the Astronauts that left Earth today. Good choice

— Andy Milonakis (@andymilonakis) May 30, 2020
Most Liked Tweet in 2020
After the Tweet announcing Chadwick Boseman's death, comes Barack Obama's tribute to Kobe Bryant, who died in a tragic helicopter accident.
Kobe was a legend on the court and just getting started in what would have been just as meaningful a second act. To lose Gianna is even more heartbreaking to us as parents. Michelle and I send love and prayers to Vanessa and the entire Bryant family on an unthinkable day.

— Barack Obama (@BarackObama) January 26, 2020
This Tweet from Macaulay "McCallister" Culkin reminding us all that we're getting old.
Hey guys, wanna feel old?

I'm 40.

You're welcome.

— Macaulay Culkin (@IncredibleCulk) August 26, 2020
Or the now-famous "We did it, @JoeBiden" Tweet, where VP-elect Harris congratulates Joe Biden for his win in the 2020 US presidential election.
We did it, @JoeBiden. pic.twitter.com/oCgeylsjB4

— Kamala Harris (@KamalaHarris) November 7, 2020
Top Hashtag on Twitter in 2020
Surprise, surprise! The top hashtag used this year on Twitter was, of course, #COVID19. The hashtag (and variations of it) was Tweeted nearly 400 million times. #StayHome – the 3rd biggest hashtag of the year – defined the ways in which we lived through 2020.
The second most-Tweeted hashtag this year was #BlackLivesMatter, for good reason. As Twitter explains: "The world mobilized and amplified the need for equality and social justice following the death of George Floyd, who was [also] the third most-Tweeted-about person globally."
#StayHome also brought about the equivalent of more than 7,000 Tweets per minute about TV and movies this year – and the 🛋 emoji went up 40%.
Most Discussed TV Shows Worldwide on Twitter in 2020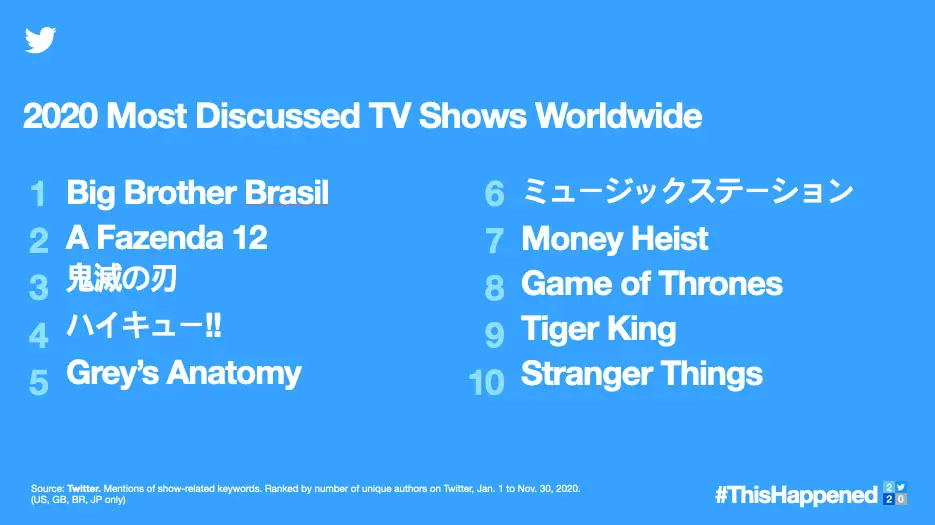 Top Trending Food & Beverage Emojis Worldwide on Twitter in 2020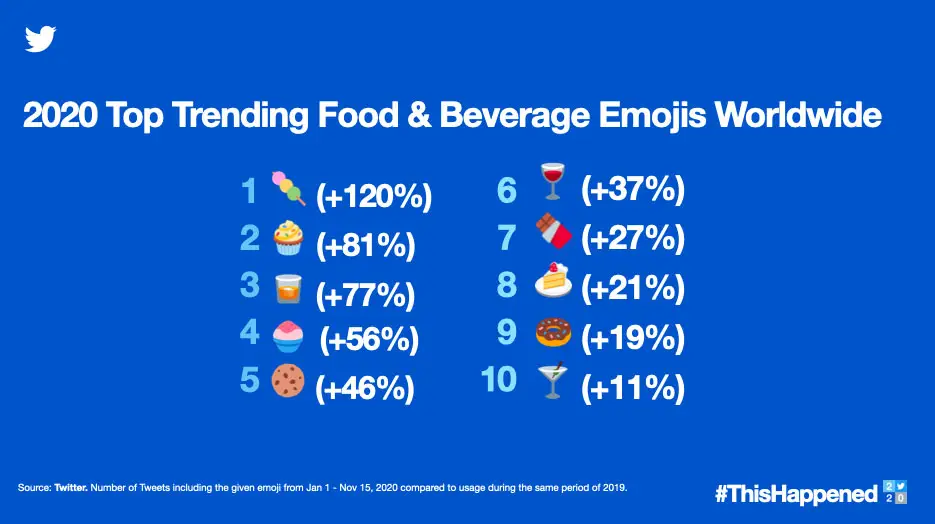 Most Tweeted About People Worldwide on Twitter in 2020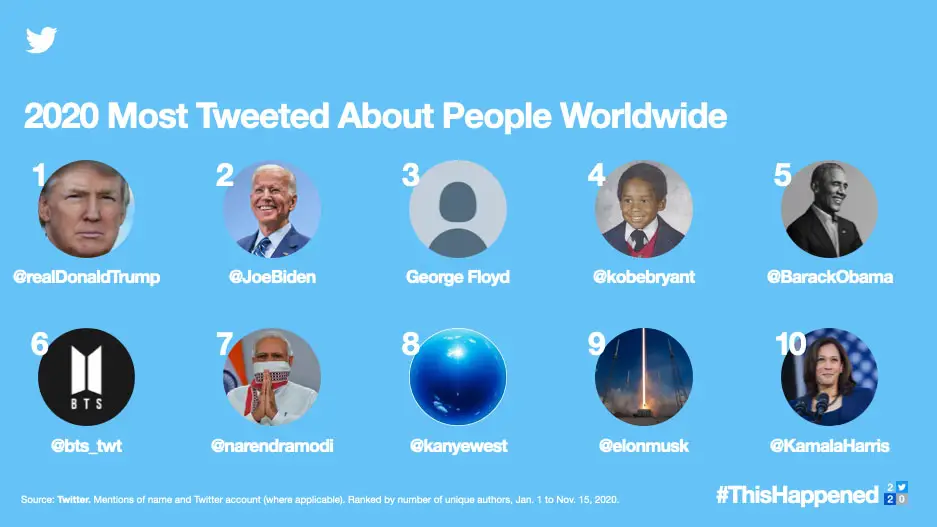 Most Tweeted Emojis Worldwide in Twitter in 2020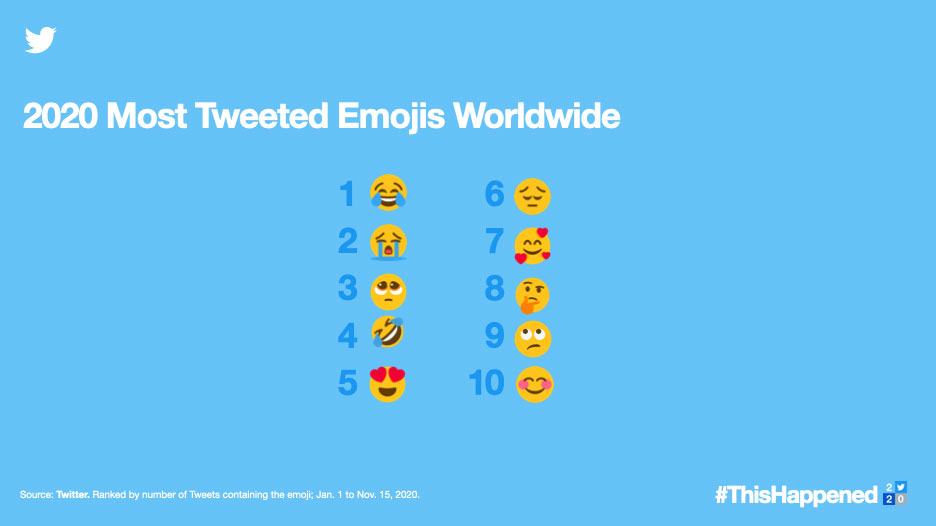 ---
You might also like
---
More from Twitter
---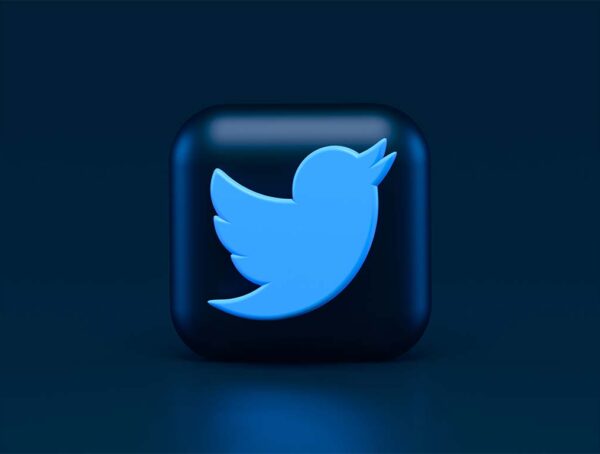 Not only do Twitter Blue subscribers get to edit their tweets, but now they will have up to 60 minutes …