Pinterest is expanding its partnership with Shopify, to 27 new countries, to help more merchants bring their products online.
In the last year, there has been a huge demand from consumers to discover and purchase products online and, therefore, businesses need to be able to get their products online as well.
To help more merchants respond to the growing demand from global consumers, Pinterest is now expanding its partnership with Shopify to many more countries.
The Shopify Pinterest channel is now live in 27 new countries, including Australia, Austria, Brazil, France, Germany, Italy, Spain, Switzerland, and the UK, giving over 1.7 million Shopify merchants an easier way to make their products more discoverable on Pinterest with shoppable Product Pins.
Shopify merchants who advertise on Pinterest through Shopify will get access to a new Dynamic Retargeting feature, for the first time, "which will enable them to re-engage with Pinners who have already expressed interest in their products."
In addition to the above, Pinterest is launching Multi-feed support for Catalogs, which will allow businesses to upload their products in different product feeds within the same Pinterest Business account. Any retailer with a Pinterest business account (Shopify merchants included) can now add up to 20 different product feeds to their account. Each of these, can include specific local data, like a currency, a different language, or local product availability.
As explained by Pinterest in a recent post, with multi-feed support for Catalogs, retailers will be able to "engage more easily with customers all over the world, allowing them to upload a specific feed for each market they sell products in but also to upload feeds to serve different advertising strategies such as prospecting or retargeting."
Small and medium businesses in particular have the opportunity to thrive on Pinterest because they connect with consumers in a positive environment when they are early in their decision-making journey and full of purchase intent," explains Bill Watkins, Global Head of Mid-Market and Small Business Sales at Pinterest.
"With the retail ecosystem profoundly evolving over the past year, we're committed to supporting merchants of all sizes by providing them with a quick and easy access to our shopping features without the need to edit code or deploy resources so they can inspire consumers for what to do or buy next."
---
You might also like
---
More from Pinterest
---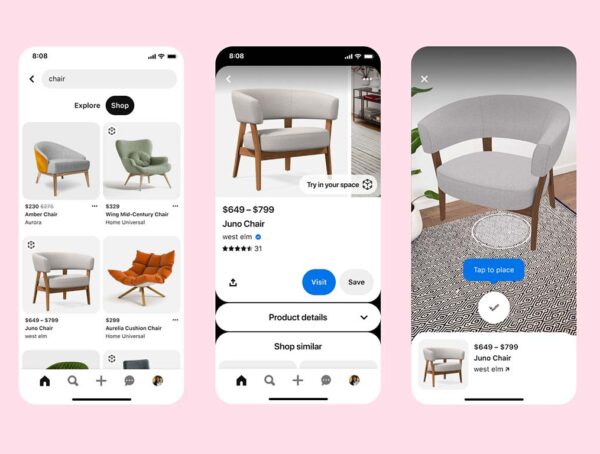 Pinterest is releasing a new AR Lens that lets users see how furniture would look in their homes before buying …