LinkedIn is adding new Sales Navigator features to provide relevant and accurate insights into buyers' interests.
Last week, LinkedIn Sales Solutions announced new Sales Navigator features that let sellers take a more tailored and personalized approach to their outreach.
As virtual selling grows in importance, the new features will help sellers understand and connect with their buyers more effectively in this new world of hybrid work.
The new features are the following:
Account Buyer Interest – uses AI to determine an account's aggregate interest in a specific product and/or services. The assessment is based on key factors, such as employee interactions, InMail acceptances, ads engagement, and company page engagement. Account Buyer Interest helps sellers prospect for new accounts, prioritize their book of business and qualify their target accounts.
Account Map Enhancements – helps users search and target specific buyers, narrowing down Recommended Leads by function. Users can now immediately see what the last outreach activity was, add the Lead to any List, or quickly add a note on the Lead, directly from Account Map.
CRM-Powered Lead Recommendations – helps Sales Navigator AI model an "ideal target buyer." It will do so by analyzing previously closed-won opportunities along with LinkedIn data, to then automatically recommend leads.
Share Lists With Colleagues – lets users collaborate with their colleagues across any Sales Navigator contract at their company. This new feature provides an easy avenue to contact and advance these relationships while collaborating with colleagues.
Referral Program – allows current Sales Navigator customers to refer their networks to try out Sales Navigator Professional for 2 months free. They can provide 10 of their 1st-degree connections with an exclusive extended free trial of Sales Navigator Professional, as long as they have not used any LinkedIn.com free trial in the past 12 months.
User Activation Link – enables Sales Navigator Administrators to bulk invite new users to their contracts without sending emails or having to generate links individually. Located within the Account Center, the Universal Activation Link creates a smoother invitation experience.
Sales Navigator Community – allows customers to have exclusive access to its own community of professionals, the Sales Navigator Community, to discuss subjects like virtual selling, success stories, and best practices.
You might also like
---
More from LinkedIn
---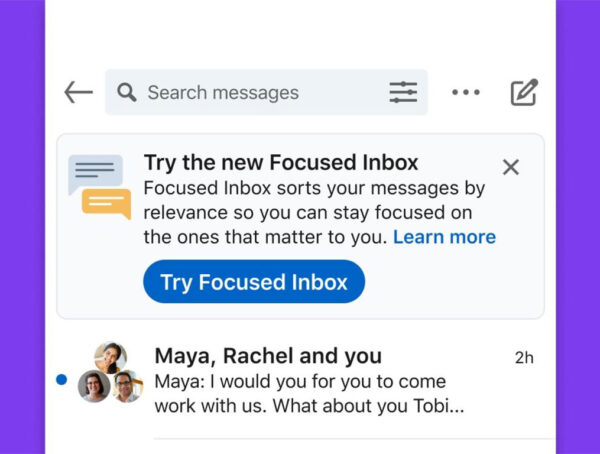 With Focused Inbox, LinkedIn wants to help you engage in the conversations that matter most. LinkedIn is rolling out a new …