Twitter says it is working on a new verification process. But in the meantime, accounts are still getting verified. 
Back in June, it was discovered by reverse engineer Jane Machun Wong that Twitter was working on a new in-app verification request system. The new process is much like what Instagram has on its own app, currently.
In the past, there has been an abundance of mystery and controversy surrounding verification on Twitter, what it means, and who is chosen to be verified. In an attempt to rectify this, Twitter launched a verification form back in 2016. While this did help to bring some people to the surface for verification, the guidelines were still a little murky, and, for some, the form didn't include a module to upload a photo ID.
From the user perspective, there seemed to be no rhyme or reason for the verification of accounts, with glaring mishaps and inconsistencies abound. This came to a head when it was revealed that some forms were set to auto-deny for legitimate users, but somehow known white supremacists got the green light. Twitter responded to the backlash and took action, but they also paused the verification program while they regrouped to come up with a better system.
In the meantime, though, accounts are being verified. Some were obviously in need of it, but there still seems to be some kind of backchannel to verification that can only be accessed by some form of social media sorcery.
It wasn't long after the article about my study on the algorithm of Twitter's previous iteration of the verification process was published that I received a message from a verified journalist @TheHarryCherry (who is now someone named Ally, yet is still verified). He claimed, as shown below, that his publication had contact with Leslie Berland, Twitter's CMO. According to him, she was the one who got him verified. In her bio, however, she claims that she has "no power to verify."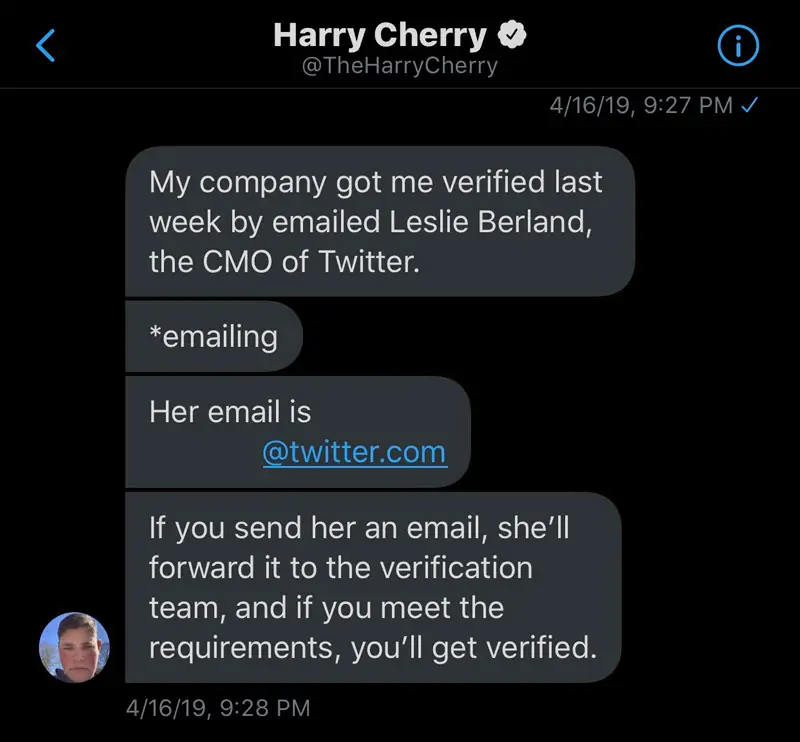 There was no response from Berland when asked for a comment.
So, if it's not Berland pushing verifications through, then who at Twitter is verifying accounts? This exchange can only mean that there is an alternative tool for communication that some people have and others do not, which doesn't seem very transparent and actually goes against what Twitter's official guidelines are stating verification is for: purely confirming identification. Of course, there is going to be some question about the intent of the badge if the process is so opaque and there is a super-secret gateway into the world of having a valid identity online.
Hopefully, with the new system set to be released at some point by Twitter, the focus will be on transparency and providing clarity, as they promise. There are many qualified people on Twitter who have fallen through the cracks because they do not possess a connection to Twitter staff to bump up their requests or have them even looked into at all. If being an MTV VJ and personality for decades, or being the first to activate an augmented reality art gallery in space isn't enough to be verified, then what are the guidelines?
We will find out soon if Twitter has once and for all fixed their verification system.
Source: D. S. Bradford (a.k.a. David Bradford). David keeps a watchful eye on technology and social media. He is an artist currently working in the augmented reality medium and is the first person to activate AR art on the International Space Station. He has written for The Next Web, Buzzfeed, and other publications. As a motion graphics designer and animator, he works with Evil Ink Records, BOOM! Studios, and Serj Tankian. Bradford is also a freelance web designer and app developer.

---
You might also like
---
More from Experts Talk
---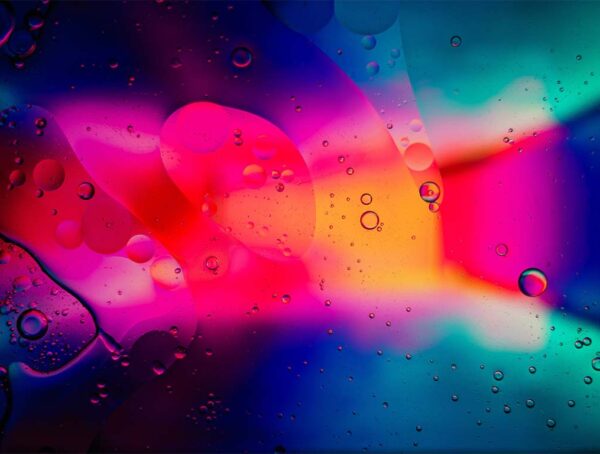 In this month's experiment, we set out to find out whether adding custom alt text on Instagram posts improves reach.