Google has announced a new feature in Google Calendar that lets users visualize events that are shorter than 25 minutes.
All meetings are not created equal, but if you use Google Calendar to schedule everything and organize your life, you'll have noticed a little issue. Up until now, you've only been able to visualize meetings or events as 30-minute increments in your daily calendar – whether it's 15 minutes or 25 minutes, it still takes up a 30-minute slot.
Far from ideal if you're a fan of short meetings.
Google is fixing this, now, with the ability to better reflect the true duration of events in Google Calendar, thus taking up less space in your daily view. The change will also appear within the printed version of your calendar – if you print it that is.
Shorter events will now be displayed as such in your calendar, making any schedule easier to understand and manage.
The new feature is rolling out to all G Suite customers for the time being – on Rapid Release domains within 1-3 days starting July 7, 2020, and on Scheduled Release domains within 1-3 days starting July 21, 2020.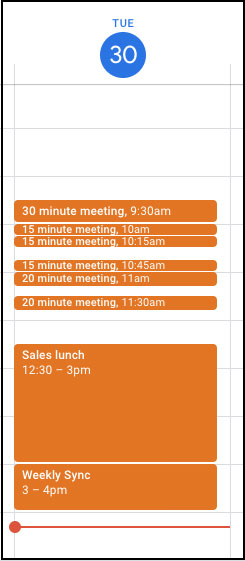 There is no admin control for this new feature, but end users can turn it OFF if they like. When it rolls out, it will be ON by default and users will be able to disable it in their account settings under View options: "Display shorter events the same size as 30-minute events."
Google says that it will be turned OFF by default for accounts in Arabic, Chinese, Japanese, and Korean, "to maintain clear legibility of characters."
---
You might also like
---
More from Google
---
Google is launching Product Studio, a new tool that lets merchants create product imagery for free, using generative AI. Google Product …