Apple has kicked off its Entrepreneur Camp for Black Founders and Developers, announcing 13 companies that will take part in the first cohort.
As part of its commitment to empowering the Black community, Apple has launched its inaugural Entrepreneur Camp for Black Founders and Developers and is welcoming the first 13 app companies to the program this week.
The program was created to let developers use their current experience with apps and master new technical skills through a variety of "hands-on technology labs, one-on-one code-level guidance from Apple experts and engineers, and mentorship, inspiration, and insights from top Apple leaders."
The move comes following Apple's first-ever Entrepreneur Camp in 2019 – "an immersive tech lab for app-driven companies founded and led by developers from underrepresented backgrounds, with a class of women founders and developers."
The first program's participants found much success as a result of taking part, with many securing funding rounds, receiving awards for their work, and growing their teams and app users around the world.
Further to the above, Apple is also partnering with Harlem Capital, a venture capital firm based in New York specializing in early-stage startups and investing in diverse founders. As part of the partnership, the company will offer guidance and mentorship to the cohort's participants. The partnership is part of the tech giant's $100 million Racial Equity and Justice Initiative (REJI), which aims to advance "racial equity in education, the economy, and the criminal justice system."
"These incredible app creators and business leaders embody the entrepreneurial spirit that runs so deep in the Black community," explains Lisa Jackson, Apple's vice president of Environment, Policy, and Social Initiatives – who also leads REJI. "Their work already demonstrates the power of coding to build a better world, and we're honored to support them as they blaze a trail we know so many more will follow."
The companies announced as part of the first cohort are:
B3am
An app founded by UK-based David Bosun-Arebuwa, that makes gym equipment accessible to fitness enthusiasts who aren't able to afford personal trainers. The app helps them use the iPhone camera to identify gym equipment and explain how to use it properly.
Black
Built by self-taught coder Adam Taylor, Black is an app that facilitates "culturally relevant and multifaceted news for Black people, with stories that speak to the community's shared experience."
Bar Exam
Co-founded by Los Angeles-based Cedric J. Rogers and Shaun Newsum, Culture Genesis is a digital studio that remixes "technology for urban multicultural audiences." They are the creators of the hip-hop live trivia game show app TriviaMob. They will use their time at Camp working on their latest music app – Bar Exam.
Film3D
Founded by Abdou Sarr, a 22-year-old Senegalese-Canadian, MODU RESEARCH Corporation will work on its app Film3D, which taps Core ML, ARKit, and Metal to help its users shoot 3D photos without having to use any special equipment.
FormKey
Raleigh, NC-based Polyhedra LLC founder, Brent Brinkley, created FormKey – a MIDI Controller app that uses shapes and colors to help users create music without needing to understand "the complexities of theory and composition."
Health Auto Export
Barbados native, Lybron Sobers (now living in Malmö, Sweden), created Health Auto Export, an app that lets patients easily share medical data with various healthcare providers, securely, and privately.
Hologarden
Self-taught Swift developer and avid gardener, Casey Pollock, is working on an app called Hologarden, to use AR and AI to help new gardeners "flourish." The app records plant growth and manages plant care and health.
Hubli
Created by five students in Brazil – Ailton Vieira, Gabriel Taques, Maykon Meneghel, Mariana Lech, and Rodolfo Diniz – Hubli is "a remote learning solution born out of the COVID-19 pandemic-related challenges of in-person education." The app is currently in beta testing, and uses AI to enhance the learning experience for students and teachers.
Justice Royale
Justice Royale is a game that uses gestures as part of its fast-paced arcade-style gameplay. Zapling Studios, the company behind the game now focused on updating the game, adding local and online multiplayer capability, and making the experience more immersive with ARKit.
Kickstroid
Kickstroid was built by founder David Alston and his team, to help sneakerheads discover shoes. Filled with features that can't be found elsewhere, Kickstroid is "a platform to build community among sneakerheads worldwide."
Nailstry
Aurelia Edwards created Nailstry as the first marketplace for press-on nails and nail art. The app connects indie artists with press-on nail enthusiasts – and uses AR to measure and create custom-fit press-on nails, improving inefficiencies in the creation process.
The Peek: TV Shows and Movies
Started as a senior class project for Howard University graduates Ashley McKoy, Harold Lomotey, and Ositanachi Otugo back in 2018, the Peek: TV Shows and Movies app is a mobile-only social platform that lets users share TV and movie recommendations with family and friends, "while also seeking to amplify titles from Black creators and actors."
TuneBend
After opening ShapeShifter Lab in Brooklyn New York, Matt Garrison created TuneBend, an app that helps users create, teach, distribute, and sell music through video and audio clips. TuneBend is particularly useful for educational organizations and performing artists.
---
Image: Apple
You might also like
---
More from Care
---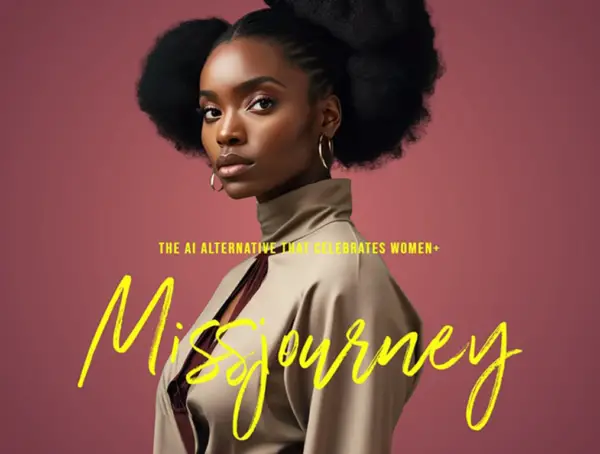 Missjourney is an AI tool that generates images exclusively of women, from CEOs to leaders, superheroes, doctors and engineers. TEDxAmsterdam Women …