Armed with a cheeky stock profile photo and razor-sharp wits, the Facebook Page "Customer Service" is finely tuning the arts of satire, parody, and internet trolling for the 21st century.
Two comedians are causing a ruckus on Facebook that (almost) everyone is enjoying the crap out of. In fact, you should probably go ahead now and prepare to spend the next 24 hours of your life reading everything these guys have posted.
Under the guise of their "Customer Service" community page, creator Ben Palmer and friend Nick Price respond to the most inane, exaggerated, and self-entitled complaints on the internet – via Facebook corporate brand pages.
And the LOLs are piled on like beans in a 12-layer dip!
First, there's the complaint itself. Customer Service consistently comes to the assistance of only the most irate, laughable consumers – effectively highlighting the best of the worst in their quest to troll the trolls.
But then comes the "service." Irreverent, straight-to-the-point mockery that summons the image of a standup comic taking down a front-row heckler. Customer Service "works" the way so much good comedy does. It says what so many would like to, and there's truth in it.
In the best examples, finally, the OP responds to Customer service believing that it is in fact the brand's customer service department that is ridiculing them.
If you like our stories, there is an easy way to stay updated:
Follow @wersm
On the surface, this is a cunning parody. Because the thing about Customer Service's mimicry is that, technically, it makes corporate customer service a genre unto itself. Something that will certainly not come as news to the people who do it every day.
In short, Palmer and Price's responses draw out, define, and disrupt the speech patterns that define the corporate customer service SCRIPT.
Which begs the question: Isn't it time to change the script? That certainly seems to be the consensus of Customer Service's 90,000+ fans. In which case, what we have here is Don Quixote-funny satire.
When not the sole response to the complaint, theirs is often sandwiched between the brand's cut-and-pasted platitudes. And without a doubt, it tends to be the most engaging thing happening on the brand's Facebook Page. Which makes one wonder just how much the banalities of the corporate script contribute to the level of absurdity posted there.
So given that nothing Customer Service is doing is illegal, I can't help but hope that the brands with a sense of humor run with their own versions of Palmer and Price's point.
[quote]When life itself seems lunatic, who knows where madness lies? Perhaps to be too practical is madness. To surrender dreams — this may be madness. Too much sanity may be madness — and maddest of all: to see life as it is, and not as it should be![/quote]
― Miguel de Cervantes Saavedra, Don Quixote
Hope that helps.
******************************
Author's Update 8/6/15: Yesterday the "Customer Service" parody page announced that it had to change its name and URLin order to stay in Facebook's good graces. Despite fielding and answering (honestly) hundreds of personal messages from users who mistakenly believed they were Facebook's official Customer Service. And even though the page didn't use Facebook in its name. 
Meanwhile, the satirical page was also banned from the Facebook brand pages of 16 major companies, including WalMart, Starbucks, and Delta Airlines. 
Apparently, not everyone is getting the joke. But the fun is FAR from over.
In fact, the moves against "Customer Service" have required them to adapt, multiply, and proliferate! 
The new Facebook HQ for all their posts is now Hope That Helps, where they still screenshot and post their comments before they're deleted by company pages. But they've also created numerous disposable accounts and inspired eager copycats – and there's no way to tell the difference. 
You'll now find comments on corporate pages from "Customer Service Rep," "Legal Services," "Management," "Finance & Accounting," and many, many more. Though my clear favorite is "Battman," [sic] who has been spotted offering assistance to many local police departments.
---
You might also like
---
More from Social Fun
---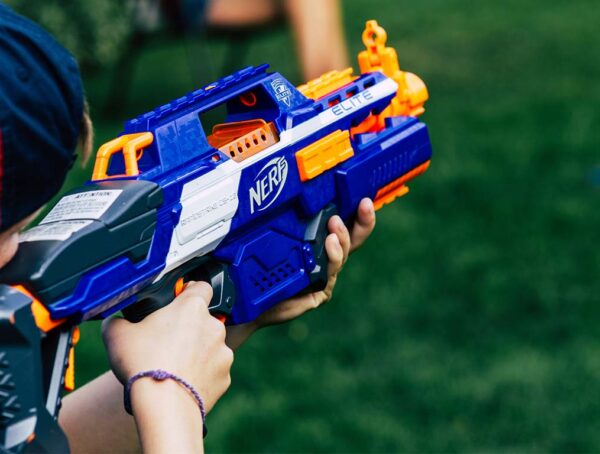 Most people have probably grown out of their Nerf obsession; if you haven't, you could become the new NERF Chief …