Yelp last week introduced Yelp Connect, a new feature that allows restaurants to share updates with new and existing customers.
As part of Yelp's commitment to helping businesses build reliable connections with the public, and following the launch of additional upgrades to business pages, like Business Highlights, Portfolio, and Yelp Verified License, Yelp last week announced Yelp Connect.
The $199 per month feature is touted as "a new way brand new way for restaurants to communicate and share updates with new and existing customers," allowing restaurants to make the most of their business pages. They can publish information like what's new on their menu, specials, and even upcoming events. Users who view a business page will be able to see these updates, allowing them to stay up-to-date with their favourite restaurants.
Updates will also appear on the Yelp homescreen, however, as well as in a personalized weekly email from restaurants that Yelp knows people will be interested in. If this sounds to you like what other social platforms already offer (minus the emails, of course), then you'd be right. But there's a small difference.
According to Yelp, "Unlike other social platforms, restaurants with Yelp Connect typically start out with followers," who have already engaged with a business. For example, they may have already joined the line remotely with Yelp Waitlist or booked a table through Yelp Reservations.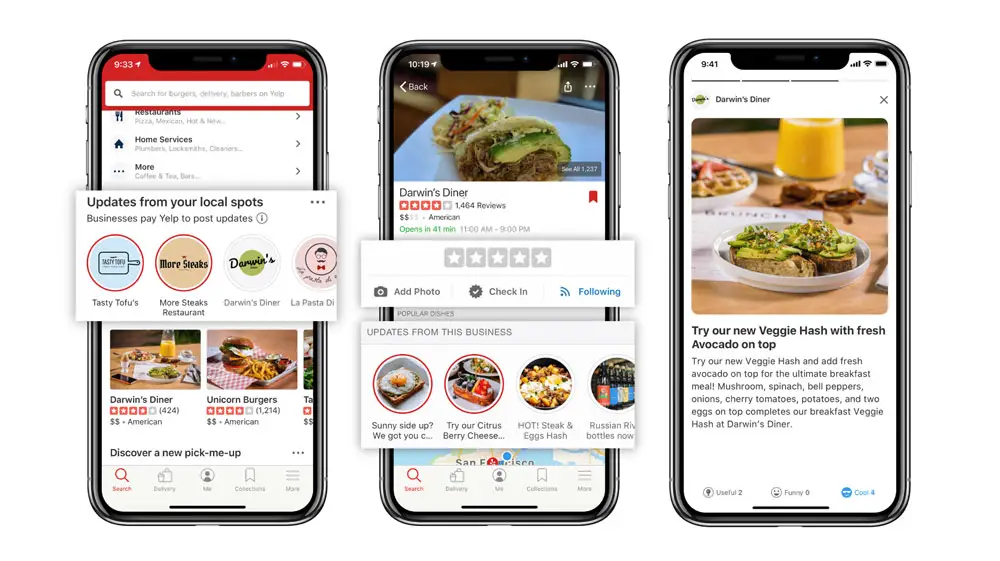 Ely Lerner, Group Product Manager for Yelp Connect, says that the feature "offers a more strategic approach" than other social media that aren't "designed with business owners in mind."  The idea is to help restaurants only target the most relevant users more accurately and to provide better local reach.
Restaurant owners that are already using the feature find that it gives them a place to share information with customers – new or existing. "It's a great way to present your restaurant exactly how you want to be presented," explains Kathryn Gianaras, owner of NOVY Restaurant in San Francisco.
"Being able to scroll down our page and see our own photos and updates that we posted makes us look a lot better on Yelp and is helpful for our guests to see" she says. "Plus, I like that I can set expiration dates for my posts, especially for holidays and events so I can set it and forget it."
More importantly, restaurants now can reach those diners who have shown interest in their business in the past, or are simply in their neighbourhood – without having to post updates every day.
In today's social media landscape, that's a real benefit.
Yelp Connect is available to restaurants in the U.S. for $199. Early adopters will get a special limited-time offer of $99 a month and can sign up on the Yelp for Business Owners site.
---
You might also like
---
More from Other Platforms
---
At an event last week, Pinterest announced a new $500,000 Creator Fund, a program to support Creators from underrepresented communities.