Workplace by Facebook has announced new pricing plans to help organisations better connect with their frontline workers, predict costs, and choose the tools they really need.
Facebook launched Workplace back in 2016, and now over 2 million paid users are on the service, in big and small organisations. It has also changed a lot over the last three years, with over 100 new features added. Now, for the first time since it was launched, Workplace is changing its pricing structure, making it more expensive, but also making it easier for companies to predict their costs and choose the tools they need.
In a blog post this week, Workplace's VP Julien Codorniou announced three new plans for the service plus an add on plan: Workplace Essential, Advanced, Enterprise, and the Frontline add-on.
As Codorniou explained, Workplace Essential, to be rolled out next year, "will contain all the communication and collaboration features a team needs, like Workplace Chat, Video Chat, and groups, to help teams work better together." It will be free, allowing anyone in the world to communicate easily.
Workplace Advanced, on the other hand, is a plan designed to create a truly connected company, with the "familiar Workplace features," plus some advanced admin controls. The Workplace Advanced plan will cost $4 per person, per month.
The third plan, Workplace Enterprise, is better suited for more complex organizations – due either to their size, or industry – that need "a higher level of support." Workplace Enterprise includes all features in Workplace Advanced, plus a 4-hour initial support response time SLA, as well as priority support resolution and early access to any new features. The Workplace Enterprise plan will cost $8 per person, per month.
Then, there's also the Workplace Frontline add-on, available in both Workplace Advanced and Enterprise plans, to allow frontline workers to connect more easily with a company. They, Codorniou explains, are "a key part of the workforce who often feel disconnected from their business." The add-on will also include "conditional access controls so admins can manage employee access outside of working hours." It will cost $1.50 per person, per month.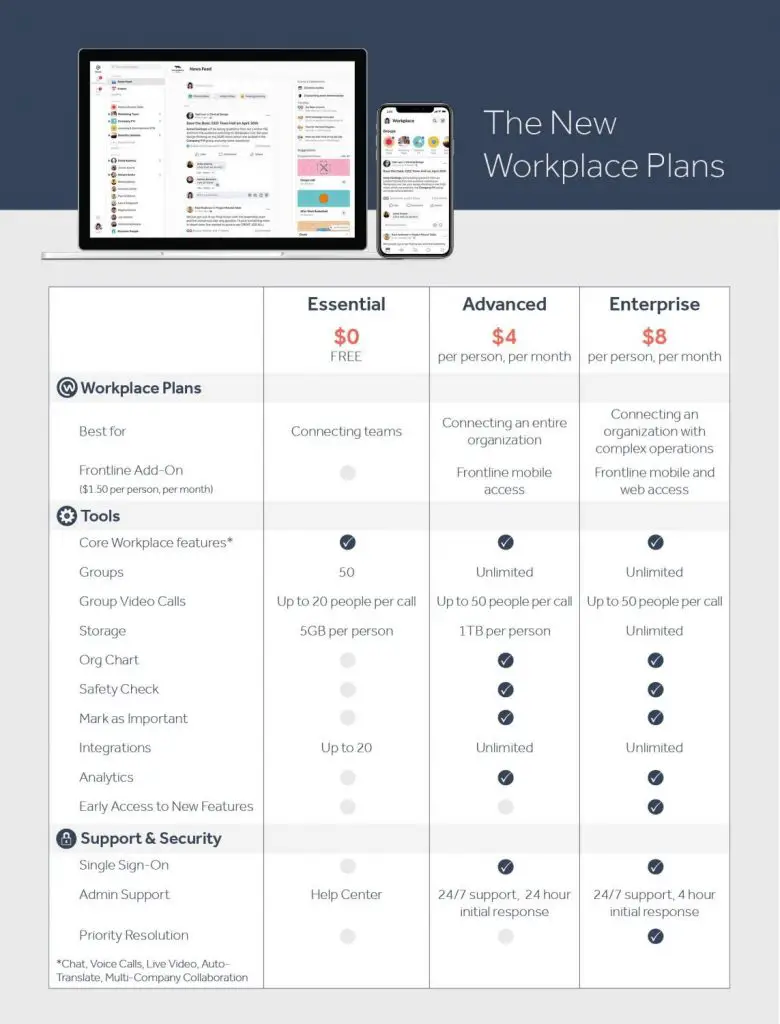 The main change here is how plans are priced. For many customers it's important to predict how much Workplace will cost, therefore Workplace Advanced and Enterprise will be charged per person, per month – not per monthly active users.
Workplace Advanced and Enterprise will be available globally for new customers from 2nd September 2019 and will replace Premium, whereas next week, on 22nd July 2019, an early rollout of the two plans will begin in some Asia Pacific countries. Workplace Essential will roll out next year.
All existing Workplace Premium customers will migrate to Workplace Advanced on 2nd September 2019 and will continue to have the same features they had in Workplace Premium. For those customers, the new list prices will come into effect on 1st October 2020. All existing Workplace Standard customers will migrate to the Essential plan following its rollout next year.
---
You might also like
---
More from Facebook
---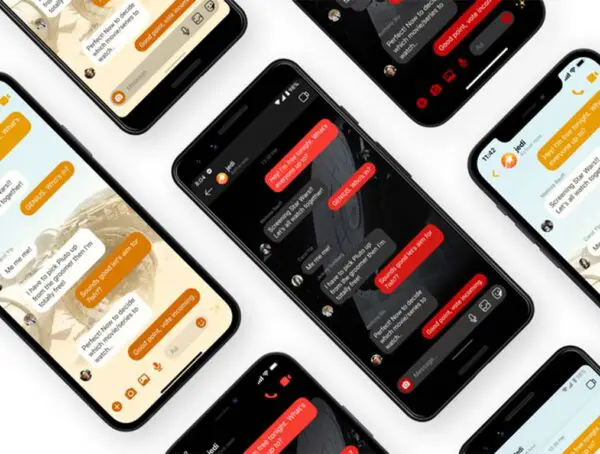 Facebook is rolling out new features on Messenger and Instagram to allow more self-expression and help people feel together even …