Facebook has rolled out a new measurement tool so you can better understand how ads impact your sales. Here's how to use it effectively.
2+2=5. This was the epitome of absurdity for decades. In recent years, however, the quintessence of absurdity, as any digital marketer can attest, has meandered away from Orwellian quotes to incomprehensible conversion reports which fail to match with precision sales to the source which generated them.
Ask any marketer, and they'll tell you that attribution is a major problem. Different devices, mediums and campaigns plot to derail proper attribution and quarterly budgetary plans. Ask Facebook, however, and attribution looks more like an opportunity than a problem.
Enter Facebook Attribution. Facebook Attribution is a free new measurement tool by Facebook which aspires to provide a more coherent picture of the customer journey and reveal which ads actually contribute towards a goal. In doing so, Facebook Attribution provides a holistic picture thus facilitating well-founded decision making.
Access And Features
To access Facebook Attribution, go the Attribution option in the Measure & Report tab in your Business Manager account.

Alternatively, in your Business Manager Settings, go to Accounts -> Line of Business Add a new Attribution line and then add all the relevant information sources like Ad Account(s) and Pixel(s).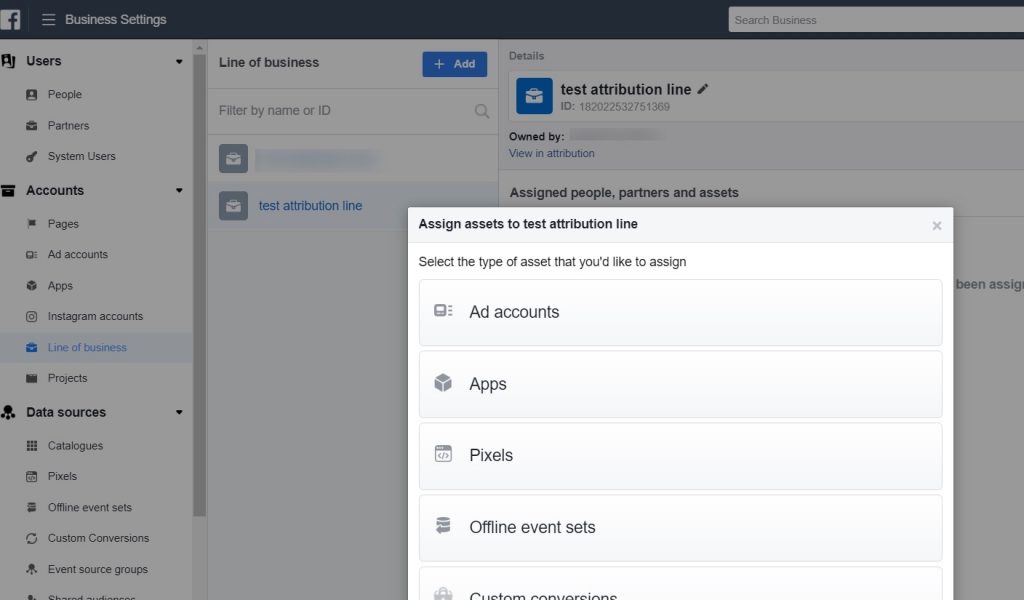 If you haven't created an Attribution Line before, Facebook will ask you to choose which structure best represents your business.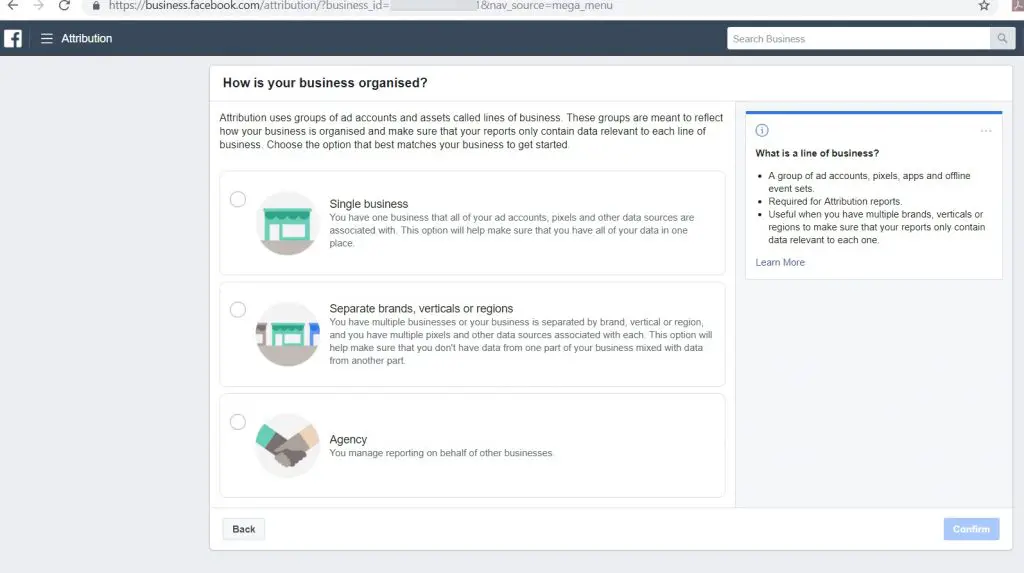 Now that you're all set up it's time to look at what you can view in Facebook Attribution. It's important to note that Facebook Attribution might take a while to load your data and to model them.
Facebook Attribution is all about conversions, so the first thing to do is to select the conversion type you want to analyze from the upper right corner. Remember, Facebook Attribution already has access to your Facebook Pixel, so it knows how you have defined conversions.
The second thing is to select an attribution model. Facebook offers a variety of attribution models to choose from:
Data-driven
Even credit
Last click or visit
Last touch
Positional
Time decay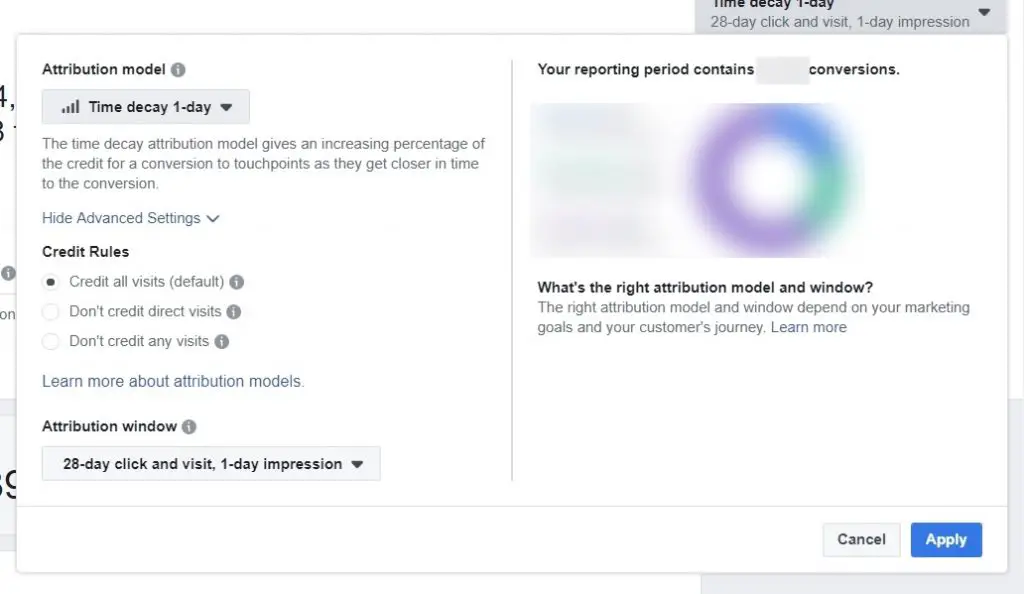 We won't analyze all of them in this article as they are thoroughly described here. However, we will briefly describe the data-driven model.
This is a model developed by Facebook and only measures campaigns on Facebook properties (Facebook, Instagram, Messenger and Audience Network). The model emphasizes the incremental value of your campaigns to help you understand the impact of your ads on conversions which would have happened without advertising support. To access the data-driven attribution results, click on Facebook as your publisher source from the Performance tab (see below) and select the checkbox option for data-driven attribution.
The model you will choose might depend on several factors such as the consideration period required before making a purchase. As you can understand a business selling toothbrushes and one selling insurances might select to attribute conversions differently due to the time required before committing to a decision after seeing an ad. One might go for a positional model which credits the first and last touchpoints whereas the other might prefer a "time decay" model which credits more the last touchpoints before the purchase.
As you will see, the Facebook Attribution tool provides four tabs: Performance, Custom Reports, Cross-device and Settings.
Views
Performance: Here you can view the conversions' distribution of the Attribution line. You can narrow the view by channel (organic/paid), and you can also see a breakdown by sources and campaigns.
Custom Reports: Facebook is renowned for providing detailed and customizable analyses so this tab neither thrills nor disappoints. It provides the functionality and variety you would expect from Facebook. Visit it to tailor reports to your needs. Be sure to check out the presets because they come in handy as categories.
Cross-device: This tab contains useful information about the customer journey between devices, but one is left with a feeling that more information could be presented here. I might be nitpicking, but given Facebook's ability to turn data to insights, one might expect from Facebook to not simply to state the fact that X% of Y conversions started on desktop and came to fruition on mobile but also to show how an advertiser can use this information.
Settings: Surprisingly, the settings tab is the most promising aspect of Facebook Attribution. That is because under "Ad platforms" one can include non-Facebook advertising platforms like Google Search. Unfortunately, this issue merits a dedicated article and cannot be fully developed here. We will briefly say that Facebook offers connectivity with major platforms such as Google Search. Taking Search as an example, Facebook provides a tag which can be very easily inserted in the respective Google Ads account and also provides a Google Ads script for regularly importing automated reports of Google Ads in Facebook Attribution.
The importance of this option cannot be overstated. It allows marketers to view from a single source how their sales are attributed among different advertising platforms and in doing so, it positions Facebook as the judge of the sales' distribution by channel. One might argue that a judge ought to be impartial, but for a significant number of marketers, the solution Facebook provides in such a complex and pressing issue might be enough to dissuade any concerns from surfacing.
Have you used Facebook Attribution? Let us know.
Chris Palamidis
 is Head of Social Media & Google Advertising for Mindshare Greece. His main area of focus is digital media strategy. Chris has worked with tens of multinational clients and has helped them implement innovative digital media campaigns to reach their business goals.
Read next: Facebook Targeting For Campaigns Focused On Sales
---
You might also like
---
More from Facebook
---
As VR content expands beyond gaming, Facebook is bringing support for subscriptions on the Oculus Quest platform.