Twitter should come with a warning. "Tweeting racist or offensive content will get you in trouble" – Especially if you are a high-profile person.
No sh*t, right? Actually, despite plenty of examples that would prove this statement in the last few years, there have been so many Twitter users that simply don't get that, and they insist on testing the internet's collective rage. And to think that some of these people actually have publicists?!
For Justine Sacco (@JustineSacco), a publicist herself (she was the Corporate Comms Director for InterActive Corp, the company that owns Vimeo, OkCupid, and College Humor, etc), up until December 21, 2013 had probably been a great year. Then, she tweeted this, right before boarding her 12-hour flight to Cape Town from London: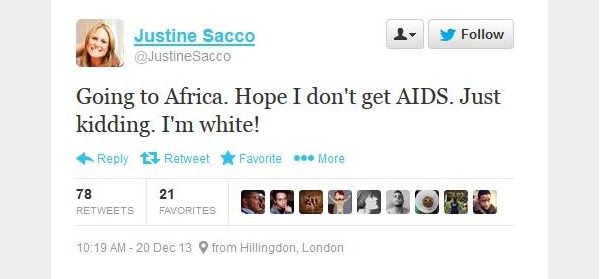 In normal circumstances this tweet would have definitely caused a storm, and would lead to similar disciplinary action from her employer. But the fact that it actually lingered online for 12 hours until she got off her flight, made it much much worse. The tweet gathered attention for 12 whole hours and was shared thousands of times.
It became such a big problem, that IAC was forced to put out a statement: "This is an outrageous, offensive comment that does not reflect the views and values of IAC," they told the International Business Times. "Unfortunately, the employee in question is unreachable on an international flight, but this is a very serious matter and we are taking appropriate action." – Well, it also didn't take long for IAC to fire her…
It's hard to believe, but during that flight the hashtag #HasJustineLandedYet and parody Twitter accounts appeared, and someone even created a website, called justinesacco.com. The site even redirects to an HIV/AIDS charity!
When @JustineSacco found out, it was way too late, but she quickly deleted the offending tweet, as well as her Twitter and Instagram account. And then she waited. And then she responded with a grovelling apology that included the fact that she was actually born in South Africa and that her father lives there…
[quote style="boxed"]Words cannot express how sorry I am, and how necessary it is for me to apologize to the people of South Africa, who I have offended due to a needless and careless tweet. There is an AIDS crisis taking place in this country, that we read about in America, but do not live with or face on a continuous basis. Unfortunately, it is terribly easy to be cavalier about an epidemic that one has never witnessed firsthand. For being insensitive to this crisis—which does not discriminate by race, gender or sexual orientation, but which terrifies us all uniformly—and to the millions of people living with the virus, I am ashamed. This is my father's country, and I was born here. I cherish my ties to South Africa and my frequent visits, but I am in anguish knowing that my remarks have caused pain to so many people here; my family, friends and fellow South Africans. I am very sorry for the pain I caused.[/quote]
Now, I feel we should rethink that warning… it should rather read: "Twitter: Do not use if you're stupid". Lessons learned? Don't tweet offensive thoughts. It's bad enough that you are thinking them, but please, do keep them to yourself. As plenty of other incidents have proven, "it will probably not end well for you". Don't even try to disguise it as a joke!
So, Did you hear about this incident? What did you think about it? Does it remind you of any other recent similar situations?
Related Stories:
You might also like
---
More from Twitter
---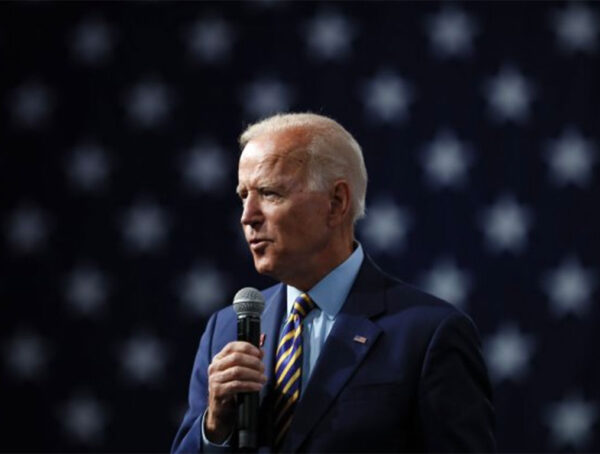 Joe Biden will need some new followers, as Twitter announced its plans to wipe out all followers from the @POTUS …