Viber already makes it easy to keep in touch with your family and friends, but now it's going a step further with the introduction of two new features. 
Instant Videos
In its attempt to add "a certain emotional connection" that humans crave, Viber is introducing Instant Videos. Instant Videos seem to be the perfect solution for times that "sending a quick hello" is just not enough.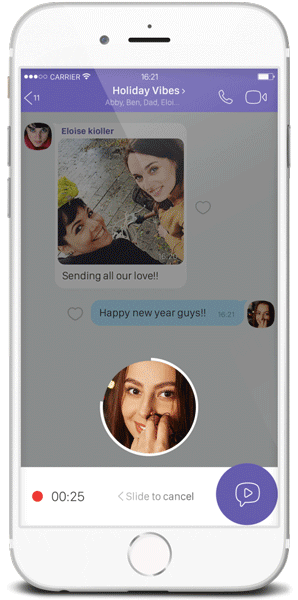 [quote]Some situations might call for more substance, but face-to-face interaction isn't possible. In those times, Instant Videos give you a new way to add personalization to your communications.[/quote]
Instant Videos are short video messages you can record and then send instantly to your friends. Recording them is simple. Hold down the instant video icon to record, and release to send. They are now available on Viber 6.5.5 for both iOS and Android.
Chat Extensions
This update doesn't just bring Instant Videos. Chat Extensions is another great feature. Viber says it "saves you at least 10 steps when you want to share something from your phone." You simply search for content on the web, and share it. All you have to do is tap on the @ icon in your sharing menu, and pick your chosen extension.
But that's not all!
[quote]Chat extensions is also a powerful sticker search engine. Now you can simply search for the emotion or message you want to express and chat extensions will find multiple sticker options for you. Scroll through the results and pick the perfect Viber sticker. [/quote]
With Chat Extensions, Viber also gave their emoticons a "brand new look." They have been redesigned for "minimalism and charm."
---
You might also like
---
More from Other Platforms
---
Google Meet has a new feature that will help you save battery power by restricting data and decreasing the power …