There is a crisis, a humanitarian one. And Twitter is usually the place where people go to, to stay informed, to understand, to discuss, but mostly, to show their support.
The refugee crisis is one that must concern us all. We are all humans, we all deserve a home, we all need food, and we all need support and love.
The Internet is the tool of this age, this is where we get informed, where we learn to understand, where we show our support and where we act. So, Doctors of the World launched #RefugeesWelcome, a real-time visualisation of all the positive things that are being tweeted about refugee and migrants.
#RefugeesWelcome is an interactive map of Europe that aims to capture the good feeling around refugees and migrants in the UK. The map shows real-time tweets and plots them along the routes where thousands risk their lives every day, fleeing wars and humanitarian crisis, hoping for a better life.
Leigh Daynes, executive director, Doctors of the World UK explained:
[quote]We used to get a deluge of negative comments whenever we spoke about our work helping refugees in Calais and the Mediterranean but recently we've been inundated with messages of support, offers of practical help and cash donations.[/quote]
But the website is not just about public awareness. By showcasing the voices of thousands across Europe, Doctors of the World are making governments listen. And that translates into immediate positive actions, with, for example, the UK and France each agreeing to resettle over 20,000 refugees.
If you like our stories, there is an easy way to stay updated:
Follow @wersm
The map was developed by London based digital agency Impero. It works by using the Twitter streaming API to capture tweets as they happen, pushing new tweets into the browser using WebSockets (with help of socket.io and node.js).
If you like our stories, there is an easy way to stay updated:
Follow @wersm
Michael Scantlebury, creative director and founder of Impero said:
[quote]We wanted our contribution to help drive change – and by visualising the very real issues faced by refugees in combination with positive stories of support throughout Europe, the map offers an accessible way for Britons to understand the current crisis.[/quote]
[quote]Partnering our creative and technical teams with the expertise of Doctors of the World has produced an awareness tool that we believe can have real impact.[/quote]
Click on the image below to open the interactive map: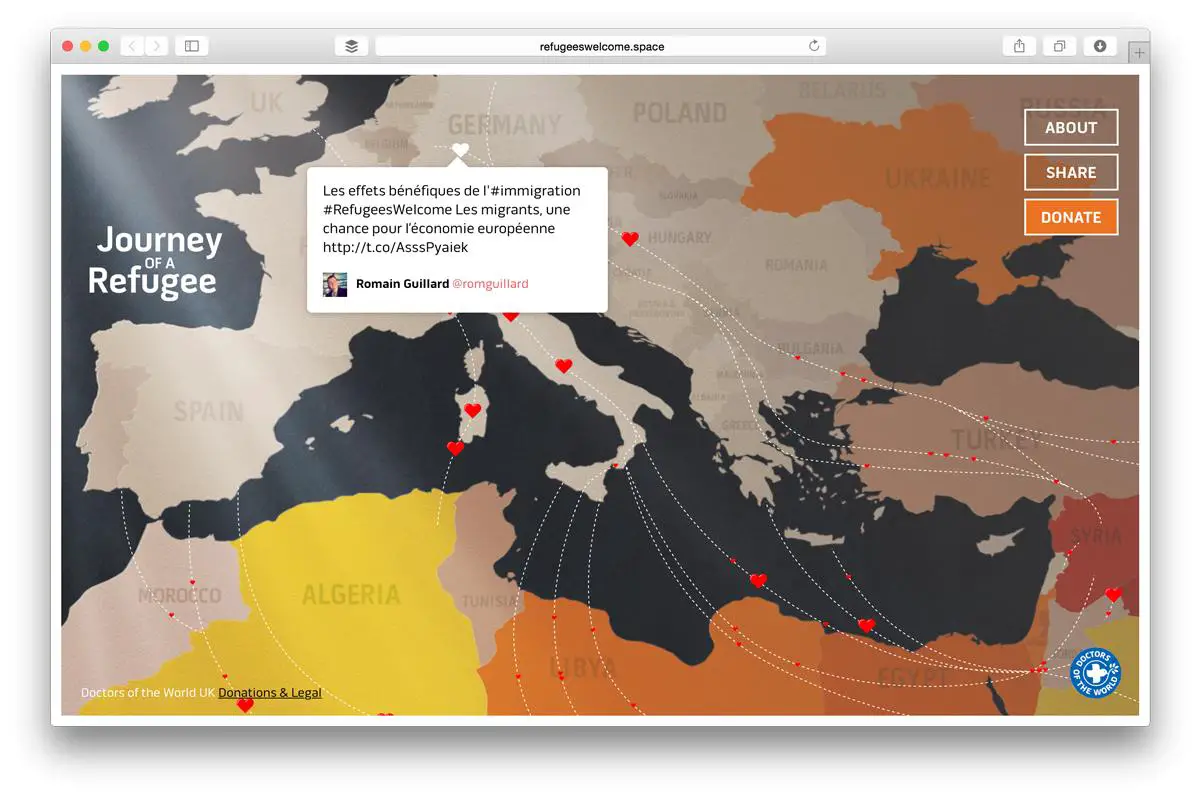 This activation is a reminder that we can overcome any crisis, as long as we work together. Doctors of the World welcomes donations on the website, but you can also help spread the word by sharing the campaign on your own social networks, using the hashtag #RefugeesWelcome. Thank you.
---
You might also like
---
More from Creative Campaigns
---
Google is pulling the plug on its mobile shopping apps for both iOS and Android and redirecting users to its …