As part of its effort to give publishers more actionable data that will help them improve performance on its platform, Twitter has launched a new Insights tool called "Timing is Everything." 
To help publishers improve their performance on its platform, over the last few months, Twitter has been working on several Publisher Insights tools for its Media Studio. This week, the company announced the first new tool to be launched – "Timing is Everything."
The tool is used by publishers to see historical data about when their audience is "on Twitter watching and engaging with video." As Twitter Product Manager Ellen Fitzgerald explains in a recent Twitter Media post, the table shows publishers the best time(s) to Tweet video content, to help them "maximise engagement, conversation, and viewership."
Say hello to Timing is Everything, our new tool to help you understand when to Tweet video content in order to maximize engagement, conversation, and viewership. https://t.co/9Wbdt7JUSH

— Twitter Media (@TwitterMedia) March 5, 2019
Publishers should note that the chart doesn't just show them when their "organic followers are watching" their videos; it instead "shows when they are watching any video on Twitter." And while the tool gives some good and actionable insight about the most engaging times of the day or week, publishers are encouraged to still post throughout the day to maximise their reach. The Insights page also allows Publishers to schedule their Tweets directly if they have to publish at inconvenient times during the day or night.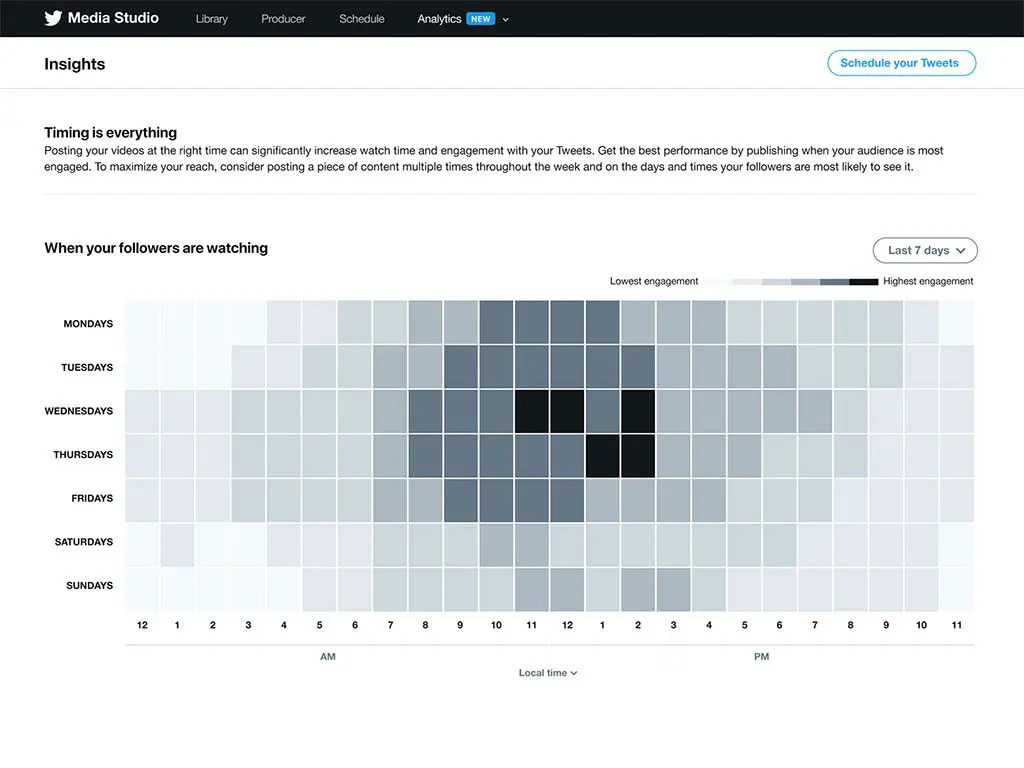 Fitzgerald also explained that to get started with Timing is Everything, all you have to do is:
Go to the Analytics dropdown menu within Media Studio and select Insights.
Study the graph to understand when your audience is online.
Experiment with Tweets, or scheduled Tweets, during the times of day that have the highest engagement.
---
You might also like
---
More from Twitter
---
Joe Biden will need some new followers, as Twitter announced its plans to wipe out all followers from the @POTUS …