Twitter has announced that it is giving businesses the ability to attach buttons to Direct Messages, paving the way to richer and more "actionable" messages and customer service experiences. 
Businesses can now add one of three different CTA button to their Direct Messages – compose a Tweet, follow an account, or open a website within the Twitter app. As many businesses deliver customer service experiences with the help of bots, they may want to also help people complete a task – not just send a message.
As Product Manager at Twitter, Ian Cairns, explains in a recent blog post, businesses can ask users to:
– Tweet about their bots: At the right point in the conversation, people might want to Tweet to share a coupon or offer, challenge their followers to a game, or tell the world about new content they just discovered — like a new product or an exclusive movie clip. The unique combination of public and private messaging on Twitter makes it easy for people to become brand advocates by Tweeting about an experience. And by combining this feature with the new Direct Message Card, those Tweets can then help other users discover and start talking to your bot.
– Visit their website (or any website): After discovering content or making a choice in a Direct Message, people might need to visit a website (e.g., a payment page to complete a transaction). Buttons that point to web links open a native browser within the Twitter app, so that once a person completes an action, they can come right back into the Direct Message to continue the conversation.
– Follow accounts: With the ability to turn on the setting for 'Receive Direct Messages from anyone' not everyone who engages with their bot necessarily follows their account. Buttons let them direct people to their profile page to follow their account, and encourage people who engage with the bot to then follow Tweets from their account.
– Starting a conversation with a different account they own: Some businesses use multiple accounts on Twitter for different purposes, and at times it makes sense to ask a user to send a Direct Message to another account. For instance, a brand might run a marketing-related bot in Direct Messages in one account but provide customer service through another account. Now a button can be used to seamlessly guide users into a new conversation.
Cairns also explains that businesses can add up to three buttons to any message. They can be used to open any URL, "including links to other features in the Twitter app." Also, CTA buttons can be fully customised with text, as well as emojis.
Some businesses are already using CTA buttons and have had much success. For example
[quote]Focus Features has a bot that showcases trailers for their upcoming movies, lets people buy movie tickets, enables people to join their rewards program, and even connects people to a human to answer questions. [/quote]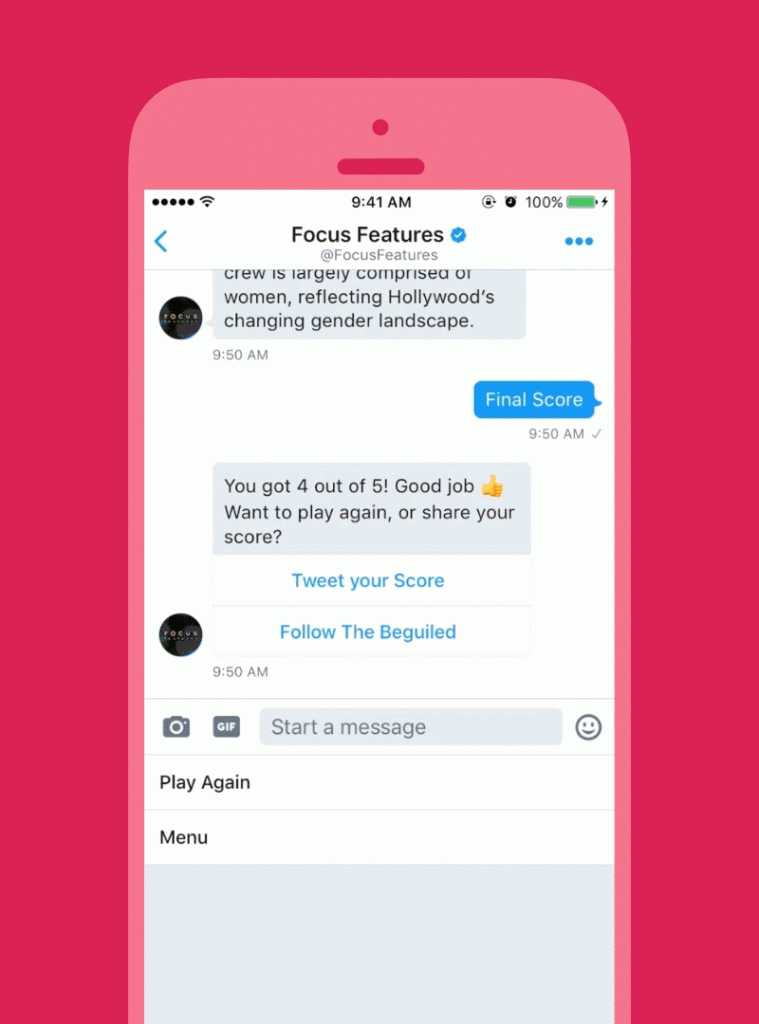 For Focus' recent film The Beguiled, the chatbot has other features such as a trivia game that then encourages users to share their scores and invite their friends to engage with the bot as well. STXfilms also created a bot for Luc Besson's Valerian and the City of a Thousand Planets.
[quote]The bot enables people to engage in a conversation with characters from the movie, and even go through training to join Valerian and Laureline in the fight to save Alpha. Once people get far enough into the storyline, they get a message with a button attached that lets them know they can unlock exclusive content if they share the bot with their followers through a Tweet.[/quote]
The new feature will begin to roll out this week, and will soon be available on iOS, Android and desktop. Having previously launched Direct Message Cards, welcome messages, quick replies, custom profiles, location sharing and Customer Feedback Cards, Twitter is getting a lot better at helping businesses to create much more engaging and innovative experiences through its Direct Messages.
As the above features, buttons on Direct Messages are also only supported via Twitter's developer API. To get started, interested parties will need to check out details on Twitter's developer blog, or speak with their bot or customer service solution provider.
---
You might also like
---
More from Twitter
---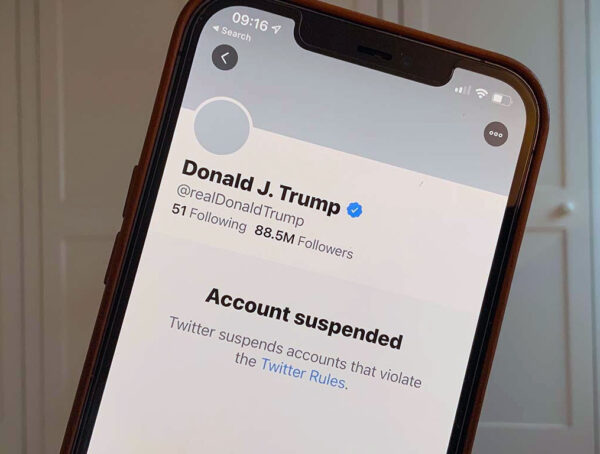 According to Twitter's CFO, Trump will never be allowed back on its platform - even if he became president again.