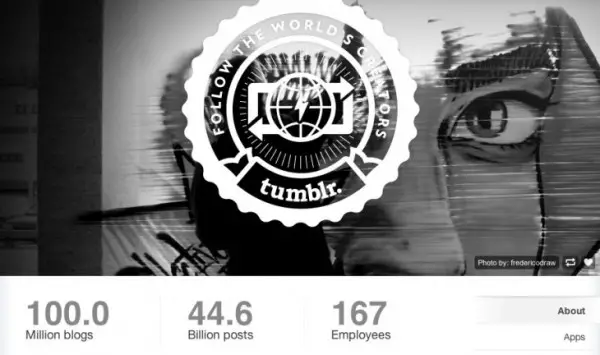 Tumblr has quietly ticked over the 100 million blog mark, with those blogs containing some 44.6 billion posts. We noticed that the ticker on the popular blogging platform's about page had ticked over and Tumblr confirmed that this milestone was reached today.
This marks significant growth over the last year, of somewhere around 50 million blogs since April of 2012, when it crossed 50 million for the first time. The last reported number of blogs was 93 million as of March 2, 2013, so the pace is still accelerating, with 6 million being created in the last month or so alone.
Just today, there have been over 82.6 million posts to the site, which was founded in 2007. As of 2012, Tumblr's main audience came from the U.S, with 45% of visitors from America alone. Brazil also made up a big chunk of its traffic with 49 million visits, with the UK accounting for 34 million visits. As of 2012, Tumblr had served some 120 million viewers.
This article was originally posted on TNW
You might also like
---
More from Other Platforms
---
Did you know you could update your interests on Clubhouse to discover more meaningful conversations on the audio app?