What if your next match could be Hillary Clinton or Donald Trump? Tinder is bringing back #SwipeTheVote and this time, it is rolling out worldwide.
It isn't the first time Tinder rolled out "Swipe The Vote." The feature had previously been launched in March 2016 to invite Americans to swipe on political issues like taxes, immigration and gun control to "match" them to their "ideal candidate."
A few weeks before the elections, Tinder is now bringing the feature back, until November 1. But this time, the company has made it available to everyone worldwide instead of just in the U.S.A. Why? Because they want to show the impact the US general election is having around the planet, and not just in the USA. Tinder is also keen on understanding where their millennial user base stand on key policy issues.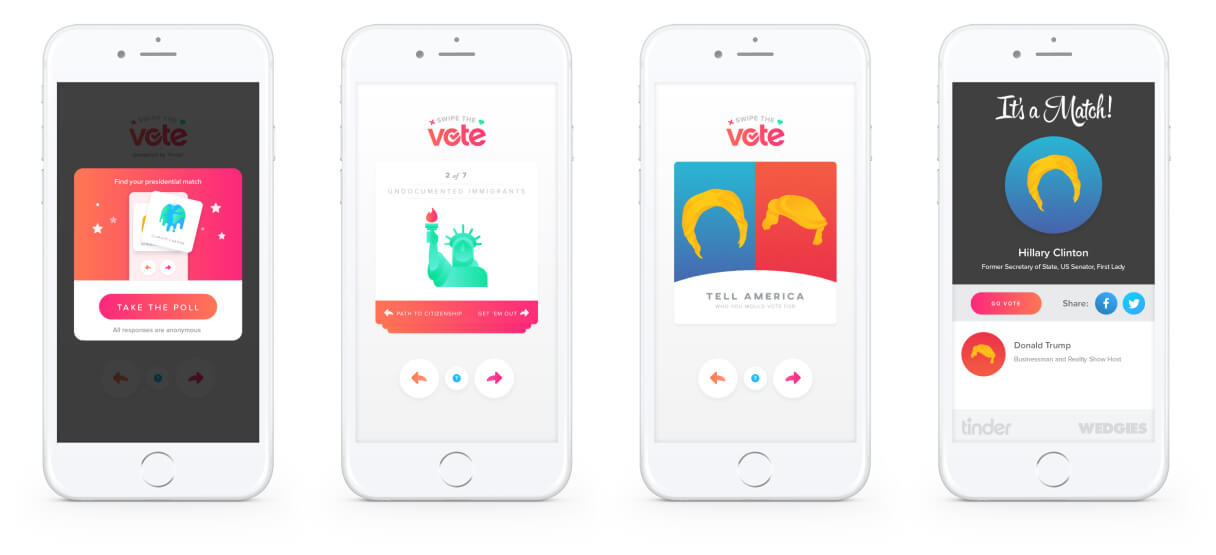 Sean Rad, Tinder CEO, explained why the company cares to get involved in the debate:
[quote]We look at Tinder as a broader platform to do good in the world and not necessarily just a business.[/quote]
The "Swipe The Vote" feature is live in over 15 countries, including the U.S., Argentina, Australia, Brazil, Canada, Chile, Colombia, France, Germany, India, Japan, Korea, Mexico, Russia, Spain and the U.K.
---
---
You might also like
---
More from Creative Campaigns
---
Clubhouse now has a valuation of $4 billion, near what Twitter was willing to pay for it a few months …