If you're past the camera-shy phase, and you're seriously contemplating starting your own video blog, then don't set sails before reading this article. 
We have handpicked for you tried and tested products – most of them already used and loved by Team WeRSM. Whether you will be working at a fixed location, or aspire to be a vlogger on the go, we have compiled the list with the gear you'll need, to make your camera dreams come true. Chosen for budget and scalability, we have everything you need!
Lights And… Action!
LimoStudio 700W Photography Softbox Light Lighting Kit


Don't let the 'photography' word fool you. These lights are Team WeRSM approved and used, and will go the extra mile to serve your lighting needs even when recording on video. Use two when lighting conditions are low, but, most times only one of them will do a decent job. These lights are worth every penny, and come in a convenient carry bag, so that you can take them anywhere. 
A Portable Quality Mic
Shure MV5 Digital Condenser Microphone
We can't recommend this mic enough. It's super portable, but also perfectly capable of some serious heavy lifting. It records sound straight to your laptop via USB (which also makes it fantastic for podcasts) and it also does a bit of mixing using 3 DSP Preset Modes (Vocals, Flat, Instrument). Needless to say, it also connects to your Apple Devices directly, without the need of any adapters. Get it today and you won't regret it.
A Mic And A Mobile Stand
Movo Smartphone Video Rig with Stereo Microphone
This one does it all. iPhone grip and mic so that you can vlog from the great outdoors without having to wonder about quality. Also comes with a 'dead cat' (no kidding, that's what it's called), when it's extra windy.
More Lights!
LED Video Light Commlite CM-L50
This light is specially designed for cameras and smartphones and can be easily mounted to your device of choice and add that extra luminosity you may need. It also comes with three filters, so that you always get the best result. And just in case you where wondering wither LED light may look too harsh on your skin, this beauty here also has an 8-stop dimming functionality. Lights? Sorted!
Budget Beauty Vlogging
BMK Selfie Ring Light Clip
Get selfie-perfect, livestreaming and recording on the go with this 38-LED ring light, which clips onto your phone. You don't have to spend a fortune on equipment – this one will do the trick – especially when you're just starting off.
---
You might also like
---
More from Reviews
---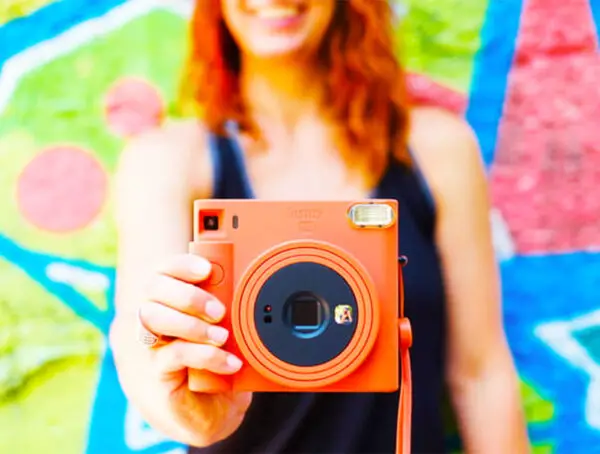 Fujifilm is making shooting analog instant-film easy and highly pleasurable with the new Instax Square SQ1.