Posting frequency is, without a doubt, one of the most important things on different social platforms – and especially on Facebook. However, it can be difficult to find data-driven info on this.
Recent research from social analytics company, Sotrender gives us more insight, looking at the activities of media and brands on Facebook between January 2014 and April 2015. This will hopefully help you figure out how often you should post on your profiles, to reach your audience more effectively.
How Often Do Media And Brands Post?
The first step in the analysis was to check how many posts, on average, are published by media and brand profiles during each week. The difference between these two is very important, because they have completely different posting habits, resulting from the kind of content they publish.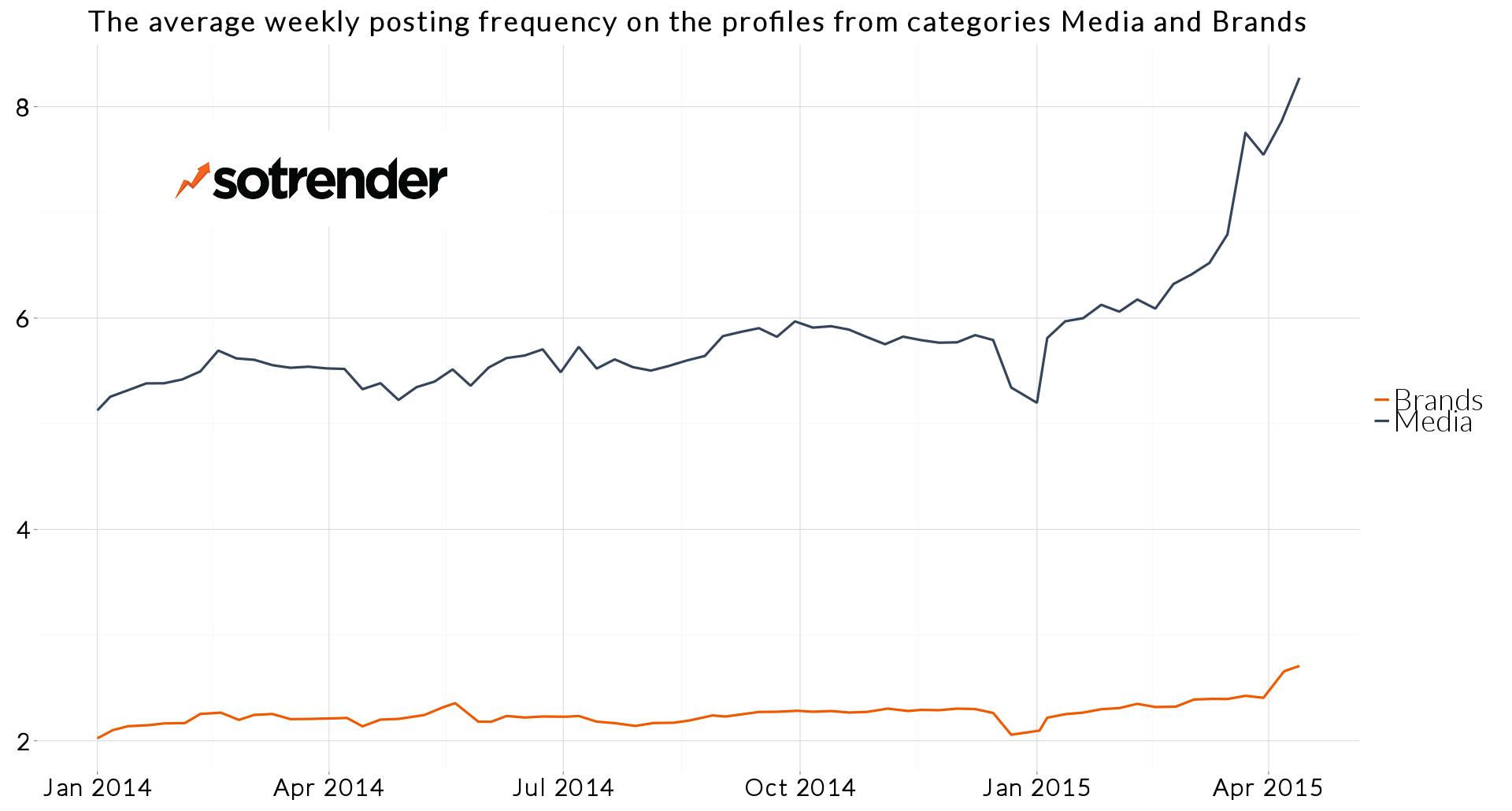 As we can see, there is a visible difference between the two. Media profiles post significantly more often. Moreover, the number of posts in this case is continuously increasing. However, this conclusion is rather obvious – the media are constantly informing their audience about events from all over the world, so naturally they publish more and throughout the day often across different time-zones.
Posting Frequency vs. Organic Reach
Media
Sotrender's study also examined the organic reach of successive posts during the day. The first post has a higher reach than the last one, however the highest value falls on the 5th or 6th post of any given day.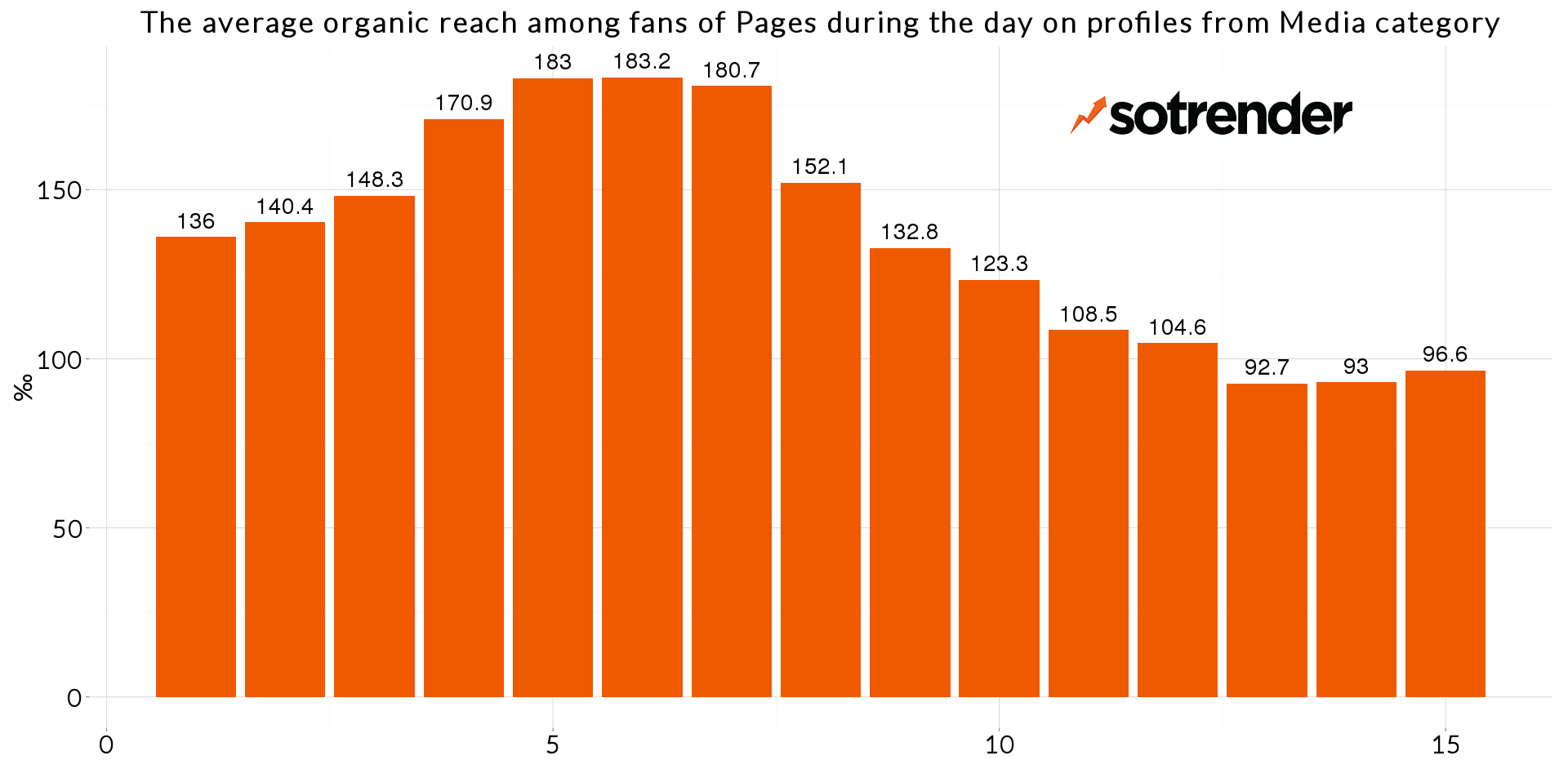 All values are expressed in thousands. They are low as they only represent organic reach among fans of Pages.
The average number of posts during a day among analyzed media profiles amounts to only 3, but it is the range that is most interesting – the difference between maximum and minimum value in organic reach, which in this case is 75.
Brands
As far as brand profiles are concerned, very few pages exceed the limit of 2-3 posts per day. Upon looking at this graph, it's clear to see that posting more often doesn't pay off.
Certainly, regular posting IS advisable, but overdoing it is never a good idea.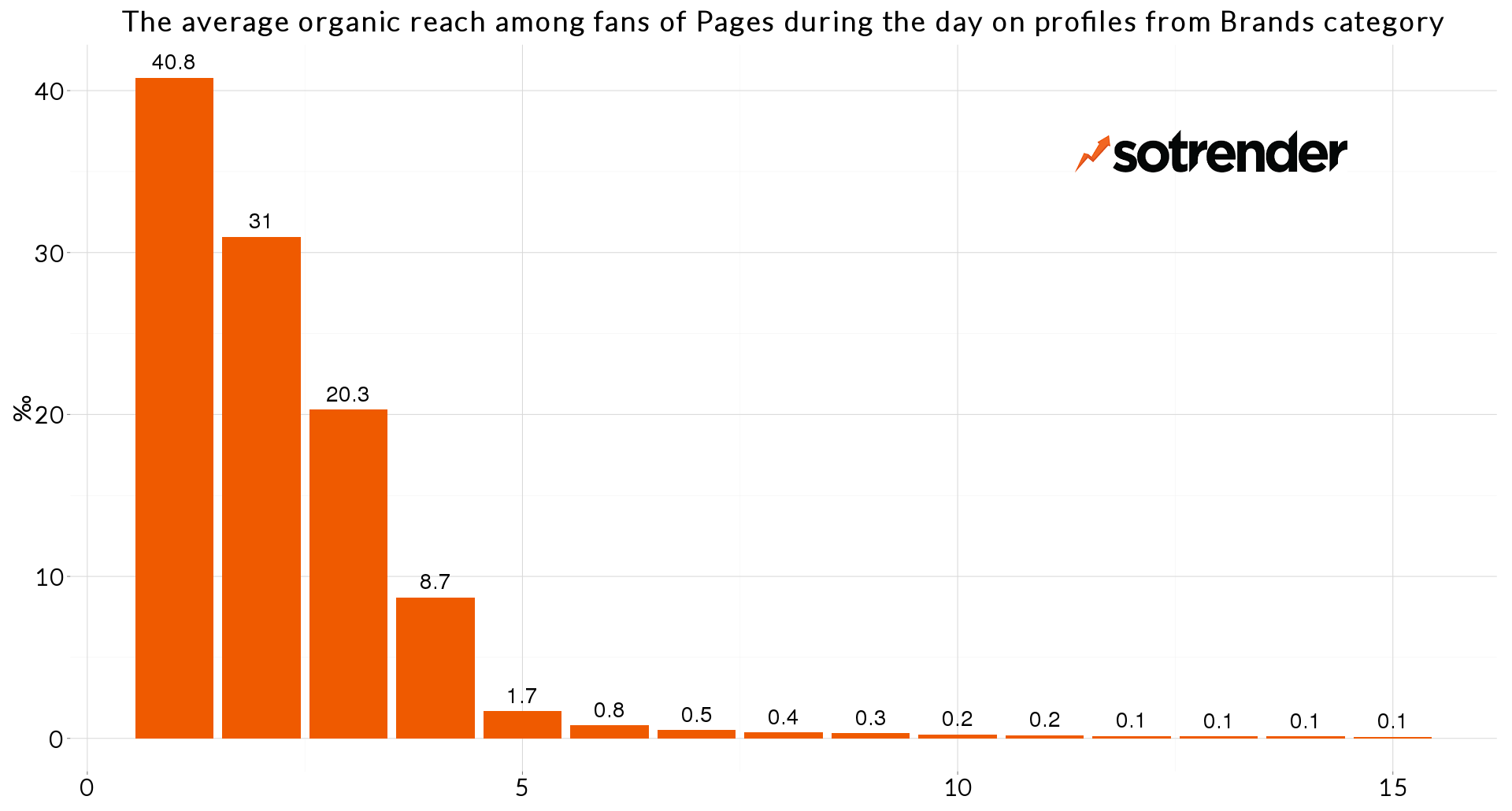 All values are expressed in thousands. They are low as they only represent organic reach among fans of Pages.
If you like our stories, there is an easy way to stay updated:
Follow @wersm
Paid Reach
When looking at the graph below, we can see that brands post less often than media, but when they do post, they promote them with paid ads. Their organic reach might be cut, but paid reach increases.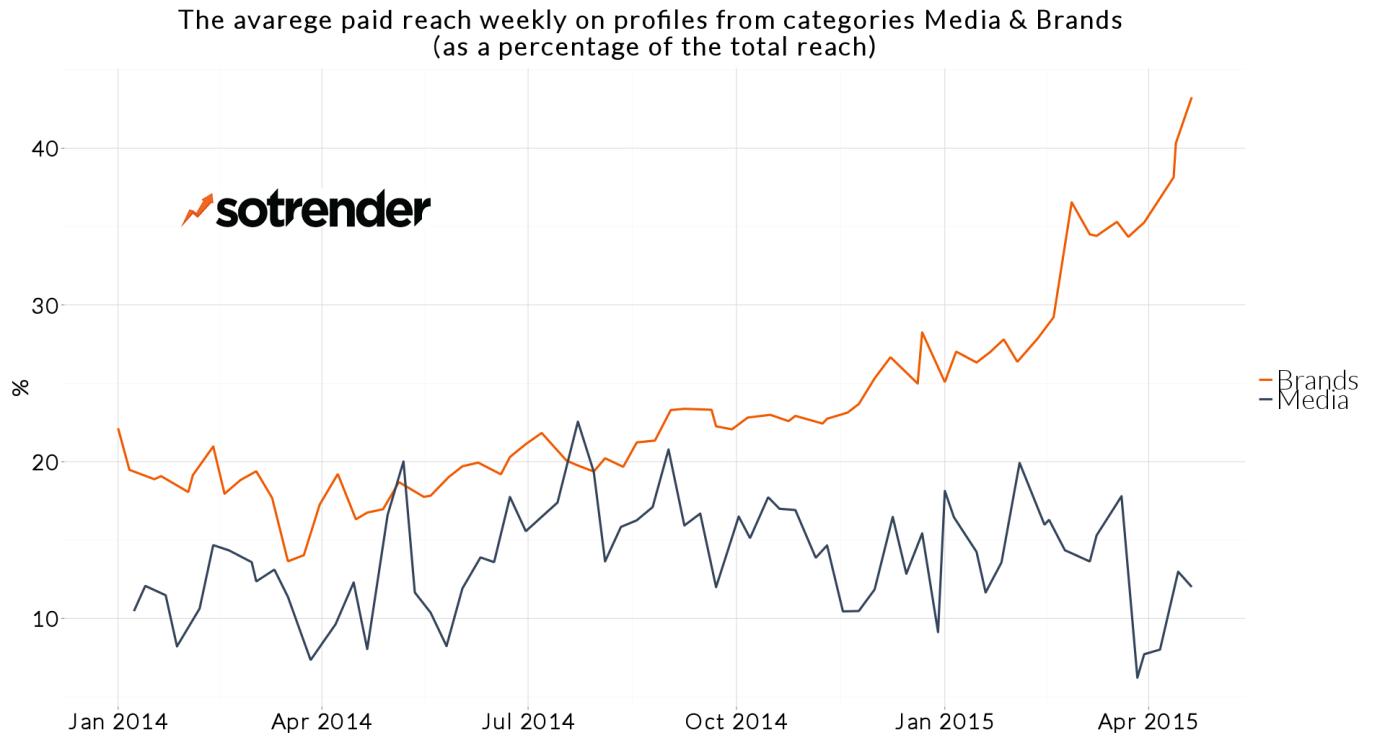 Posting Frequency vs. Engagement
Regular posting is of the utmost importance when running a fan page, as it is needed in order to maintain effective communication. At least one post a day should guarantee a presence among fans and aid in building brand awareness. Still, according to Sotrender's analysis, too many posts during a single day won't help increase engagement – one of the most crucial KPIs to social media managers.
Media
As depicted here, the situation looks rather different than it did with organic reach. The first post of the day "wins" the highest amount of engagement.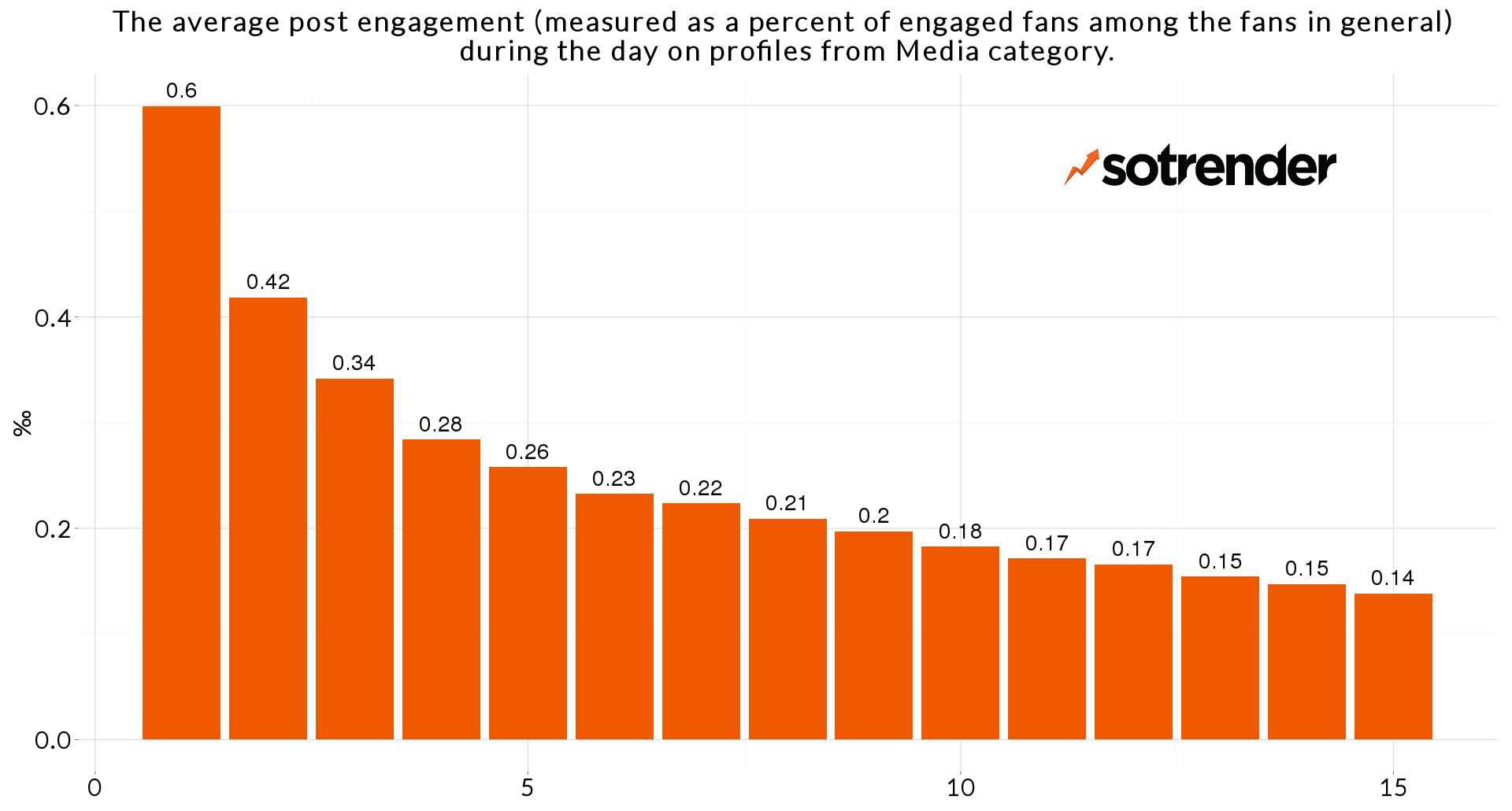 All values are expressed in thousands. They are rather small as they only present engagement among fans of the given Pages
If you like our stories, there is an easy way to stay updated:
Follow @wersm
Brands
Since organic reach and engagement correlate with each other, there is no surprise that as far as brand profiles are concerned, the trend within these two factors is similar. Consecutive posts gradually engage fewer and fewer fans, to finally reach a value that nearly borders zero.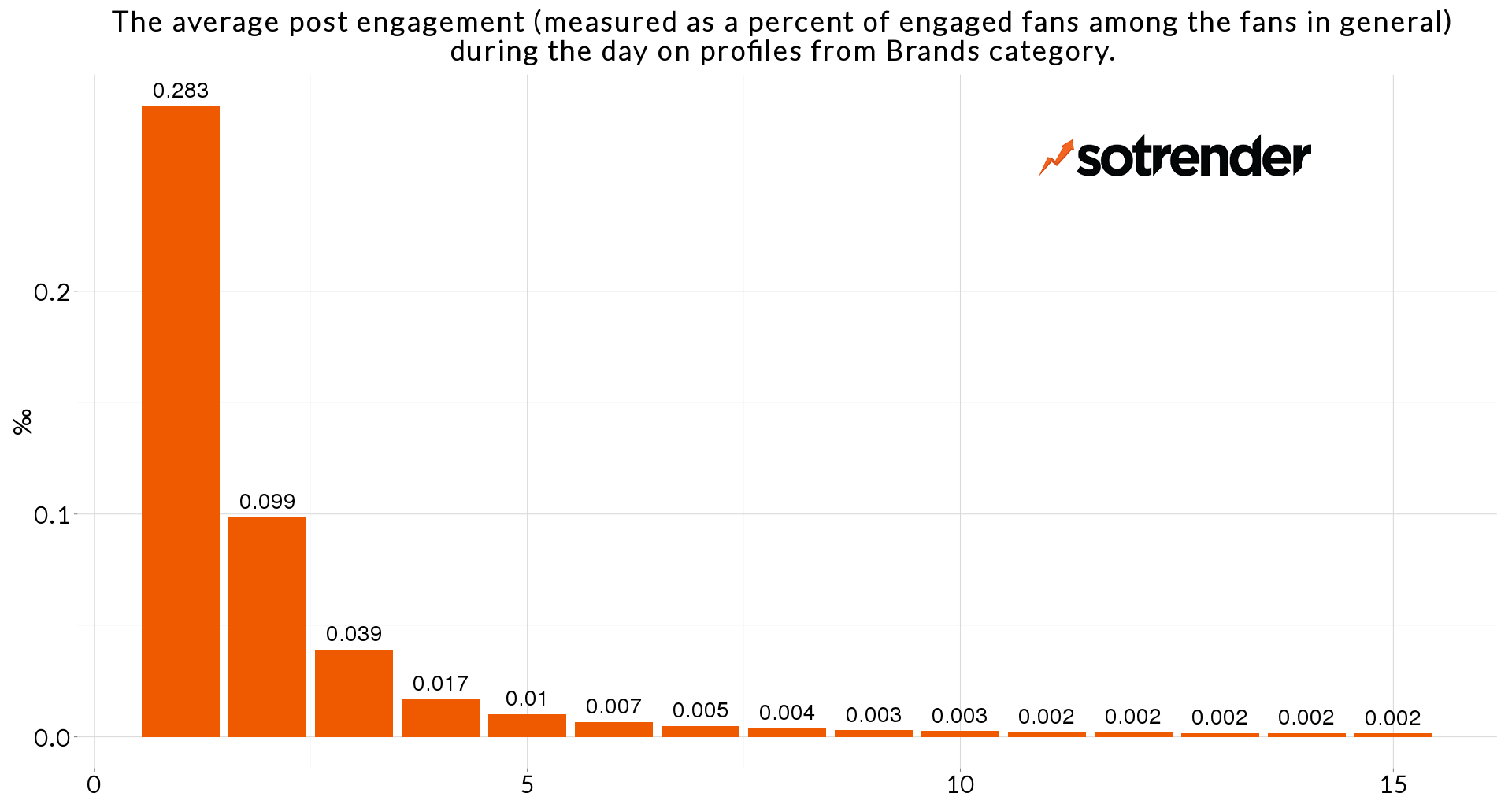 Conclusion
We found from the research that media profiles post, on average, more often than brands, and while they usually achieve higher organic reach, brands promote their posts, resulting in their paid reach being higher.
If you're running a brand fan page, you shouldn't publish more than 2-3 posts a day – it neither helps to increase your organic reach, nor your engagement. For those of you who are running a media page however – don't stop after a few posts. It is good to provide your reader with fresh news and not to worry that whether your 5th or 6th post will not be noticed or not.
Finally, if your goal is to engage fans, there's no point in cluttering up their News Feed – they will not be inclined to comment / share / like your post if they see too many posts from you during a day.
If you like our stories, there is an easy way to stay updated:
Follow @wersm
Alexandra Prejs
is the Marketing and Communications Manager at social media analytics company
Sotrender
, which gathers and automatically interprets data from Facebook, Twitter, and YouTube. She has been professionally devoted to new media and social media in particular for the past 5 years. You can follow her updates on Twitter –
@aprejs
---
You might also like
---
More from Guest Bloggers
---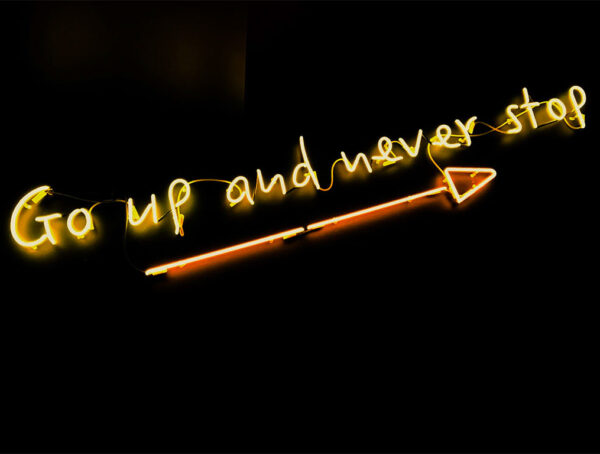 Henk Campher, VP of Corporate Marketing and Head of Social Impact at ‎Hootsuite, looks at five important social trends that …