The last two years have seen its fair share of emotions flood social media. But sometimes, words aren't enough. That's where emojis come in. 
With 2,823 emojis in the Unicode Standard, it's safe to say, that there is a little something for everyone. And Brandwatch's latest 'The Emoji Report' reveals just that. Using Unicode's official positive and negative classifications, they analysed EVERY Twitter post featuring emojis from 1 September 2015 to 30 September 2017. They uncovered over 6.4 billion emojis, with the average monthly use of emojis at 250 million!
Check out what their 2-year study of Twitter posts says about the emotional rollercoaster that was 2015-2017.
The Emoji Report's Key Findings
Well, the top 20 emojis couldn't have described the last two years any better.
From happy to sad to literally crying our eyes out with laughter, the last two years have our emotions all over the place! And these are just the Top 20. But if we want to talk stability. On Twitter from 2015-2017, positivity reigned, with positive emojis accounting for 75% of the emojis posted over the period! And while the negative feels only took home 25%, they grew 9.5% over 2015-2017. Reflective of the 'moments in time' that divided the world? Yep.
According to Brandwatch:
"The largest volume of negative emojis was recorded during the month of the American election (8th November 2016). During the week of the election, negative emoji use grew to 28.9% (a two year high) 😢"
"Negative emoji use grew by 3% in the months before and during the British EU referendum (23rd June 2016) "
That explains a lot. Brandwatch took it a step further and broke down certain emojis to represent various sentiments such as joy, disgust, sadness, fear, surprise and anger.
Taking it a step further, Brandwatch mapped out the above categories peaks as well, showcasing the prominence of news, opinion and moments on Twitter. Joy was found to surround the holidays – in particular, Christmas BOTH years. Negative insights on the other hand, according to Brandwatch were:
"Fear emojis spiked to an all-time high in the run-up to the EU referendum. However, use of fear emojis dropped dramatically following the result 😨."
"Sad emojis spiked to an all-time high in May 2017 due to the Manchester terrorist attacks."
"Anger emojis spiked on Aug 20th, with 33% of angry emoji tweets referencing Donald Trump 🤬."
So, perhaps unsurprisingly, politics had a lot to do with our rollercoaster of emotions over the last two years.
At what point of the day were we using emojis the most?
That would be 9 pm! With the use of negative emojis growing as the day progressed, with a growth of 21% from 8 pm to 6 am. And like a lot of other trends, usage varied by gender, with females using emojis more than their male counterparts.
But that's JUST top level. For detailed insights, get Brandwatch's 'The Emoji Report.'
---
You might also like
---
More from Social Fun
---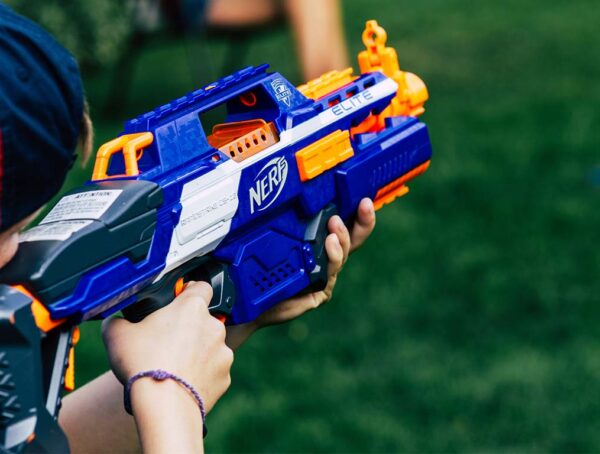 Most people have probably grown out of their Nerf obsession; if you haven't, you could become the new NERF Chief …