Nowadays there seems to be a social network for everything and everyone. The truth is that, except from the main platforms, only a few networks actually bring something new and useful to their community.
The Dots – a sort of LinkedIn for creative professionals – is one of those.
The Dots is a professional networking platform designed to help creative professionals and companies showcase their work, network, collaborate and connect for professional opportunities.
The specialised social network was created by Pip Jamieson, who co-founded a similar site in Australia and, although it only recently launched in the UK, The Dots already already counts over 13,000 brand partners. Of course Jamieson is not alone in this venture and she has managed to bring with him prestigious partners such as Conde Nast, Saatchi & Saatchi, Spotify, Vice and even Facebook!
The Dots hosts profiles and portfolio for professionals in the creative industries like design, advertising and publishing. The main difference with the likes of Behance is that The Dots intends to be a real online space for collaboration, networking and commercial opportunities. The platform is built on a freemium model – anyone can create a profile but users can pay to recruit talent and post jobs.
Here is a screenshot of what a company page looks like on the platform: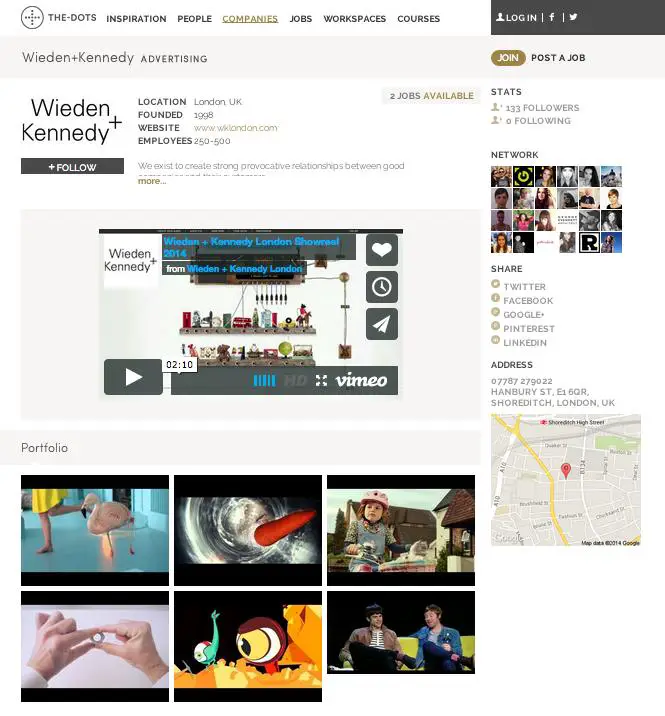 While The Dots is only available in the UK for now, Jamieson confirmed she plans to expand internationally "in the near future."
Related Stories:
You might also like
---
More from Other Platforms
---
YouTube has announced a new supervised account option for parents with children who are too old for YouTube Kids.