Let's face it, the world is going mobile and this is actually great news for all Social Media marketers. The job does not necessarily require sitting behind a desk all day long, because nowadays you can pretty much do everything with your mobile device.
The Apple Store is particularly resourceful when it comes to providing the right tools for Social Media marketers on the move. Of course you can download all the social media native apps like Facebook, Page Manager, LinkedIn, Twitter, etc…. but there are also many, sometimes less known, apps that could really make your life easier.
Here is a selection of 10 iPhone apps we thought every social media marketers should have:
You cannot really leave the office if you cannot take all your important documents with you. GoDocs is the most complete app to let you have the full benefit of Google Docs while being on the go.
With GoDocs, you can search, view, edit and share documents, you can download them for offline review and organize them in your folders, all that from your iPhone.
The best with GoDocs is that you can add multiple Google accounts on it and it fully supports Google Drive. Moreover, GoDocs comes in with Push Notifications that let you know when a new document has been shared with you or when it was edited by someone else.
➙ Download GoDocs on the Apple Store
There is one thing every Social Media Marketer really wants to always have in hand: Analytics. And let's face it, using the web browser on your iPhone to check on Google Analytics is not what you can call the best solution.
On the other hand, Analytics App is a native iOS app that presents Google Analytics in a way you will really love. It comes with a set of pre-organized reports and allows you to customize them by date quickly and easily.
The Dashboard is so sleek and intuitive that you will soon find yourself using it more than Google's website to check your analytics!
➙ Download Analytics App on the Apple Store
HootSuite is one of the leading social media management app. From it, you can share and  schedule posts for Twitter, Facebook, LinkedIn and Foursquare.
Thanks to the iPhone app, you can take your social media management everywhere. HootSuite is your all in one social media scheduling app. It comes with its own link shortener (Ow.ly) which lets you track click-through stats.
One of our favourite feature is the Autoschedule function that lets you spread messages out over a number of specific days.
➙ Download HootSuite on the Apple Store
You will want to have all your files with you when out of the office. The great thing about DropBox is that it is now widely accepted as a great way to store documents, videos and images on the cloud.
DropBox synchronises automatically between all your devices and you will start with a 2Gb storage when signing-up. From my experience you can easily increase this free space by inviting  friends, synchronizing your Photo stream, etc…
➙ Download DropBox on the Apple Store
Evernote is one of the best free app that helps you remember eveything. Evernote is about staying organized and we all know how much organization is key to being an effective Social Media marketer.
With Evernote you can take notes, snap photos, create to-do-lists, scan business cards, record voice reminders and the best thing of all is that all these are searchable!
Evernote synchronizes between all the devices you use so you do not have to worry about keeping up to date.
➙ Download Evernote on the Apple Store
TweetBot is a fun, beautiful and easy to use Twitter client for iPhone. The new version has been completely redesigned for iOS7 and the app is now much faster than ever.
TweetBot uses native push notifications and offers top-of-the-art mute filters that let you mute users, services, hashtags and even keywords. You can customize up to 2 tabs for your own navigation shortcuts. Tweetbot can be easily linked to other services like Pocket, Instapaper, CloudApp and more.
The best about TweetBot is that it synchronizes your timeline position, direct messages read statuses and mute filters between all your devices, so you do not have to scroll and scroll over again when switching from your laptop to your iPhone!
➙ Download TweetBot 3 on the Apple Store
Social Media are very visual platforms so you should always keep a photo editing app handy. Adobe Photoshop Touch for iPhone is probably the best and most complete one you will find out there.
The app brings all the creative possibilities of Adobe Photoshop to your iPhone. It comes with all the core features you expect from the top photo editing software. You can combine images or layers, apply professional effects and even share the pictures directly to your social media profiles.
The app can synchronize with your desktop Photoshop so you can start projects on one and finish them on the other device.
➙ Download Adobe Photoshop Touch on the Apple Store
Buffer is not just another social media management app. It lets you "buffer" your updates according to your pre-established schedule. So you can share your updates to Twitter, Facebook, Google+ and LinkedIn , while making sure they don't all get posted at the same time and clutter your feed.
You can use Buffer to share links, text, photos or video and they will automatically be spaced out throughout the day and then posted on the social media of your choice. Of course you can always decide to "Post now" from within the app.
The premium version of Buffer will allow you to share to more than one profile for each social network and schedule an unlimited number of updates.
➙ Download Buffer on the Apple Store
If you are into numbers, you will love this app which lets you keep track of your SEO stats directly from your iPhone. The interface is very simple and intuitive and it lets you track an unlimited number of domains.
iSEO tracks your PageRank, Alexa stats, backlinks, load times, link popularity, indexed pages, directory inclusions, social mentions and much more.
The app also saves snapshots of your SEO stats so you compare your progress using timestamps.
➙ Download iSEO on the Apple Store
IFTTT is a new kind of social media management app. Standing for "If This Then That", IFTTT lets you create powerful connections between iPhone apps. You can create pretty much any recipes you want and make things happen automatically while you are off your desk.
The app includes channels like Facebook, Gmail or Twitter and can also connect to devices like Philips Hue, Belkin WeMo or UP by Jawbone. This means you could, for example, light up your Hue with a mail or play your favorite tune every time someone tweets a specific hashtag… and all that from your iPhone!
➙ Download IFTTT on the Apple Store
Do you have any other apps you use when on the go? Share them with the community, leave a comment!
Most of these apps are also available for Android phones on
Google Play
.
Related Stories:
Featured image credits: Reuters
You might also like
---
More from Reviews
---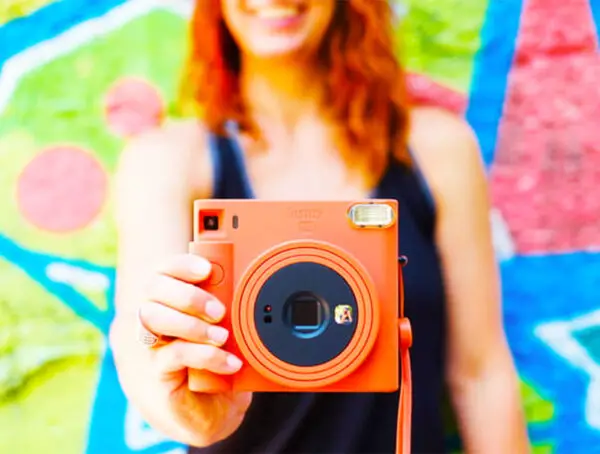 Fujifilm is making shooting analog instant-film easy and highly pleasurable with the new Instax Square SQ1.