New research from Pew has found that the percentage of American adults who got their news from social media has seen a further increase from 2016. Facebook remains the platform of choice for a majority of users.  
Despite social media platforms playing a major role in the increase and spread of fake news, more and more people are getting their news through social media platforms. A recent study from Pew Research Center, conducted in August 2017 found that 67% of Americans get "at least some of their news on social media" – 20% do so often.
The increase from last year, of Americans getting their news through social media, is only 5% – yet this is following a loss of confidence in news on platforms. The report mentions that "during the height of the presidential primaries, 62% of U.S. adults reported getting news from social media." The increase has been driven by "older, less educated and nonwhite" Americans.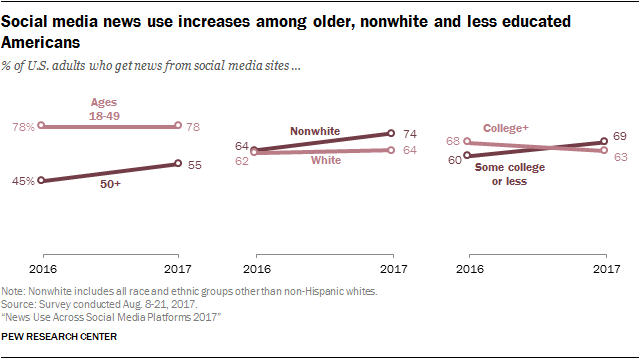 The report also explains that this is the first time since Pew began its surveys, over half of Americans (55%) who are 50 or over are getting their news through social media. 78% of under-50s do so. Over-50s increased 10% in a year, while the figure for under-50s remains unchanged from last year.
The study also found that nonwhites are now more likely than whites to get their news from social media platforms. The same applies for people with less than a bachelor's degree.  The use of social media for news actually decreased among those with at least a college degree.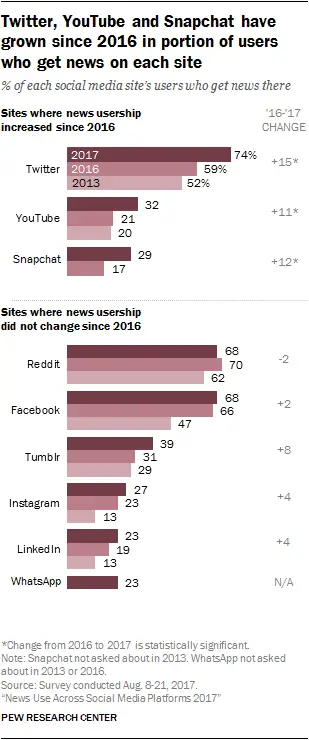 While Twitter, YouTube and Snapchat grew in terms of share of people who get news on social media, Facebook remained pretty much the same, with about two-thirds of American users (66%) seeking news on the platform. In terms of proportionality to all U.S. adults, that's 45% of Americans getting their news on Facebook. YouTube comes in second, albeit far behind Facebook, at 18%.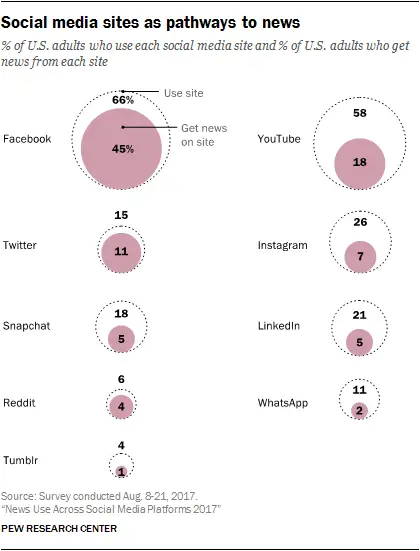 Even though YouTube has a large user base – 58% of the population – a smaller portion gets news there. In 2017, both the user base and the share getting news on YouTube grew. The result: 18% of all Americans now get news on YouTube, making it the second most common social media site for news – albeit still far behind Facebook. In Twitter's case, despite 74% of its users getting news on the platform, fewer U.S. adults do so proportionally – 11%.
If you want to dig deeper into Pew's report, you can read it in its entirety here.
---
You might also like
---
More from Experts Talk
---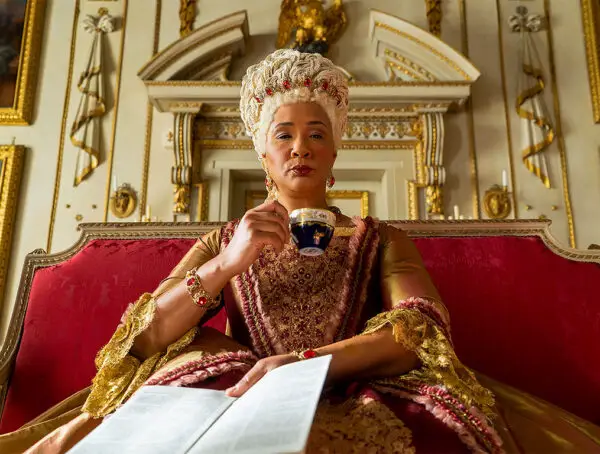 A new musical could soon come to life on TikTok, WhatsApp users are flocking to Signal and Fiverr will run …