Reddit announced last week that it's bringing native promoted posts to its iOS and Android apps launched almost two years ago. 
Reddit has seen a huge increase in popularity since it launched app versions of its platform on iOS and Android in April of 2016, with over 80% of mobile app users not even using the desktop version. Stats also show that 41% of the time spent on Reddit, now comes from a mobile device, and mobile users spend an average of 30% more time on the platform compared to desktop users. This popularity has led Reddit to announce it's bringing sponsored posts to its mobile apps, in a bid to increase engagement on ads.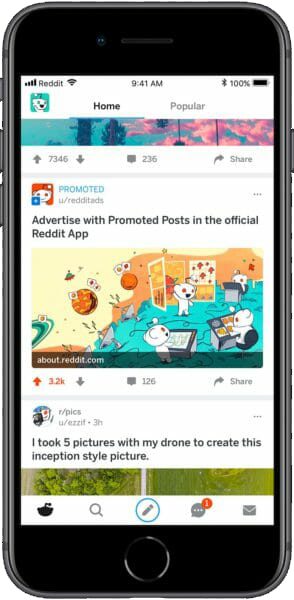 The native ads look and feel exactly like normal Reddit posts – and are even decked out with all the same upvoting and downvoting options, and even comments – although the latter can also be turned off, just like on desktop counterparts. The only thing that's different is the "promoted" label of course. The ad format will also keep Reddit's usual targeting options – interests, community, geography, or device. The new option will be available on iOS first – this week – and will make its way to Android within the next few weeks.
Reddit has grown into a significant community of highly-engaged users, with 330 million users active on the platform each month. These users generate over 14 page views and 11 million submissions in the same time, as well as 2.8 million comments and 58 million up/down votes! Finally, Reddit seems to be a great platform on which to reach the 18-34 demographic, as 79% of its users are in it.
---
You might also like
---
More from Other Platforms
---
Facebook is rolling out new features on Messenger and Instagram to allow more self-expression and help people feel together even …