Presentations are probably the biggest nightmare for digital marketers. Mac adaptors, projectors, dark rooms, light rooms, large audience… there are so many reasons why your next presentation can go wrong. I won't even add the fact that as digital marketing is going global, your clients may also well be on the other side of the world.
That's why you need a powerful tool, that will enhance your presentations, and let you keep your audience going, even if you are on the other side of the planet. Meet Preso.Tv.
You may have created the perfect presentation for your next client, with all the right animations and highlighted sections, but if you're conducting the pitch from somewhere else, it may be extremely difficult to transmit all the important parts the right way. Preso.Tv is here to solve this problem.
Preso.Tv is an app that will help you make the most out of your presentation when attendees are located somewhere else. But it will also help you to conduct your presentation in front of a live audience when a projector is not available.
Preso.Tv is available for all iOS devices, but Android users don't have to worry, as presentations are accessible with full functionality through the website.
Its functionality is divided into two main areas: Participating in a presentation and conducting a presentation.
Conducting The Presentation
Once installed, users are presented with a home screen demonstrating all the presentations that are currently being broadcasted within 5 kms of radius. By pressing the '+' sign on top left corner, users can add their presentations to the app via Dropbox, Google Drive or Box.
In case you have the respective app install on your iPhone or iPad, then Preso.Tv will ask for permission to access them. We tried with Dropbox and Google Drive and it worked perfectly. Right now, Preso.Tv supports Powerpoint, Word and PDF files, so you can use it whether you've built your presentation using Microsoft office or not.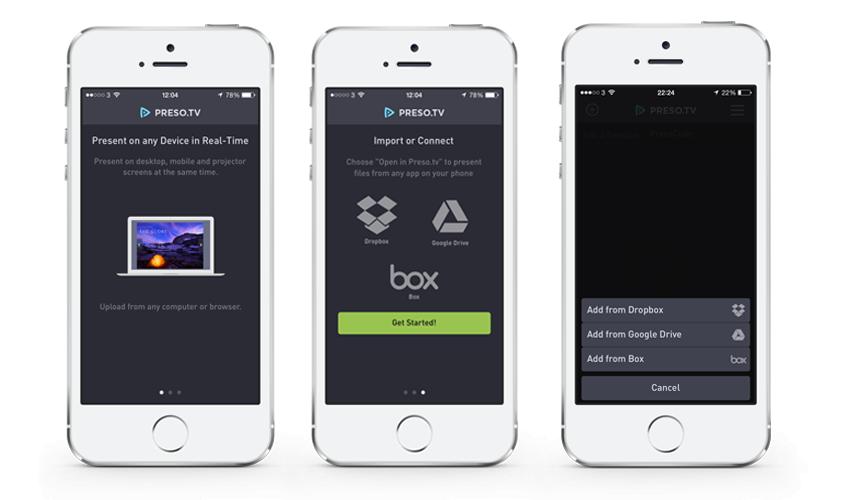 We worked with a .pdf file. Uploading was easy and the file opened succesfully. Once uploaded the user is presented with a variety of options:
-Start broadcasting your presentation (or schedule your broadcast for later)
– Share the link to the presentation
– Set your presentation to be visible or invisible to nearby users
What impressed us is that you can pass ownership to another user or device, simply by adding another email address.
Choosing 'Start Broadcast' will begin the presentation. Participants can jump in the session by using the Preso Code, which you can get by tapping on the settings button on bottom left corner of your iPhone/iPad.
From that moment on, everything you do on the screen is seen by all participants. You can swipe left or right to navigate through the slides, or tap on the screen and highlight any part of the presentation.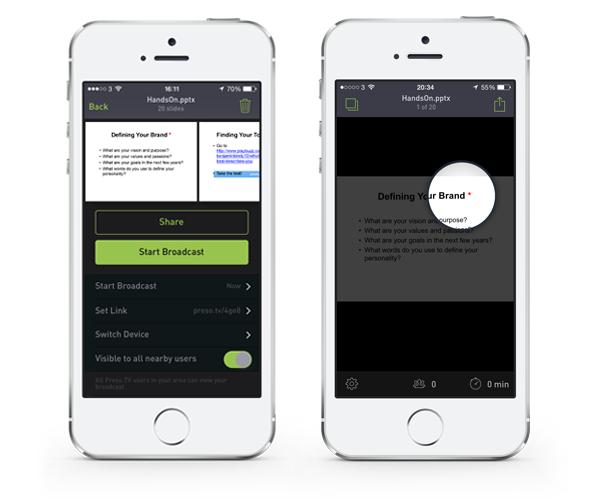 Once you are done with your presentation, your files can be securely deleted. You can also unlink any cloud storage services from the main menu with a single tap.
Joining In A Presentation
Preso.Tv is a true collaborative tool. Whether you are on your laptop, mobile phone or tablet, you can visit the website and enter the Preso code given by the presenter. If you're an iPad or iPhone user, downloading the app will let you take part in the session with a single click.
What We Loved
Preso.Tv requires no registration and it's absolutely free.
Each presentation can be securely deleted within 30 days, once you no longer need it. We liked the ease of use and the seamless integration with Google Drive and Dropbox.
The app is extremely reactive. You can zoom in or highlight a slide and these actions are seamlessly viewed across all devices.  Finally, it is retina-ready, so you won't miss a pixel!
All in all, Preso.Tv is really cool. As Anshuman Sinha, Product Owner at Decos Technology Group, states:
[quote] Preso.Tv is a great tool to work with and work on! As an avid end user myself, I realize that we are making a difference and solving a real-world problem for many people in an effective and simple way. We have thousands of end users – teachers, trainers, students, businessmen, sales managers…who have reported an increase in their productivity due to this app! [/quote]
Next Steps
We would love to see wider format support (e.g. Keynote) and a chat feature for all participants (Update: this function is already implemented in the latest update).All in all, this is a great tool for all digital marketers out there.
Our advice, download it now for FREE!

You can find Preso.Tv on Facebook and on Twitter.
Related Stories:
You might also like
---
More from Reviews
---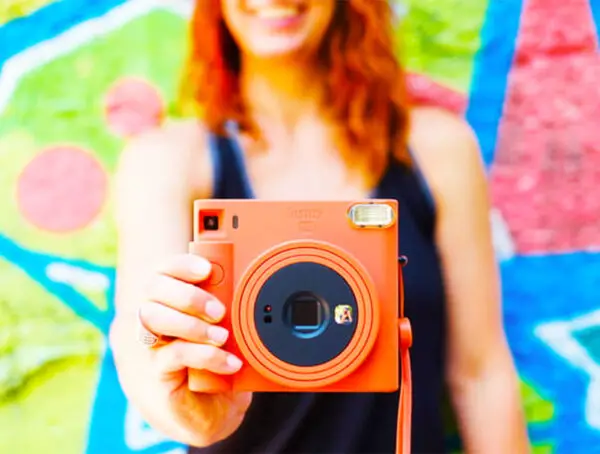 Fujifilm is making shooting analog instant-film easy and highly pleasurable with the new Instax Square SQ1.