Happy Friday, one and all! Who else has noticed the DARKNESS when we wake up? I have been stubbornly trying to keep the lights off, and mismatching socks, and all sorts, in the process! Yes, I will have to accept that "Winter is coming" but not just yet. You know nothing!
Anyway, here's a bit more nice weather before all that, and another mash to boot. As a mild twist to your favourite Friday dish, I will be focusing a little bit more on how brands manage to make communication less boring. I am on a quest to turn business communication into something you actually WANT to hear/see/retweet. Let's face it, it can be pretty dull out there sometimes, so let's take note and celebrate those who dabble in the exciting and the humorous. Let's be social!
A Dash Of Instagram
All the way back in May (I miss May), Sam Eckstein and Jordan Feldman launched Springbone over in Manhattan – a restaurant focused on bone broth. Yep… BONE broth! Eckstein's focus when it came to the social strategy was Instagram. And more precisely, Instagram influencers.
Recently, the Springbone guys saw a real surge in brand new customers. They were all coming in and asking for the strawberry rhubarb ice cream. Sam and Jordan knew exactly why. Just a day earlier, a foodie instagrammer had posted a picture of the flavour, to their hundreds of thousands of followers.
In the past couple of years, instagrammers have really taken centre stage. One of the largest accounts, New Fork City, has over 700k followers… and that's up almost 200k from January 2016!
Sam Eckstein wants to appeal to this powerful audience, and makes his dishes as "instagrammable" as possible. He then captures them in creative photographs and videos, which he posts to Springbone's own Instagram account.
Finally, he engages with Instagram influencers with a minimum of 10,000 followers. An easy way is to just check out New Fork City and see who they follow. "I bet 80% of the people they follow are the biggest influencers in New York," says Eckstein. So when Springbone has a new item on the menu, Eckstein direct-messages influencers on Instagram and invites them in for a tasting! The unspoken deal of course, is that the restaurant will provide the food FOC, and the influencers will share their lovely pictures with their thousands of followers afterward…
https://www.instagram.com/p/BK4ShWKD3Dh/?taken-by=ny.foodie
Back to the strawberry rhubarb ice cream – a couple running popular account @ny.foodie posted this picture to their 40,000 followers, clocking almost 600 likes and 8 comments. They also included the hashtag #new_fork_city in the post.
https://www.instagram.com/p/BJVbnKxjSyu/
A week later, New Fork City reposted the image to its more than 700k followers and credited NY.Foodie. In this case, New Fork City didn't solicit payment, but when it posts its own photos, it sometimes charges restaurants around $500…
https://www.instagram.com/p/BKmkby5BLQn/?taken-by=new_fork_city
The impact of the repost was pretty epic – over 16,000 likes and 235 comments. "Almost all of those are people commenting at their friends and saying, 'Look at this, we should go get this together,'" Eckstein says. The post led dozens of customers to come in the next day, asking for strawberry rhubarb ice cream.
On an average day, Instagram drives about 5% of Springbone's new customers, Eckstein estimates. "It makes us a restaurant that becomes talked about. Without Instagram, you fall out of that conversation."
Snapchat Wins Presidential Debate
On Tuesday night, Twitter live-streamed the first of the three presidential debates. A veritable who's who of entertainers offered their opinions using the #debatenight hashtag. Yet it was the company formerly known as Snapchat that managed to steal the show. Again!
Freshly re-branded Snap Inc. may have a brand new fan by the name of Donald J. Trump. Moments ahead of what was the most-watched presidential debate in U.S. history, the Donald launched a nation-wide 'Crooked Hilary' campaign on Snapchat.
The filter featured a "Debate Day" banner alongside the writing "Donald J Trump vs Crooked Hillary," flanked by fireworks and Trump's "Make America Great Again" slogan.
.@realDonaldTrump launches a "Crooked Hillary" @Snapchat filter ahead of tonight's big debate https://t.co/4UBrMRZrEm via @lisahopeking pic.twitter.com/SWe0agdxJo

— CNN Tech (@cnntech) September 26, 2016
While some candidates including Hillary Clinton have paid for local filters during regional events, this is the first ever sponsored political filter available nationwide! It's unclear how much the orange one paid for it all.
This here was a Bernie Saunders one back in January: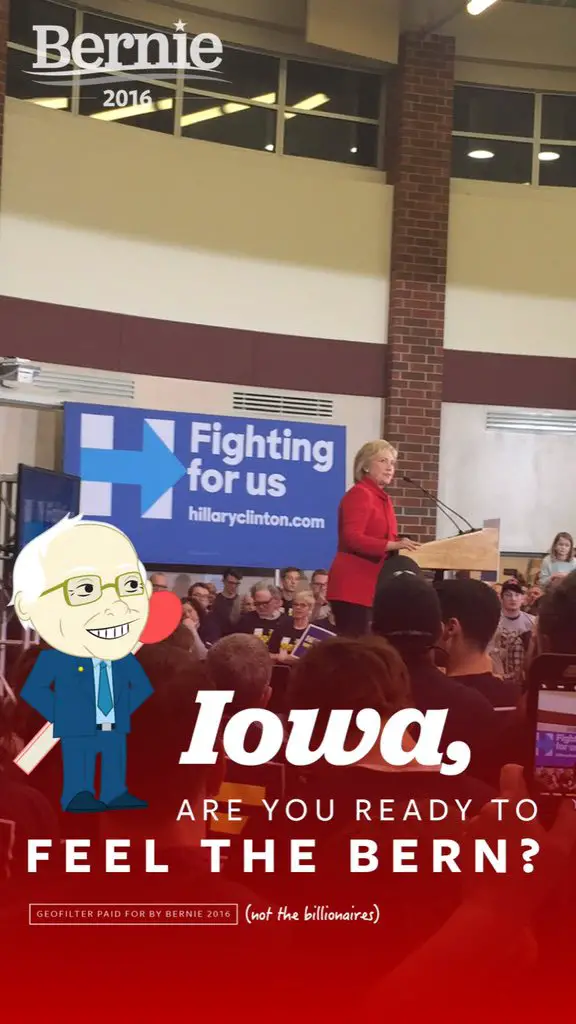 In response to the filer, the Clinton camp said: "Rather than actually try and persuade people, the Trump campaign is throwing money into a fire pit. [This features] a joke that, given Trump's deep unpopularity with young voters, will be used mainly at their own expense."
Snapchat says it reaches 41% of 18 to 34 year-olds in the U.S. daily (which will have been the key attraction for the Trump campaign) and its users view 10 billion videos a day – that's more than twice the figures of YouTube.
CEO Evan Spiegel has been clear from the start about his plans: to make communicating safe and fun again. And Millennials – voters or not – love the sound (and look) of that!
Tumblr GIF Extravaganza
So, Tumblr's new iMessage app is pretty much a GIF lover's paradise. If only Coolio would sing about that one… Whether you've been a fan for years or never really given Tumblr a second thought, if you enjoy a GIFs in messages, this one's for you!
The new iMessage extension allows you to not only make GIFs, but create personalised animated clips from scratch too. And since we're all about adding text and emoji to images and videos – yes, you can do all that too!
Once installed and activated (just tap on the App Store icon next to the text field in Messages, then go to + and add Tumblr GIF), the "GIF camera" connects to your iPhone camera and allows you to shoot a video (or access existing vids and photos stored in your library and turn them into short animations).
You can add text (in a range of colors) by simply tapping the clips. When you're 100% happy with your GIF, hit 'next' and it will be automatically saved to your iPhone and appear in the iMessage input for you to send. Unfortunately, it doesn't seem to work on the iPhone 5 and 5S, and you will need the most recent version of the main Tumblr app downloaded to activate.
Right, I'm off GIFFING. Have a great weekend!
---
You might also like
---
More from Social Fun
---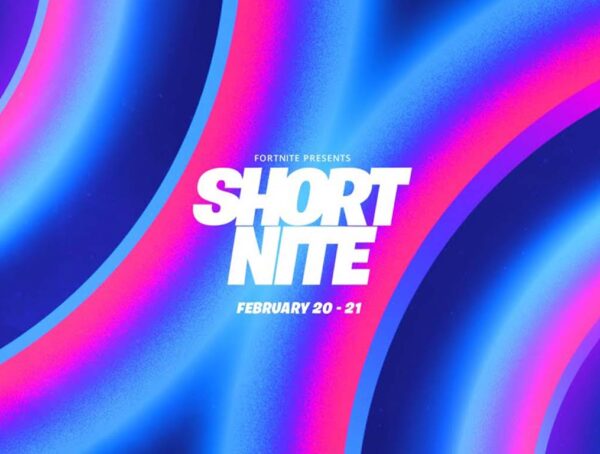 Fortnite has announced the Short Nite Film Festival with screenings for 24 hours on Party Royale's Big Screen.