Happy Friday, welcome to the mashup! Don't forget, the clocks are going forward this weekend! I once missed a flight because I didn't remember to change the time! That same year, I went to the airport an hour too early, when I forgot to turn the clocks back. I was young and potentially in-love and/or inebriated.
But enough about me! Let's see what the world wide web has been up to. There's some wine, some secret Instagram groups and low budget beasts… What more could you ask for, in preparation for the weekend?
So, let's do this!
Facebook Wine
No, Facebook is not making wine. Snapchat needs to make some first.
This is about cult US wine brand, Carlo Rossi. It's a "cheap and cheerful" wine that has been "winning" at Facebook ads for a while.
E&J Gallo Winery, launched by brothers Ernest and Julio Gallo back in 1933, is the world's largest-family-owned winery. They launched Carlo Rossi as the "economy" option, and it has been one of America's most popular wines since the '70s. Considering their paid ad budget is next to nothing, this is pretty impressive.
The secret? Having fun.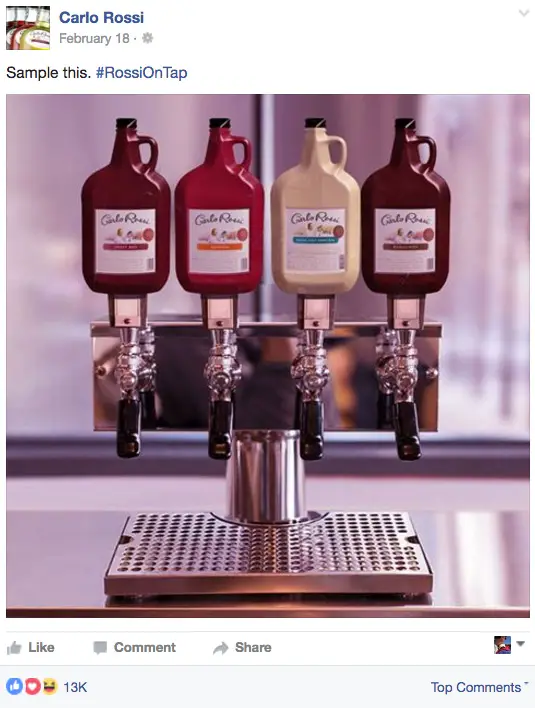 Odysseus Arms, the agency handling the Carlo Rossi account, have been coming up with a wild variety of ideas and sharing them with the brand's 300k plus Facebook fans. There are Carlo Rossi bath bombs or restaurants that sell it on tap.
"We did an absolutely terrible job in the beginning," says Libby Brockhoff – cofounder of Odysseus.
[quote]But what we do really well is work with the consumers. Our whole business used to be talking at people … but now they're part of the conversation.[/quote]
"In essence, the social campaign is delivering on Carlo Rossi's promise — to provide the highest value possible for the consumer in terms of price and reward," says Stephanie Gallo, VP of Marketing at E&J Gallo Winery. "We love them, and they love us back."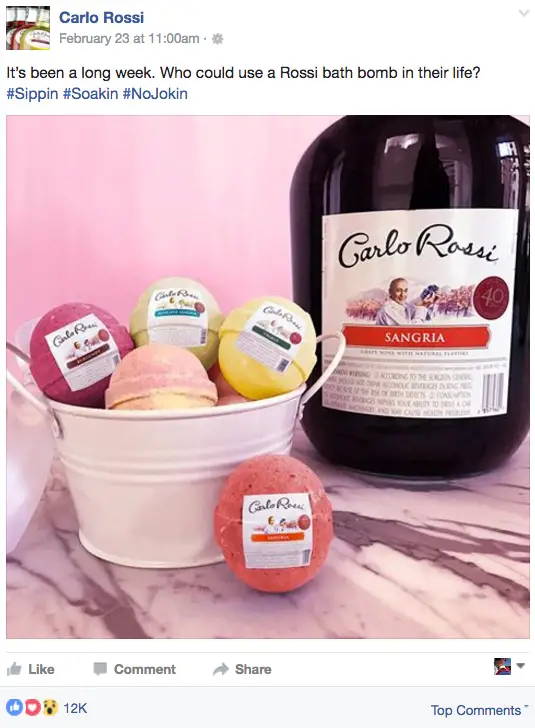 The Odysseus team has more than doubled the brand's fan base without spending a dollar on Likes, while also introducing the wine to a young audience. It reaches "Super Bowl-level engagement" on a budget that runs to a few hundred dollars tops per post.
Brockhoff explains why:
[quote]You risk a lot by waiting until the end of the process to find out what people think. This is how we do pretty much everything![/quote]
Cheers to that!
InstaPods
And since we're chatting about followers and social appeal, Instagrammers around the world are setting up secret groups called "pods" to boost their visibility. Ever since Instagram changed its algorithm last year, doing away with a feed shown in chronological order, users found they were beginning to lose engagement.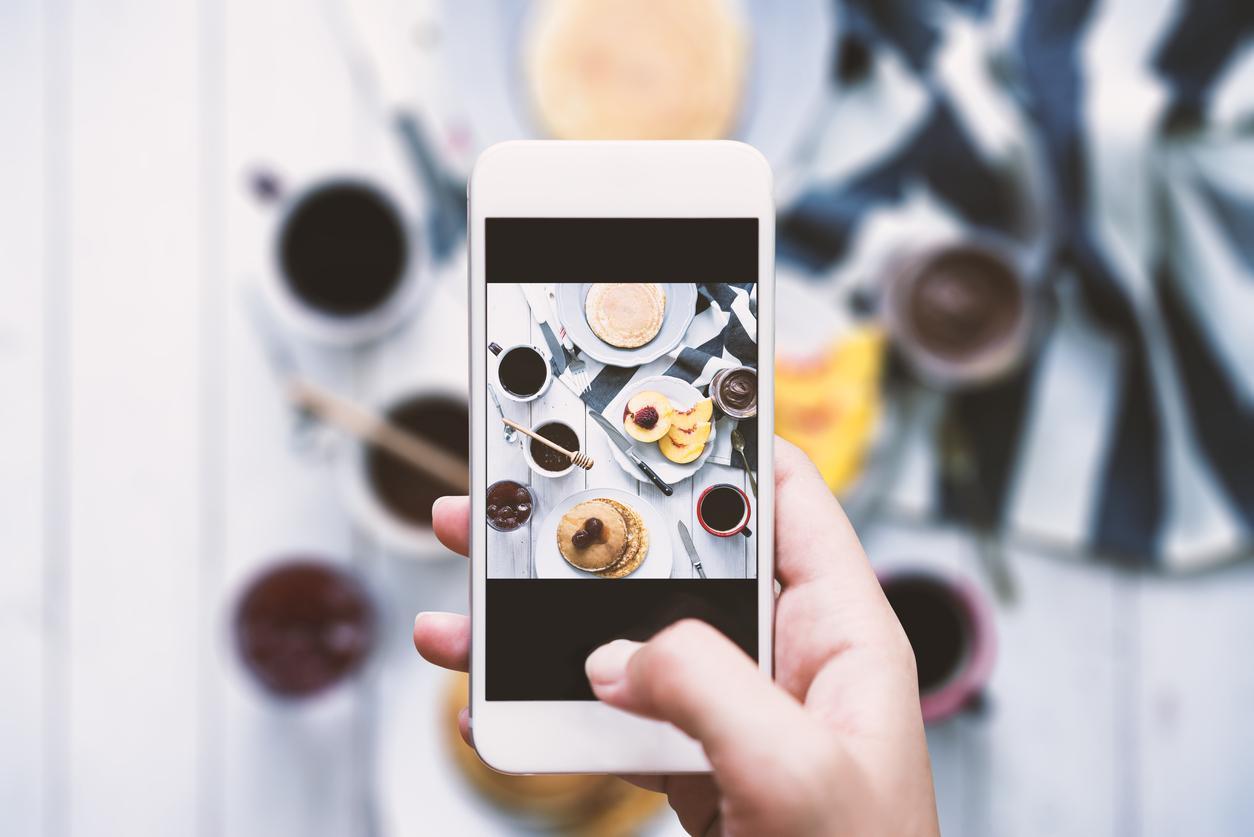 How to solve this? Hack the system, of course! So how do these "pods" work?
They are groups of like-minded creatives who agree to comment and like each others' work. So, people who have an interest in fashion, can join a pod based on a particular style or brand that fits their content. Most of the pods come with their own set rules, however.
These include things like having to share the post with other pod members as soon as it goes up, so they have time to comment. Comments on posts cannot be emojis, and should be more than three words.
A good pod should also be made up of users with similar content. This is because, in order to make a real impact, they need to create "meaningful" engagement. Interesting – I might test it.
But consider how many companies employ Instagrammers to promote their products, and measure the success of the collaboration on how many likes or comments that post gets. What if the user they employ is part of an Instagram pod, and most of the engagement it receives will actually be from other bloggers?
Ouch – not great for brands.
Beauty And The Tumblr Beasts
Have you seen the "Beauty and The Beast" movie yet? I haven't, and I actually really want to see it. Who plays Gaston? What about the teapot? Anyway, the movie – much like the cartoon – is all about polished imagery and beauty.
But good old Tumblr has managed to provide a true antidote to the whole affair. Enter Low Budget Beasts.
It was started by Noelle Marion, a theatre worker and actress, who once played Belle herself, at Hong Kong Disneyland. Sadly, it hasn't been updated in a while, but if you see Noelle, tell her she needs to get back to work!
This is by far my favourite, by the way: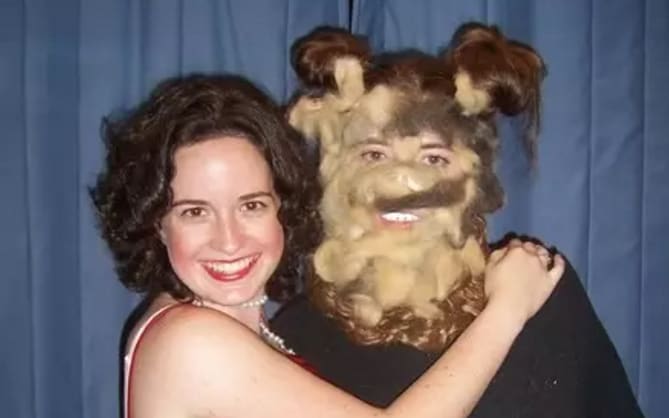 She was interviewed by Buzzfeed back in 2014, and here's how it all came about:
[quote]It all started years ago when my college roommate and I somehow stumbled upon a Google Image search of the Beast costumes. Flash-forward to about a week ago, I was thinking about Beauty and the Beast and I recalled that mecca of 'low-budget beasts' online. I did a quick search to be sure they were still in existence and the results exceeded my expectations.[/quote]
YouTube For Charity
Now, I don't know if you've seen this. Ben Stiller is now leading a campaign to raise $2m, to fly food and water to Somalia with Turkish Airlines – via YouTube .
After raising an impressive $1m in less than 24 hours, Stiller is reaching out to his celebrity chums to raise the rest. The whole thing started when French Vine and Snapchat star Jerome Jarre saw a report about the current drought in Somalia, and promptly googled what airlines fly to Somalia. The answer? Turkish Airlines.
The "Love Army For Somalia" was quickly set up, to try and convince Turkish Airlines to use one flight to ship aid to the drought stricken country. "One shipment – providing immediate relief for immediate need," reads the Go Fund Me page for the campaign.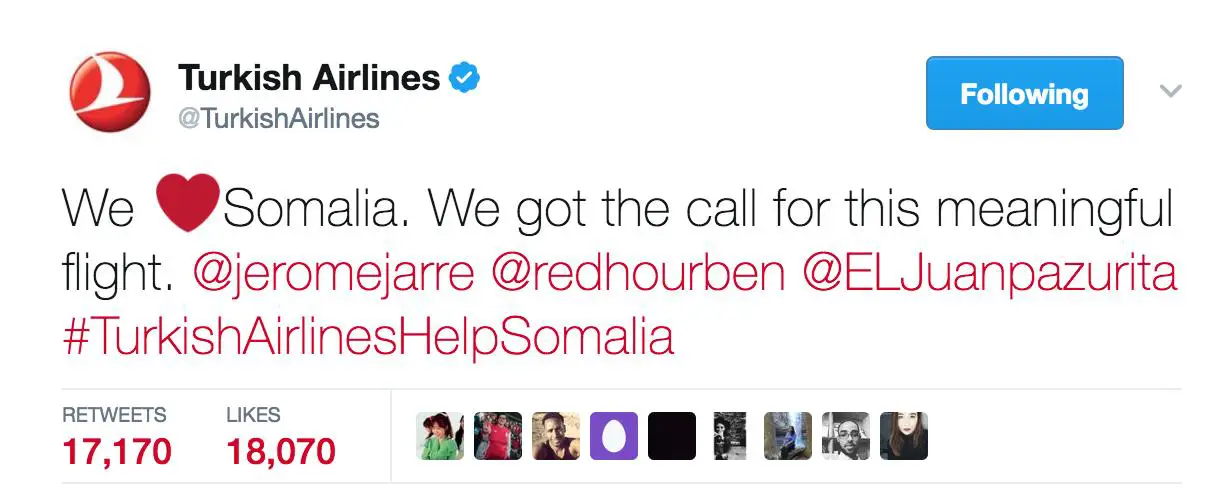 The airline promptly agreed to take 60 tonnes of food on one of their commercial planes, if Jarre managed to get the funds. Ben Stiller and his foundation joined the campaign after seeing it on social media, and the goal was reached in less than a day.
"Not only they are making available a full cargo flight that can fly 60 tons of food, but they agreed to let us ship food containers on their commercial aircraft to Somalia, until the end of the famine," Jarre wrote as a result.
Now, the goal has been pushed to $2m, and dozens of celebrities have been donating generous amounts, with DJ Calvin Harris topping the bill with $25,000.
The next shipment, according to Stiller, will be all about water. "For water, we've learned from multiple NGOs on the ground, that the most sustainable thing to do is get water trucks to be delivered," the campaign page reads. To reach this new goal, Stiller started nominating other celebrities and asked them to do the same in return.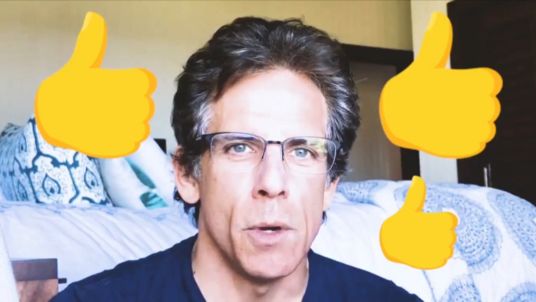 "The idea is that every person who donated money, all of you 50,000 people, nominate three other friends to be a part of this. So, I'm going to nominate three people. Lewis Hamilton, Formula One champion, super cool dude, Emma Watson, because she cares about people – and she's also cool. And Cara Delevingne, because she's really, really ridiculously good looking and she also cares about what's going on."
You can donate and read all the details here. They've even made the front page of the NY Times!
https://twitter.com/jeromejarre/status/844285028037279745
Ok, that's your mashup you lot. I'm off for a spa weekend. I hope I don't forget the clock thing again from all the relaxation! Have an awesome weekend, see you on the flip side!
---
You might also like
---
More from Social Fun
---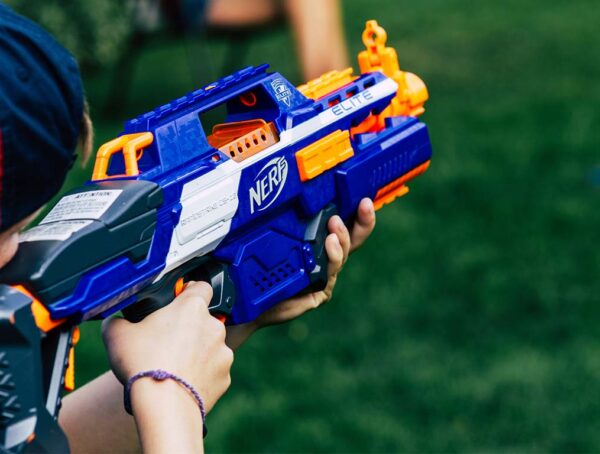 Most people have probably grown out of their Nerf obsession; if you haven't, you could become the new NERF Chief …