Hello everyone! How are you? How was your week? You will be pleased to hear that I managed to avoid the chaos that was the Southern Rail strike by working from home all week. All week bar Wednesday that is, when I woke up at the unholy time of 5AM. On the walk to the station it was just me, 5 seagulls, and a Hovis delivery truck driver pumping hard house beats into the chilly dawn air. Yep.
In other news, I have seen mince pies at Sainsbury's, which is oh so very wrong. But then again, this year has not only gone by in a blink, it has also brought a "good" few crazy (read disastrous) happenings into our lives. And another potential awaits in November (yes, I do mean the US election…)
Whilst we wait for that, let's do the Mash!
YouTube Is Not Loving It For McDonalds
Yes, this is the news that Ronald's restaurant – I do mean McDonald's – has called it a day on their youth-focused YouTube campaign – Channel Us. The reason? Lack of interest from audiences!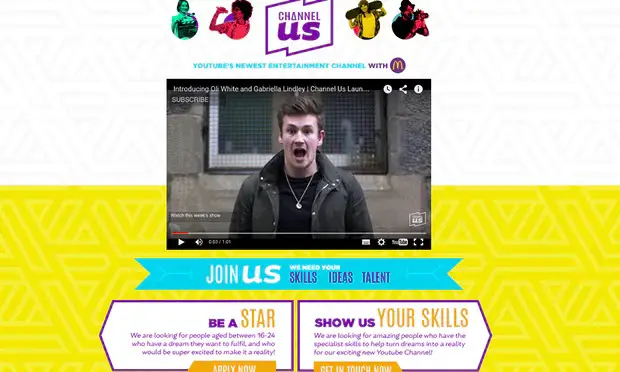 McDonald's launched Channel Us back in September last year, in an attempt to engage younger audiences, in a move that it described at the time as "a ground-breaking moment for McDonald's in the UK". The chain enlisted UK vloggers like Gabriella Lindley and Oli White to host the show, and posted a series of "how to" videos for a whole year.
With that in mind, and knowing what we know about influencer marketing, none of the nine films posted on the channel in 2016 managed to hit even 1,000 views! Ouch!
Head of Media and Customer Engagement for McDonald's, Ben Fox, told The Drum:
[quote]We have learnt that content is really difficult and content with purpose is really important. Like a lot of brands, it is a challenge for us and we are looking at a lot of different ways we can pull people towards our brand to build affinity with other audiences.[/quote]
But what failed for McDonald's was a boring success for others. Pepsi Max for one, gained over 120,000 subscribers to its YouTube channel even though it only posted 67 videos over three years! Red Bull's channel has almost 5.5 million subscribers, and even Burger King clocks millions of views on its mere 10 videos.
Oh, Ronald!
Instagram Influencer With A Twist
Now, we are all used to new Instagram stars emerging almost on a monthly if not daily basis, so when Louise Delage made her debut on Instagram a few weeks ago, nobody batted an eyelid. The 20-something Parisian appeared to be like any one of us, spending time with friends, eating at restaurants and enjoying time outdoors.
Her photos had simple captions ("Chilling with friends", "Dancing", sometimes just an emoji or two), and were all heavily hashtagged, receiving likes into the hundreds! She also accumulated nearly 65,000 followers in just a few weeks.
https://www.instagram.com/p/BKpeBDVhDbi/?taken-by=louise.delage
Most of her pictures seem to feature some sort of beverage: a glass of rosé at the beach; a family dinner, with melon and red wine; a glamorous selfie – glass of sparkling wine in hand – pretty standard stuff. So why the hype?
https://www.instagram.com/p/BKl7bFqBrSg/?taken-by=louise.delage
Well, it turns out that Delage was the creation of advertising agency BETC, and the star of their "Like my addiction" campaign. In every single one of her 150 posts, Delage – or the model posing as Delage – had a glass/bottle of alcohol at hand.
https://www.instagram.com/p/BKEb799hy_P/?taken-by=louise.delage
The campaign was created for Addict Aide, an organisation raising awareness of alcoholism among young people. Stéphane Xiberras, creative director and president of BETC Paris, said the agency had been struck by "the difficulty of detecting the addiction of someone close to you". The fake Instagram account aimed at showing "a person people would meet every day but whom we'd never suspect of being an addict".
Boosting Delage's following in just a month, was the result of a carefully thought out acquisition strategy. Two to three images were posted each day at peak traffic times: morning, lunchtime and late at night. Each included up to 30 hashtags, typical for Instagram influencers.
A bot was then created to like and follow accounts on Delage's behalf, and influential teenage thought-leaders were encouraged to "spread the Louise Delage profile among their own followers" as part of a "Key Opinion Leader strategy".
The campaign was definitely a success, generating media coverage around the world – including a trending topic on Twitter in France – and a boost in traffic to Addict Aide's website.
The big reveal on the account, has had almost 250k views and has generated more than 1,600 comments. One thing Instagram does well is fantasy. "The normalisation of alcohol" says Xiberras, is due to the "halo effect" of good-looking people – whatever they do, especially on Instagram – seems acceptable, and even desirable!
New Snapchat Style Kid On The Block
So, let's say a friend sends you a video message asking you to go and see The Rolling Stones on their new tour. The second the name "Rolling Stones" is uttered, the band's name appears on the left of your video with a clickable link to their Spotify. Another link then appears with directions to the concert venue.
That kind of experience is what an app called Tribe describes as "augmented messaging" or "experiential messaging"!
The new Tribe 2.0 app, which was released in the App Store and on Google Play on Wednesday, allows you to record and send 15-second videos and run video chats in groups. Its experiential messaging feature then displays relevant information based on what the video message says – so far information is collated for a celebrity, brand, or location.
Cyril Paglino, Tribe's founder, came up with the idea after creating a photo messaging app called Pleek that ultimately failed. Managing to raise a $3 million seed round investment led by Sequoia Capital, Tribe now has around 500,000 users, mostly between the ages of 12 and 25.
"I think video will be the main medium [of communication] really soon," Pagliano told Business Insider in an interview. "It will be more and more convenient to use video to talk." He thinks Tribe will fill the gaps that Snapchat has left: "Snapchat is no longer a messaging app, it's a broadcasting platform for user content."
Besides group messaging, Tribe also boasts "augmented messaging" – the ability to bring outside information into an in app video message. To do this they use Google's TensorFlow machine learning API and language-processing techniques to scan the audio, and identify keywords. As soon as the video is viewed by its intended recipient, the message is deleted from Tribe's servers.
All this could mean they can then integrate all kinds of other apps into video chatting. Uber, for instance, could be accessed within the app whenever someone mentions a particular location.
As a future way of monetising, Magliano says he could start charging Yelp for instance to become the main provider of information about places mentioned within Tribe. At this stage, it's all about user love though…
Time to weekend now! So long, farewell, Auf Wiedersehen, adieu.
---
You might also like
---
More from Social Fun
---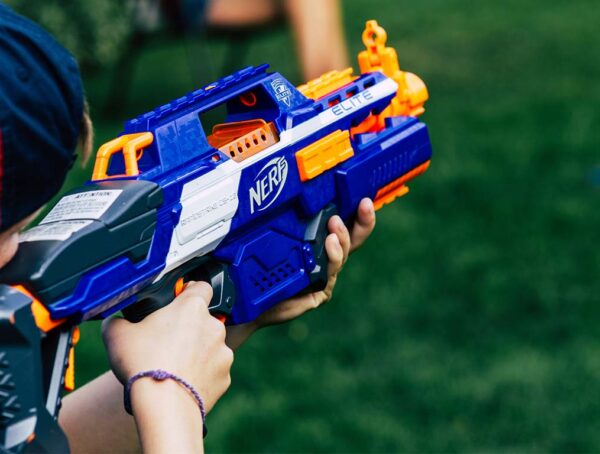 Most people have probably grown out of their Nerf obsession; if you haven't, you could become the new NERF Chief …