Ooooh, 111! How exciting!
So listen… this weekend I'm off to a friend's wedding. Classic countryside retreat stuff, but because it's two really good friends, it'll be more like a great big party with everyone in our group having a hell of a time! So who knows if I will make it back in one piece for next week? Better make this mash a great one, aye?
Here we go!
What's In A Pen
This is the story of Pentel of America – the pen company who's totally winning at Instagram right now!
They joined back in 2014, but things didn't get off to a great start, and pretty much stayed that way for two years. Then in 2016, they saw an impressive 328% growth on Instagram during the year. The number of followers went from 11k to over 40k, and they've clocked over 51,000 post likes over a year. That's pretty damn good!
[quote]Until 2015, we had a very traditional approach, in which we highlighted the products and their quality and engineering,[/quote]
said Scott Chavez, copywriter at California-based agency The Buddy Group, who handle social for the brand.
[quote]But we realized we needed to flip the approach on its head. After all, it is hard to incite emotions for a product like a pen.[/quote]
Pentel's trade marketing manager thought the brand's personality came through in communications, but that the visual element was really lacking. "You couldn't tell our pens apart from Paper Mate or Pilot's," Jason said. "We were all just selling indistinguishable tubes of ink."
So they refocused their Instagram strategy on humor, irreverence and wordplay, basing each image around everyday moments or big cultural events.
When Star Wars "Rogue One" came out, for example, they asked their customers if they'd booked their tickets with a photo of a black pen (representing Darth Vader) in the middle of a line of white (Stormtroopers) pens.
They also routinely put their own spin on motivational one-liners using their own products, bringing together quotes, calligraphy and beautiful backdrops. This was their tribute to Carrie Fisher:
https://www.instagram.com/p/BOlWgZjjhxM/?taken-by=pentelofamerica
Here are few more stats to you – Pentel has over 41k followers, whereas Pilot, Paper Mate and Bic, only have 22K, 20K and a meagre 4k each, respectively!
Moving forward, Pentel wanted to focus on developing more video content, as well as looking at encouraging more user-generated content and influencer partnerships. In fact, for "National Handwriting Day" on Monday, they encouraged followers to "handwrite a word that makes you giggle." It also partnered with modern lettering and design expert Chrystal Elizabeth for a takeover on that day. Here are the results:
https://www.instagram.com/p/BPnRpUxDi0M
https://www.instagram.com/p/BPoE5EjDvOl
https://www.instagram.com/p/BPoUbhuDuIH
A Tweet too Far!
Now, Saturday Night Live has been mocking Donald Trump ever since he launched his campaign, and done so brilliantly through Alec Baldwin. But this week, Katie Rich – a writer for the comedy series – got into some pretty big trouble over a tasteless joke she posted on Twitter about Barron Trump (the Donald's 10-year old son). She deleted the tweet since, but here's what it said: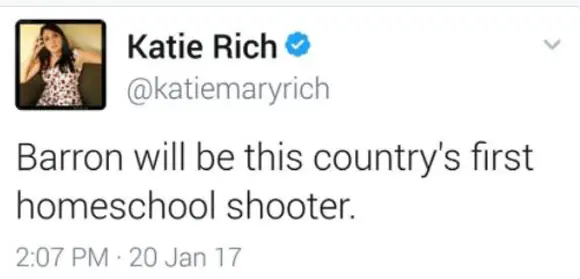 If you like our stories, there is an easy way to stay updated:
Follow @wersm
Critics were quick to blast the writer for making the joke and SNL didn't take too kindly to it either! They announced Rich was suspended indefinitely from the NBC series. She issued an apology on Monday for her "insensitive tweet," posting on Twitter to her 16k followers:
I sincerely apologize for the insensitive tweet. I deeply regret my actions & offensive words. It was inexcusable & I'm so sorry.

— Katie Rich (@katiemaryrich) January 23, 2017
But many people thought she really didn't need to apologise for anything! And so, starting on Monday afternoon, the hashtag #KeepKatieRich started trending in the wake of her suspension. The argument is that the punishment is way too harsh, especially since the new POTUS's own history of horrible comments on Twitter.
Fellow comedy writers said suspending someone for an over-the-line joke is ridiculous when it's a part of her job to push boundaries:
https://twitter.com/JohnHatesThings/status/823677858363113472
Our @POTUS tweets worse things ever 30 minutes..maybe we hold him to a higher standard than a writer for a comedy show. #KeepKatieRich

— Lenny Jacobson (@Lennyjacobson) January 23, 2017
A comedy writer getting suspended for a relatively benign tweet followed by a perfect apology is a canary in the coal mine #keepkatierich

— Amelia Bonow (@ameliabonow) January 23, 2017
You can't make a joke about a child and write for SNL, but you can talk about sexually assaulting women and be the President. #keepkatierich

— Jacqueline Felker (@whattheFELK) January 23, 2017
What do you think?
Snapchat Beta
Errr…what now? Yes, Snapchat Beta isn't some secret option only available to employees and VIPs. Over time the app launches a new feature, it tests it first with users of its free Beta program. And anyone can sign up, and get the latest updates, before the majority of Snapchatters. What, who, when, how? Before you rush to iTunes… the beta is for Android phones only. *cries*
But if you are an Android user and are into the latest and greatest from Snapchat, here's what you need to do:
– Sign up for Snapchat's beta from the Google Play Store on your Android phone
– Delete the existing Snapchat app on your phone and re-download it from the store
– You should then see "Snapchat Beta" in your app settings
Snapchat does warn that the Beta could be more unstable than the normal app, so do expect a crash or three.
Ok, I'm off to the wedding! Have a great weekend, don't tweet anything I wouldn't!
---
You might also like
---
More from Social Fun
---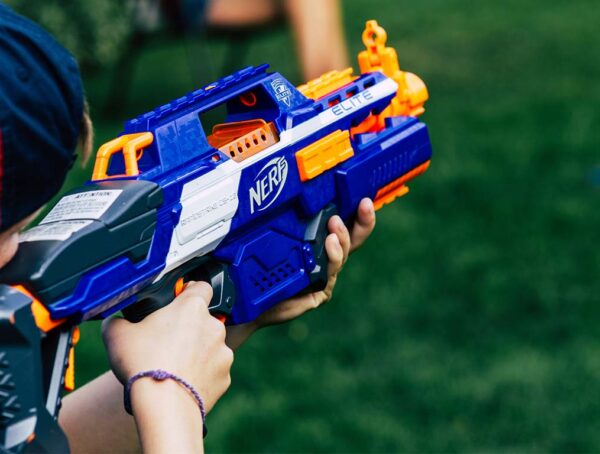 Most people have probably grown out of their Nerf obsession; if you haven't, you could become the new NERF Chief …