This is it people! Two weeks to go, until Santa and all the chocolate, meat, other general festive foods, fizz and merriment is unleashed upon us! Holiday time too! Which, for me will mean NO commuting of any kind for about 10 days. Seriously amazing stuff, because it truly feels like the "Grinch who stole travel" has been running the rail network this year. Which reminds me, I also need to add the Jim Carrey "Grinch" movie to my viewing list. So far I've watched "Miracle on 34th Street," and I am going to behave and watch the rest during the week of the 19th of December. Hold me to it!
Right, let's do this – here are this week's "baubles" of social goodness.
Burratagram
And since it's the season of "all things food" (and when isn't actually? I think we talk about food almost as much as we talk about Snapchat), I think it's only fair that Burrata got its own Instagram account. "What's that" you ask? What is "burrata?" Get out of my sight right now! No, I'm joking. Burrata is a delicious Italian cheese made of mozzarella AND cream – and it's bloody delicious. With over 7k followers, the account is run by Victoria Varone, a New York-based Italian-American scientist working in space and technology.
Varone takes the snaps with her Samsung Galaxy phone and aims for all posts to be
[quote]well-lit, not grainy, and just delicious-looking, and I also try to rotate colour palettes and dish types.[/quote]
Of her first post, she says
[quote]It was uploaded on January 15 2016 and it did alright… but it's not like it went viral or anything. Once people started to notice the constant stream of burrata pics though, the follows picked up.[/quote]
This is the type of stuff you can expect, but be seriously prepared to buy some next time you're in Waitrose, or reach for your nearest mozzarella!
https://www.instagram.com/p/BNuOoyvjg7Y
https://www.instagram.com/p/BNfS9bNDOOl
https://www.instagram.com/p/BNAAT-CjFBs
https://www.instagram.com/p/BMpWuB2jK-A
https://www.instagram.com/p/BMMZC5KDjbx
Crap, I totally want cheese now -and I'm having paella for dinner! *Note to self: "have cheese tomorrow"
Twitter Trends 2016
As the year draws to a close, we're entering some serious recap territory! Between the Rio Olympics, Donald Trump's election as US president, and Pokemon Go (remember Pokemon Go?) we have some serious contenders for the slot of Twitter top topic!
The biggest single spike in Twitter activity in the UK this year was… no, NOT Brexit! It was England's shock defeat to Iceland at Euro 2016 with over 128,000 Tweets per minute sent in the wake of the 2-1 loss! Euro 2016 was also the fourth biggest Twitter event of the year.
The global trends' list also includes the Oscars in fifth place, with Brexit, Black Lives Matter, Donald Trump, and the phrase "RIP" related to various celebrity deaths throughout the year, all in the top 10. And here were the top 10 movies:
– "Star Wars" ("Force Awakens" and "Rogue One: A Star Wars Story")
– "Suicide Squad"
– "Deadpool"
– #HarryPotter ("Fantastic Beasts and Where to Find Them")
– "Batman v Superman: Dawn of Justice"
– "Captain America: Civil War"
– "Finding Dory"
– "The Revenant"
– "Zootopia"
– "Ghostbusters"
Snapchat Is BIG On Art
So this week over in Miami, hundreds of galleries put thousands of pieces of art into the yearly Art Basel event, and all the many fairs that pop up around it since it all started 15 years ago. One artist showcase looked at doing things quite differently this year!
Artsy, an online knowledge base and resource for collecting art, curated 13 artist geofilters made from original artworks, and put the pieces on Snapchat.
Snapchat has worked with local artists before, and produced filters in its HQ hometown of Los Angeles, but insiders say the Miami filters produced in collaboration with Artsy, are the first time artist-made geofilters have been curated as an actual collection that works together.
Creative consultants Maritza Lerman Yoes, in charge of LACMA's Snapchat account (remember when they did classic fairytales with the museum's art collection?), and Sean Monahan, of postmodern consulting firm K-HOLE, made the intro between Artsy and Snapchat. Artsy's head of special projects, Elena Soboleva, selected the artists and worked with Social Media Manager Mark Rosen and his team, to translate the works into filters.
Rosen says the collaboration worked because everyone stuck to their specialty. "We know the art world and artists, and Snapchat knows their platform best!"
Some participating artists, like Jon Rafman, were very comfortable with digital image-processing. Others gave artistic direction to allow Artsy to translate their pieces. Chloe Wise sent scans of a sketch to be cropped and overlaid on a transparent background. Katherine Bernhardt sent high-resolution images of paintings, and told Artsy which parts to be cut out in order to create the filter.
If you're in Miami, you've got until Saturday night to check them out!
YouTube Ad Roundup 2016
I told you we were in roundup territory! For this top 10, Gaming and Super Bowl ads were, as usual, at the top of the list. Skittles, Hyundai and Mountain Dew are up there as is the game Clash Royale. Knorr and Nike finished second and third for the year, one working the social experiment angle, the other with a classic Euro 2016 theme.
Check them all out here:
10. Skittles
http://https://youtu.be/21ivbtgqJkg
9. Pokemon
https://youtu.be/2F46tGehnfo%20
8. Hyundai
http://https://youtu.be/LT6n1HcJOio
7. Always
http://https://youtu.be/Emawq64b0DU
6. Mountain Dew
http://https://youtu.be/ql7uY36-LwA
5. Clash Royale
4. Samsung
http://https://youtu.be/cyohHyQl-kc
3. Nike
http://https://youtu.be/scWpXEYZEGk
2. Knorr
http://https://youtu.be/xwx7NnPQ44U
1. Mobile Strike
The algorithm determining the winners calculated paid views, organic views and audience retention (how much of a video people watched).
Right then, time to put the tree up… maybe I'll even wrap some presents. Ugh, I know – TOO early. Ok, bye!
---
You might also like
---
More from Social Fun
---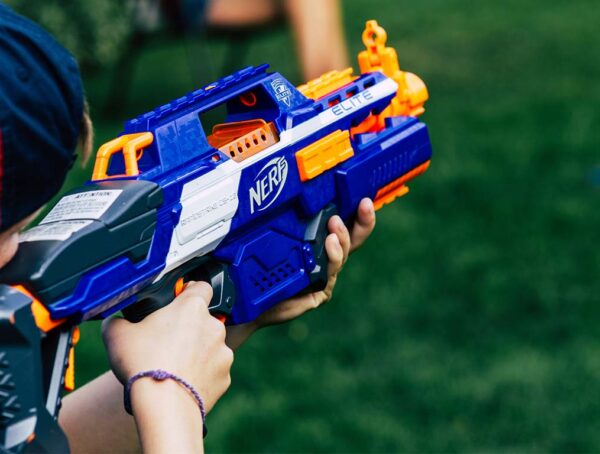 Most people have probably grown out of their Nerf obsession; if you haven't, you could become the new NERF Chief …