Happy Friday, how is everyone feeling? Have you recovered from the latest event in what has been the mother of all really bad years? I was watching Last Week Tonight with John Oliver, and they closed the show with a huge 2016 getting blown up after a vox populi piece where everyone interviewed got to say "F*** You, 2016"!
But as many have said, it's time to actually make sure we reach out to one another so that it doesn't get to this again. This was inevitable – we saw it with Brexit and we've seen it now in the US. So let's all make sure we judge less, accept each other, and laugh more.
And with that… here's the Mash!
Biden Memes
With so many protests going on across the pond and the waves of negative outpouring of emotion following the triumph of Donald Trump last week, there's been a refreshing change of pace over on Twitter.
A few seriously hilarious memes have been going round featuring outgoing President Barack Obama and his Vice President, and close friend, Joe Biden. They typically involve the two plotting to prank the new President-elect.
Joe: I hid all the pens from Trump
Obama: Why?
Joe: Because he bringing his own.
Obama: ???
Joe: HE'S BRINGING HIS OWN PENCE pic.twitter.com/uni3WUd4X3

— The Hashtagonist (@TheHashtag0nist) November 12, 2016
https://twitter.com/jbillinson/status/797916266065494016
Biden: So here's the plan, I'll tackle him and you go in for the knockout

Obama: Joe please.

Biden: too far? Okay what about-

Obama pic.twitter.com/lwgEzI2xQq

— nick ◟̽◞̽ (@backtoyoubfs) November 10, 2016
Biden: I took a Staples red button & wrote "Nukes" on it

Obama: Joe!

Biden: Tweets to him in Russian when pressed pic.twitter.com/j7rdFd1tXs

— Crutnacker (@Crutnacker) November 13, 2016
Biden: …so, when Trump walks in, you duck and I sock him wit-
Obama: No, Joe pic.twitter.com/sJIejb1rEN

— Mollie Goodfellow (@hansmollman) November 10, 2016
Biden: Oh boy, his car is here, quick let's all hide
Obama: Joe pls pic.twitter.com/w0pqxcaS9A

— Mollie Goodfellow (@hansmollman) November 10, 2016
Biden: How do I throw everyone off the White House Netflix account? I'll be damned if Trump is gonna mess up my suggested list pic.twitter.com/UvcbA6TxEp

— Mollie Goodfellow (@hansmollman) November 11, 2016
Biden: What if we paint the Mexican flag in the office
Obama: Joe, no
Biden: I already ordered the paint
Obama: Joe pic.twitter.com/mCCh6OPQRk

— dan has seen endgame and is so upset (@piewsnedy) November 11, 2016
Junior journo Mollie Goodfellow came up with the concept which spread like wildfire amongst Twitter users who wanted to turn their frowns upside down. As a result, she went from around 2k followers to over 11k in a few hours!
#TagYoureIt
To celebrate the release of the new Canon EOS M5 Digital Camera, Canon U.S.A. announced the launch of the #TagYoureIt Instagram campaign. Actress and blogger Jamie Chung and 12 photographers were chosen because of their passion for sharing the world they see around them. Their task will be to complete spontaneous photo challenges, from now, through to the end of the year.
Meant to celebrate the power of photography on social media, the challenges are designed to highlight the creativity and speed achieved with the compact and portable EOS M5 Digital Camera. Jamie Chan, and the participating photographers will be tagged and challenged by another influencer with #TagYoureIt and asked to complete their challenge within 24-hours. The game continues when the previous individual tags the next participant on Instagram, and so on.
"The EOS M5 Digital Camera is the perfect creative tool for the spontaneous nature of these photo challenges," said Yuichi Ishizuka, President and COO, Canon U.S.A., Inc.
[quote]We hope that the photographic journey started by these influencers through #TagYoureIt lives on through their fans and followers who we hope are inspired by these photo challenges.[/quote]
A sample #TagYoureIt challenge could include creating and capturing a sample outfit inspired by the year you were born, or making something inedible look edible and delicious.
"I'm honored to kick off the #TagYoureIt campaign as it really resonates with how I challenge myself every day to see the world differently," says Jamie Chung. "I love to have fun with my looks and no matter what bag I'm wearing, the Canon EOS M5 is a great camera to pack when shooting for my channel, since it's lightweight and compact but still powerful."
In addition to Jamie, Canon #TagYoureIt participants are:
Natalie Amrossi, @misshattan
Morgan Phillips, @morganphillips
Lucy Laucht, @lucylaucht
Rodrigo Trevino, @rodtrvn
Cole Younger, @cole_younger_
Matt Crump, @mattcrump
Tiffany Mitchell, @tifforelie
New Fork City, @new_fork_city
Sarah Phillips, @Food
Madeline Lu, @lumadeline
New Darlings, @Newdarlings
Emily Ann Gemma, @emilyanngemma
The new camera includes a range of features that allow users to capture beautiful images with a camera half the size of a traditional DSLR. The features include: built-in Wi-Fi and NFC technology, Bluetooth, High-speed continuous shooting, time-lapse… oh, you get it!
The campaign will extend throughout December and can be tracked on Instagram using #TagYoureIt.
Ford ❤️ DJ Khaled
Let's face it, the smiling face of DJ Khaled might be one of the things you immediately associate with Snapchat. Three months after Snapchat came online in September 2011, DJ Khaled had the internet campaigning for people to follow him, using his newly created catchphrases to get them hooked.
This talent for promotion has caused Ford to enlist Khaled in promoting the Ford EcoSport on Snapchat: As he says,
[quote]First off, big up to Ford and the EcoSport; the whole family. It's going to be family out here. Just people that like to have fun. We're going to have great festivities, as well as give something special and historic to the world in the EcoSport. But at the same time give a surprise performance. You know me, I like to do a lot of surprises and bring special guests with me. So, you'll never know who I will bring out. Expect a music experience and a very beautiful EcoSport.[/quote]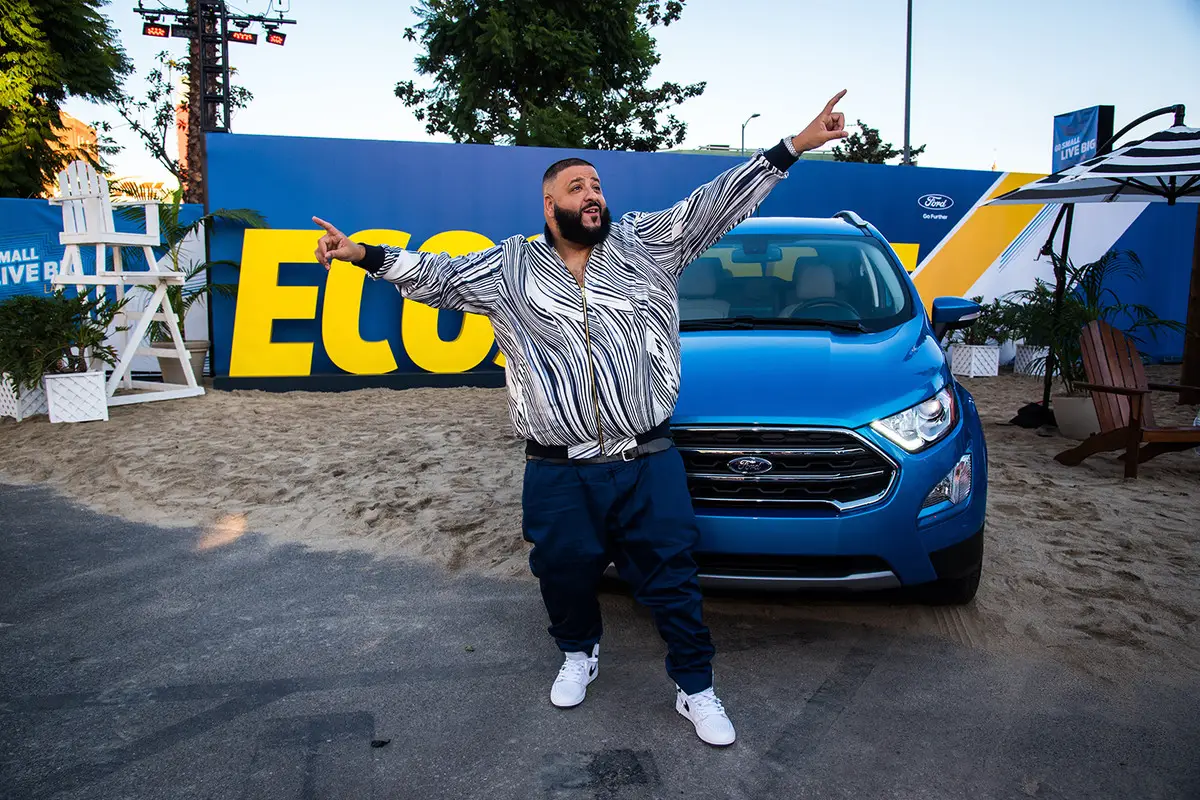 Khaled assures us it's going to be a very natural promotion – very "organic".
[quote]I can never predict what I do on my Snapchat. I can tell you this: It's going to be fun, exciting, and amazing. We're walking into a festival of great music, food, excitement, and beautiful fans, great people and family. We're also here to see the EcoSport. It's a blessing I can reveal it on my Snapchat by me just being myself. That's how I do it on Snap.[/quote]
Would you buy your next car because DJ Khaled promoted it? I bet a lot of people out there would. But then he did get stranded on that jet ski that time…so maybe he doesn't know THAT much about quality transportation.
The Future Is Google
So on Tuesday this week, Google launched a new app called Photoscan. It essentially lets you digitize your old, yellowing family photos and store them in the Google Photos app.
Google Photos uses AI to take all those photos to the next level. One user, after seeing the app promo video on YouTube, shared this story via Reddit:
[quote]On my kid's 3rd birthday, Google Photos presented me with a short video titled 'they grow up so fast' compiled of photos and video clips from her entire life, from birth until the day before, highlighting birthdays and whatnot. It just knows those pictures are birthday pictures, and it knows these pictures are all the same baby, from a newborn all the way to a 3 year old. It is amazing.[/quote]
But it's the video explaining the app that's the best bit about this whole Google thing. Yes, it's 1 minute and 45 seconds but it's worth it, trust me!
https://youtu.be/MEyDt0DNjWU
I'm off to scan all my photos over as few G&Ts, see you next week, don't do anything I wouldn't!
---
You might also like
---
More from Social Fun
---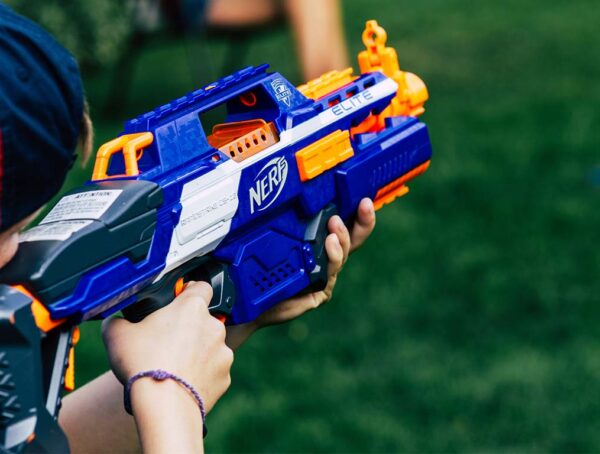 Most people have probably grown out of their Nerf obsession; if you haven't, you could become the new NERF Chief …