*Disclaimer: the celebratory image is because this is Mash #100, NOT because #PresidentTrump!
Well… I think it's safe to say the past few months have been the rollercoaster of a lifetime. To be fair, this whole year has been one.
#TobleroneGate
As if the US election result stress wasn't intense enough this week, Mondelez International (the biscuit and chocolate people making all of the biscuits and chocolate EVER) decided to MESS with the #classic Toblerone shape, and set the triangles further apart, so they would be more economical to make.
Mondelez's move managed to shave 20 whole grams of delicious Toblerone goodness from the weight of one of its bars. They now weigh 150 grams, down from 170.
The company blamed the rising cost of "many ingredients" for forcing this unspeakable travesty. Mondelez said its production costs jumped in Switzerland due to the significant drop of the euro against the Swiss franc back in January 2015. Cocoa prices have also risen steadily over the past three years.
But it was Twitter where the reaction could truly be measured. And it was not a favourable one:
UK… What have you done??? #Brexit #Toblerone pic.twitter.com/BmrrJWD8sf

— Enda Conway (@EndaConway) November 8, 2016
Oh no! What's next? #Toblerone #TobleroneGate pic.twitter.com/yd3In76QHA

— David Maninger (@Davemanin) November 8, 2016
OK – I've put it to the test. The new #Toblerone looks underwhelming at best BUT it makes the perfect toast rack… pic.twitter.com/tdROkdwsX7

— Will Foster (@wgsfoster) November 8, 2016
Big changes coming today, let's have a peek into the future. #Toblerone #Election2016 pic.twitter.com/BvkKUfruHg

— Paddy Power (@paddypower) November 8, 2016
Meanwhile, across the EU.#Toblerone pic.twitter.com/hv0ty3zX2o

— Vintage Wullie (@YoorWullie) November 8, 2016
…and relax!
Let's swiftly move on from this whole chocolate coloured mess, or I will
a) cry or
b) go and buy a Toblerone.
And I'm not even near an airport. Although let's face it, the recent political mishaps have made us all want to fly out to pastures anew.
To help us all relax, and take our collective mind off the state of humanity, we have a bunch of Instagram accounts designed to soothe furrowed brows across the world. These mind-meltingly mellow accounts are all aiming to zen you out, if only for the duration of 30 seconds but hey, you can repeat and I found a few of them!
Yes, I know this sounds a little nutty (no, not the Toblerone variety, stop mentioning it) but trust me, have a little peak and you'll see what I mean.
Annette Labedezki is a Canadian artist with over 250k followers and her videos involving paint mixing, are pretty mesmerising:
https://www.instagram.com/p/BMj4X4uh-oy
https://www.instagram.com/p/BMhCRVdBRyB
https://www.instagram.com/p/BMe9BRxhE4i
And if mixing paint isn't quite your things (weirdos!), you will definitely love sand cutting. Errr…what?
sand.isfying is an Instagram account dedicated to kinetic sand. Yes, there is such a thing and the best thing you can do with it is cut it. Or chop it. Or slice it. There's just something about it. Look!
And if the sand reminds you too much of the long gone summer, let's go "classic," and check out some pottery making. This will not be like the movie "Ghost".
Eric Landon is "Craftsman of the Year" for 2016 in Denmark, and his handmade ceramics are not just beautiful to own but also very relaxing to watch coming to life.
https://www.instagram.com/p/BL_vIKTBveL
Ok, ok, last one. Digital mandala drawing. Seb Lester is an artist with over 1 million followers who specialises in calligraphy and most recently, mandalas. Have a look:
Snapchat Gets Real
Ok, so you know how people maybe thought that Snapchat was just about goofy selfies and face swaps? Well, they were all wrong because Snapchat actually wants to be a leader in augmented reality. Forget about your phone, who even cares if Facebook is making one. Snapchat wants graphics overlaid onto the real world.
The most recent update to the app last Tuesday, added special filters for the phone's rear camera that the company calls "World Lenses." They work much like the current selfie lenses, but they don't just track someone's face. Instead, they superimpose 3D effects over anything and everything!
For example, one World Lense in Snapchat places smiling clouds above you that puke rainbows when you point your camera up at them. Are we in Willy Wonka and The Chocolate Factory right now, or what is going on?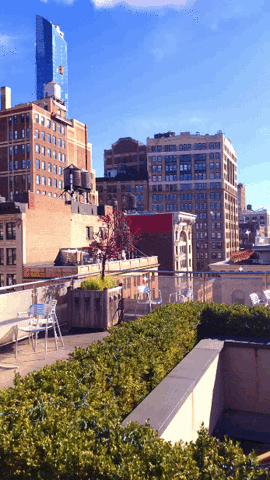 Snap Inc is currently preparing its IPO at a valuation of around $40 billion, and according to Business Insider, apparently also
[quote]working on advanced object recognition that can serve ads, promotions, and other information over physical objects seen through a camera[/quote]
The upcoming Spectacles will now have a Bluetooth-pairing option in the Snapchat app, again as part of the most recent update. The monetisation of this will be huge. Although I do worry about people walking around with Spectacles all day and just looking at ads. Oh wait, we do that already. #MinorityReport
This is me writing the Mash…by Flashlight filter…
Facebook vs Democracy
So, by now you may have come to terms with the fact that Trump is the next president of the United States. But many people are still wondering how this, actually happened?
And the answer on many lips is… Facebook
The News Feed algorithm is designed to show more of the stuff you like. It's been called the "filter bubble," a term coined by Eli Pariser and his 2011 best seller, "The Filter Bubble: What the Internet Is Hiding from You."
In the book, Pariser actually analyses the effects the filter bubble could have on democracy:
[quote]Ultimately, democracy works only if we citizens are capable of thinking beyond our narrow self-interest. But to do so, we need a shared view of the world we cohabit. We need to come into contact with other people's lives and needs and desires. The filter bubble pushes us in the opposite direction – it creates the impression that our narrow self-interest is all that exists. And while this is great for getting people to shop online, it's not great for getting people to make better decisions together.[/quote]
A recent study found that a majority of U.S. adults – 63% – use Facebook as their main source of news on current events or local and global issues. Yet Mark Zuckerberg said as recently as August this year:
[quote]We're a technology company. We're not a media company. When you think about a media company, you know, people are producing content, people are editing content, and that's not us,[/quote]
he said.
[quote]We exist to give you the tools to curate and have the experience that you want, to connect with the people and businesses and institutions in the world that you want.[/quote]
But let's face it, a vast majority will trade independent research for convenience. And that's what's making us a lazy bunch of… "citizens" of the world.
Right, I'm off for some Thai food and the joys of the weekend! Have a restful time and recover!
---
You might also like
---
More from Social Fun
---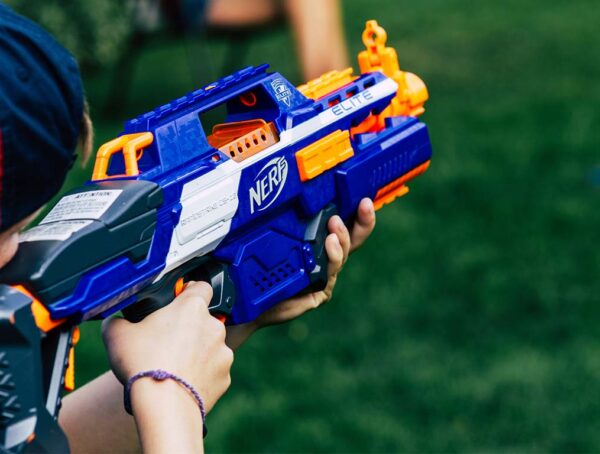 Most people have probably grown out of their Nerf obsession; if you haven't, you could become the new NERF Chief …