Christmas music has been blasting since November 23rd… and like clockwork it has come under fire, becoming the latest casualties of #MeToo and other movements.
Two of the latest victims? The Christmas classic, Rudolph The Red Nose Reindeer and tune, Baby It's Cold Outside. Here's what you missed:
The Rudolph Debate
Whether you are familiar with the classic or not, let's start with a cliff-note version of the Christmas classic:
Basic plot: A young reindeer is mocked by his peers for his glowing red nose that goes on to save the day when Santa encounters poor weather.
The more complicated and modern plot: Rudolph is bullied by his classmates and coach for his red nose. His misogynistic father shuns him for the same reason. He falls in love with a doe whose father is equally a prick. AND he makes friends with an elf who instead of becoming a toymaker wants to become a dentist. So… they head off to the 'Island of Misfit Toys' where they realise being different is what makes them special and they return to save Christmas.
Or at least that's how the Huffington Post's video the other day painted the plot, calling the holiday TV classic "seriously problematic 😳" And while the publisher has confirmed the roundup of recent tweets and criticisms of Rudolph were posted as humorous observations… as always some took it more seriously. Just see for yourself:
https://twitter.com/HuffPost/status/1067972666622189568
Nonetheless, this is by far the controversy of the season with people from all sides voicing their opinion on social media. And although it is yet to be pulled from the networks, the debate continues to make its way across various news outlets, discussed by political parties, morning shows such as The View, and more.
Fear not, Whoopi Goldberg is in support of our red nose friend. Others… not so much just check out Twitter.
'Baby It's Cold Outside'
Similarly, Christmas classic tune 'Baby It's Cold Outside' is also in the spotlight. Why? Because earlier this week, a Cleveland, Ohio radio station, Star 102 deemed it unfit to play due to complaints of its lyrics being at odds with the #MeToo movement. Host, Glenn Andersen even went on to address the song's removal saying, "The world we live in is extra sensitive now, and people get easily offended, but in a world where #MeToo has finally given women the voice they deserve, the song has no place."
However, the majority of their listeners disagreed – as shown in the poll below sent out by the radio station themselves.
In an interview with CBS, Karen North, Social Media and Pop Culture Professor at USC and late niece of the 1944 author, Frank Loesser, believes the lyrics are being twisted from an otherwise cute song between a husband and wife. So I guess again… we'll leave you to process and judge this one too!
But before we close, let's give you some more fun. Why? Just because…
The Holiday Political Correctness War Wages On…
Scrolling through social media, I came across a post suggesting the above two were not alone in 'offending' the wider public. What seems to be a screen capture of a post that was then shared to Facebook addresses the removal of 'Baby It's Cold Outside' and hints at 'a couple' of other offensive Christmas tunes. Get ready to giggle.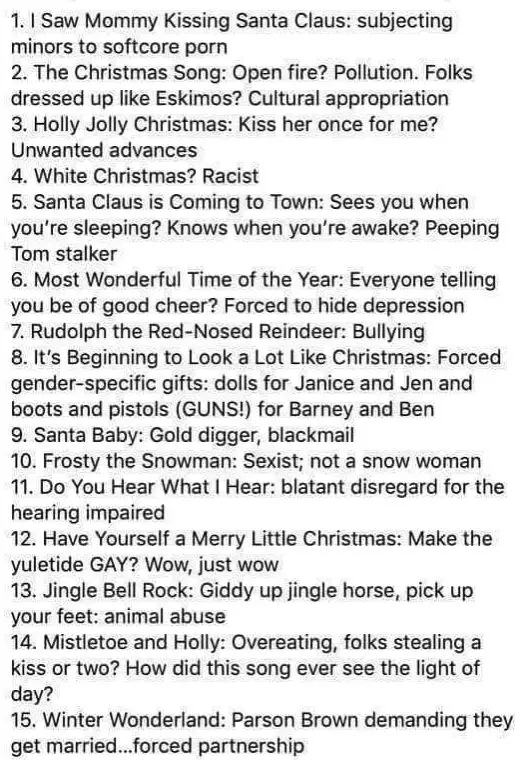 The above garnered quite the crowd with over 13k+ shares, 400+ comments and 600+ likes. A resident in British Columbia even made it a point to voice his own absurdities in the local paper.
Social media certainly has its fun voicing opinions to ensure everyone enjoys a politically unbiased holiday season!
---
You might also like
---
More from Social Fun
---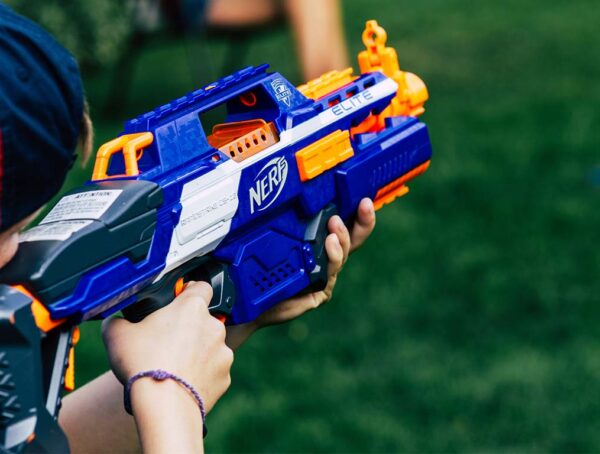 Most people have probably grown out of their Nerf obsession; if you haven't, you could become the new NERF Chief …