Following Pinterest's launch of its Marketing Developer Partners program last year, the company is now adding two new specialties – measurement and audiences – and renaming the program to Marketing Partners. 
Pinterest is constantly growing, and in order to help businesses thrive on the platform, the company is constantly "looking for new ways to help businesses reach their marketing goals." A very important part of this is the use of "sophisticated marketing technology" that allows marketers to tap into high-intent behaviours of the platform. This is why the Marketing Developer Partners program came into being. The MDP (now, simply Marketing Partners) is
[quote]a select group of companies approved to build solutions through our Advertising and Content Publishing APIs. These partners provide advanced capabilities that help advertisers drive greater efficiency, scale and performance.[/quote]
Due to changes and the evolution of marketing, Pinterest has decided to expand the program with new specialties that will allow advertisers more success on the platform: measurement and audiences.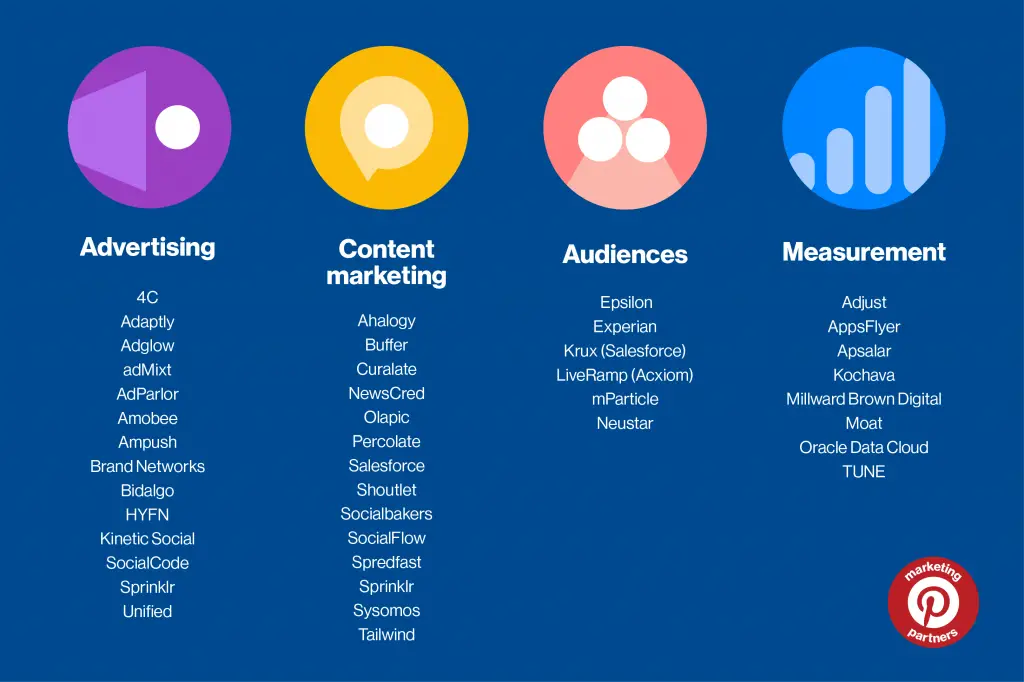 Measurement
Measurement allows brands to better understand how the Pinterest platform "impacts business results by driving metrics," such as ad verification, resonance, sales lift and customer lifetime value. An example of this, is a study with Oracle Data Cloud which showed that Promoted Pins can "drive 5x more incremental in-store sales, compared to campaigns on other platforms."
For measurement, Pinterest has partnered up with Moat, as preferred partner advertising viewability. Moat CEO and Co-Founder, Jonah Goodhart, said that it will
[quote]deliver in-depth analytics and cross-platform digital measurement to provide marketers with greater insight into how their audience pays attention.[/quote]
Partners for mobile measurement, Adjust, AppsFlyer, Apsalar, Kochava and TUNE. Previous partnerships, with companies like Millward Brown Digital (for brand lift) and Oracle Data Cloud (for sales lift) are also part of the updated program.
Audiences
Audience partners make ads more relevant, and
[quote]help brands onboard their own data so they can use features like customer list targeting and actalike audiences. [/quote]
This way, brands can see better results if they add their own data into the platform. Companies like Epsilon, Experian, Krux (Salesforce), LiveRamp (Acxiom), mParticle and Neustar have partnered up with Pinterest, to help advertisers deliver more relevant ads, in order to see better results.
One of the first advertisers to work with LiveRamp is Macy's, which saw great results. Group Vice President of digital media strategy at Macy's, Serena Potter, explained that
[quote]With Pinterest's ever-evolving toolkit, we are able to help customers discover products, inspire them and ultimately lead them to a purchase. We are excited to expand our targeting capabilities by adding the LiveRamp integration, as we know that Pinterest offers a great opportunity to positively impact the conversation we have with our customers.[/quote]
Updates To Advertising And Content Marketing Partners
The existing advertising and content marketing partners were also updated.
Advertising: Adglow, AdParlor, Bidalgo and Sprinklr were added to the list of 10 other advertising partners, helping advertisers to manage, scale, and optimise their campaigns on Pinterest.
Content marketing: Socialbakers was added to the list of 12 current content marketing partners. The "content marketing" category, is a replacement for "content publishing" that helps brands "source, schedule, publish and measure their Pinterest content."
Brands that are interested in finding out more about the Marketing Partners program or about the partners that are part of it, can have a look here.
---
You might also like
---
More from Other Platforms
---
Clubhouse now has a valuation of $4 billion, near what Twitter was willing to pay for it a few months …