Another day, another update for Facebook. This time, the clock is ticking for Pages administrators and events creators, as they will see updates and new functionalities coming to life to promote their events.
In their official press release, Facebook claims that almost 400 million members are using events to reconnect with communities and friends and learn more about what's happening locally, so it proceeded to making some substantial improvements targeted to events and their promotion. These improvements are built around 3 basic pillars; boosting events, insights and highlighting events.
1. Boosting Events
If you want to give your event a helping hand you can now do it easily by creating a promotion. That's no news per se, but until now, administrators could only create right-hand side ads while now they will be able to have them displayed on desktop and mobile newsfeed. This new feature will be rolled out in the following weeks and will be available through both Ad Create Tool and Power Editor.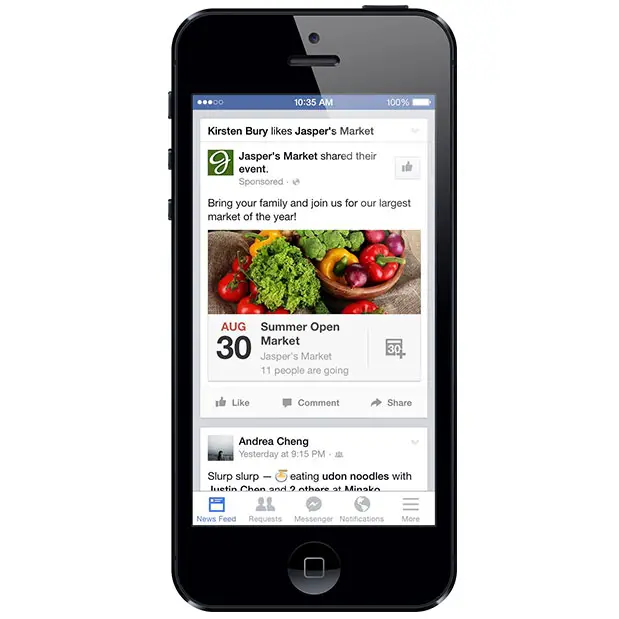 2. Events Insights
Following the previous update, administrators and events creators will be now see insights regarding their event on the right-hand side column of the event page. Display statistics will include:
– The number of people who've seen a link to the event on Facebook
– The number of people who've viewed the event
– The number of joins, saves and maybes the event has received
3. Highlighting Events
Apart from the aforementioned changes, Facebook is now changing the overall look-and-feel of events pages. This new layout has been created in order to highlight each person's upcoming events, showcase new events, -including suggested events based on information such as the Pages they like- their location and the day of the week. Moreover, Facebook suggests that pages administrators should use the tab reordering functionality so as to display their events tab in their page. This way mobile users will be able to stroll through the list of the events a Page is hosting for the week.
And, as always, Facebook announces that more changes are yet to come. Exciting news!
What's the next update that you would like to see on Facebook?
Related Stories:
You might also like
---
More from Facebook
---
Facebook and Instagram have introduced cross-app messaging, letting users from one app find and message you on the other.