It's been a few weeks now, but people who used Pinterest's secret boards function will be pleased to know that they can now add unlimited secret boards to their accounts.
It all began in 2012 when users were treated to a surprise, when the platform announced that it was introducing this very handy functionality. Initially, users were able to have up to three secret boards but recently that number was doubled to six.
Obviously this was a feature that they were testing and now due to popular demand (and heavy use) the platform responded to users' needs and upgraded this to unlimited. In case you haven't heard of this functionality, you can find out more about what secret boards are and how to use them, here.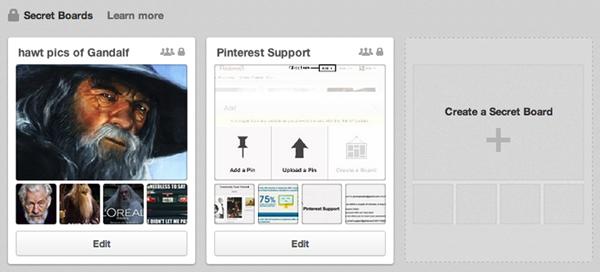 The feature is very handy for families and for groups of people collaborating on projects and organising events, in that they could keep a number of boards secret from prying eyes and have them appear only to the chosen few who are given access. Sometimes people just want to keep something a secret within a group and now "with unlimited secret boards, there's no limit to the number of ways for you to plan, contemplate, practice and explore all the things you want to do. Go ahead, keep it a secret."
Pinterest has been growing a lot, especially in 2013, and the number of individuals and companies using the platform has skyrocketed. It's only natural therefore, that new features keep streaming out recently, to keep up with this demand in much necessary functions. For example, did you know that Pinterest also recently added the support for GIFs on the platform?
How are you using Pinterest nowadays? Are you one of the many who have been using secret boards?
Have you used them? Let us know in the comments.
Related Stories:
You might also like
---
More from Other Platforms
---
Clubhouse announced that Sean Brown will join its team as its first Head of Sports Partnerships, the latest addition to …