What if you could fast forward any video you watch online? Whether it's on YouTube, Facebook or even Netflix? This is what MINI offers you, to be able to accelerate videos the same way you could accelerate your Mini Cooper S.
It is not always easy to promote a car on social media. It's one of those industries where there is little you can do to, apart from 'testing' the product itself. Nevertheless, brands have been keen to try to innovate on social media. This latest campaign from MINI is quite surprising.
Fast-Forward is a Google Chrome extension that lets you fast forward any YouTube, Facebook and even Netflix video, just by hitting S on your keyboard (watch the featured video above if you have not yet done so.)
No more dull moments, no more trying to skip to the right scene; now you can just go through the whole video in fast-forward until you reach the part you really wanted to see. Plus, it actually makes some videos much more interesting!
[quote]It's the coolest and fastest way to get to the best part of any video.[/quote]
I really like the idea because it relates to a very specific feature of the car. It is also very different from what we usually get served by the automotive industry. In fact, this is exactly what I would expect from a cool car brand like MINI.
However, it still doesn't beat my favourite ever YouTube campaign from Honda. The Other Side.
Download the Mini Fast-Forward free extension on the Google Chrome store: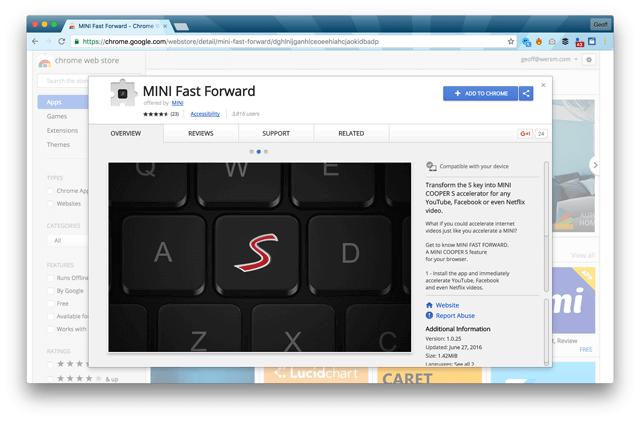 ---
You might also like
---
More from Creative Campaigns
---
What do Bill Nye and Bombay Sapphire have in common? Not much, except the new ready-to-drink Bombay Sapphire & Tonic.