Facebook adds new features to its controversial Messenger Kids app and rolls out in Canada and Peru. 
Facebook launched its Messenger Kids app in the United States in 2017 as a safer alternative to Messenger for kids; however, many parents and researchers are against the app and have called for it to be shut down. Instead of giving in to their demands Facebook continues to develop the app and add features to it and is rolling out in two new countries: Canada and Peru.
If you thought Peru was a strange choice, you probably weren't the only one. But know this: Facebook's decision of test-markets is not random. Even if one could guess the exactly why it was chosen, the more important reason is that it makes the app available to Spanish-speakers. Similarly, Canada makes the app available in French.
Loren Cheng, Product Management Director and Tarunya Govindarajan, Product Manager at Facebook explained that they "designed Messenger Kids from the ground up with elements that teach kids how to better understand and express their emotions in creative ways, encourage and promote healthy social behaviors, and deepen positive connections between kids and their close friends and families."
To address the concerns of parents about Messenger Kids, Facebook is also working with researchers from the Yale Center for Emotional Intelligence and a global group of advisors to bring new features that are "rooted in principles of social and emotional learning." These include:
Messenger Kids Pledge: A pledge of guiding principles between parents and kids that will encourage kids to use Messenger Kids responsibly. Those guiding principles are: Be Kind, Be Respectful, Be Safe, and Have Fun.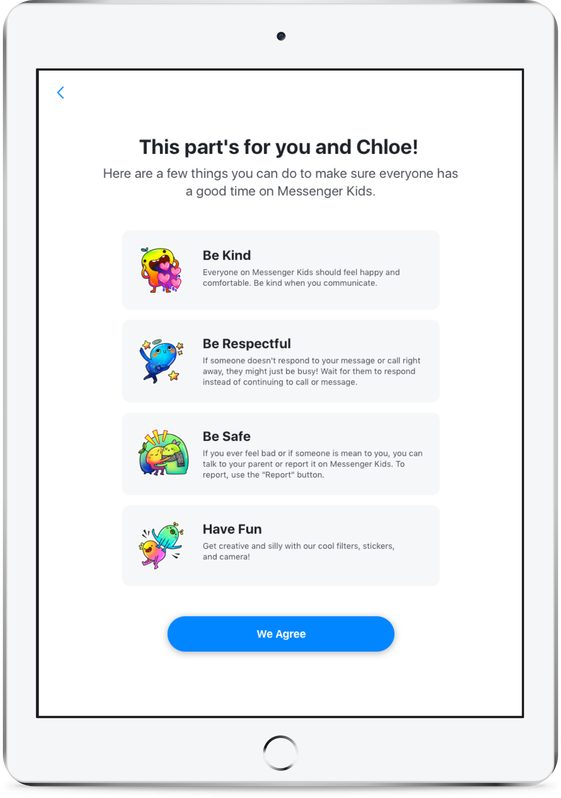 Kindness Stickers: A new set of photo stickers that have been designed to inspire kindness towards others.
Appreciation Mission: This "coming-soon" feature will feature "an interactive guide within the app that will encourage kids to discover and express appreciation for their friends and family." It is part of the "Missions" section of the Messenger Kids app where kids can learn to use features like video calls or sending photos.
Following feedback from parents, Facebook has also added a feature that allows both parents to manage Kids accounts. Up until now, only one parent had this ability. Facebook says that it will continue to improve the app based on "parent and expert feedback."
For more information about Messenger Kids, visit MessengerKids.com.
---
You might also like
---
More from Facebook
---
As VR content expands beyond gaming, Facebook is bringing support for subscriptions on the Oculus Quest platform.