Instagram is definitely trendy among creative marketers these days. After the amazing IKEA website built within Instagram using the tag feature as a navigation system, it is now Mazda Canada that makes the news with a series of interactive magazines set within the  #1 social photo sharing app.
Mazda Canada has put together an original and creative campaign on Instagram to celebrate the 25th anniversary of its MX-5 model. Working with JWT Canada, Mazda creating a real interactive magazine on Instagram, with the aim to reach out to the 18-25 y.o.
Mazda has created a series of Instagram videos which celebrate the MX-5. The originality comes, however, from the way those videos are presented as a regular magazine cover on their Instagram profile.
Here is what it looks like on Instagram: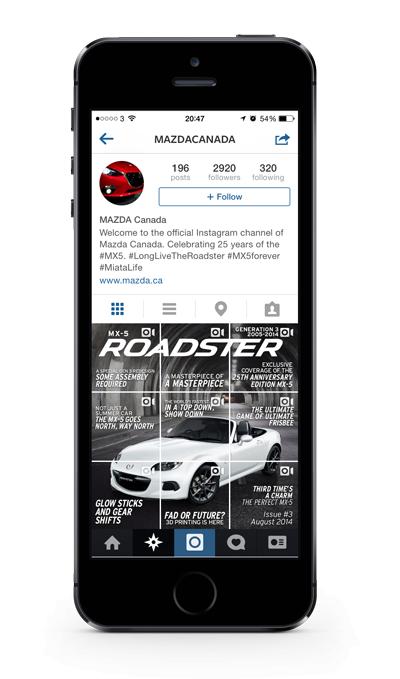 Here is an example of what you will see when clicking on one of the homepage video:
This creative approach was done by inserting a static image – one of the 9 squares forming the magazine cover – as a frame at the beginning of each short video.
How do you like the way creative marketer have been trying to use Instagram lately?
Related Stories:
More from Creative Campaigns
---
Spotify is testing a new feature that lets select influencers share Stories to introduce their playlists with video clips and …
The wait is over! WhatsApp's dark theme is finally here... Sort of. That's because it's only available to beta users …
Google has announced that as of April 6, 2020, data-vocabulary.org data schema markup won't be eligible for Google rich results.
Editor Picks
---