Automated tweeting is a pretty bad idea. Especially if you are a big brand like Coca-Cola and you're using it as part of a massive social media campaign. I mean, we hear about campaigns being hijacked on a day to day basis – and hashtags even more often. In fact, it's almost as if hashtags were created to be hijacked! But, an automated Tweet campaign? In this day and age? Solid "troll" material. This is the case with the #MakeItHappy campaign recently launched by Coca-Cola.
Now, I really don't understand how someone at Coca-Cola thought an automated Tweet campaign was a great idea in the first place – these kind of things usually don't end well, as it's way too easy to lose control of something. The campaign started just over a week ago on Super Bowl Sunday and it asked Twitter users to add the #MakeItHappy hashtag to negative tweets – the bot they created, would then turn the sentence into happy-looking image of dogs, clowns, balloons, ice cream, in ASCII code. It's safe to say, that things didn't go as planned. Gawker decided it would be funny to troll Coca-Cola by creating @MeinCoke, a Twitter bot that would constantly feed Coke's automated tweeting system with lines from Adolf Hitler's Mein Kampf.
If you like our stories, there is an easy way to stay updated:
Follow @wersm
See, they had noticed that the automated system would turn any input into something happy, so they took advantage of it. Coca-Cola automatically started tweeting lines from Mein Kampf as a range of ASCII images. As soon as they realised what was happening, it was too late and the plug had to be pulled on the campaign.
It sounds like they won't be thinking of something automated like this in a while. What Coca-Cola "hoped" to do is "to inspire people to make it a more positive place" – well, that's wishful thinking. Online negativity, sarcasm, and cynicism (at least towards many big brands) is pervasive in today's internet culture. Coca-Cola might have wanted to "address that", but ended up pulling paying the price. You would be misguided to think that internet users follow  "rules".
Coca-Cola provided Adweek with this statement:
[quote]The #MakeItHappy message is simple: The Internet is what we make it, and we hoped to inspire people to make it a more positive place. It's unfortunate that Gawker is trying to turn this campaign into something that it isn't. Building a bot that attempts to spread hate through #MakeItHappy is a perfect example of the pervasive online negativity Coca-Cola wanted to address with this campaign.[/quote]
The idea was not bad after all. Here is Coca-Cola's Super Bowl ad, which was simply promising to bring more positivity to the internet:
For many, it's fun to hijack and poke fun at corporate stuff. In any case, Coca-Cola has dealt with the issue and has now moved beyond the negative experience, continuing #MakeItHappy minus the automated Tweets. Have a look at it here.
So what did we learn from this campaign? Social Media users deserve (and want) more than an automated campaign, and, whenever you have the choice, choose quality over quantity!
Related Stories:
You might also like
---
More from Social Fun
---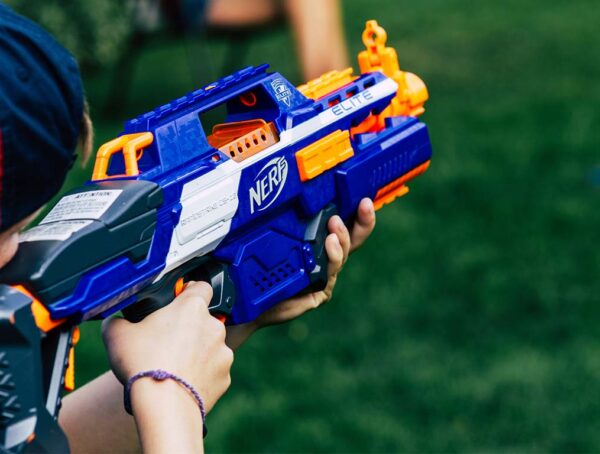 Most people have probably grown out of their Nerf obsession; if you haven't, you could become the new NERF Chief …