Smartphones are now the most used devices to take pictures in the world. The iPhone and Android revolution have brought a powerful camera which most of us almost ready for action.  Instagram has won the battle of the most used social photo platform (especially against Flickr…) and it has grown to be a huge opportunity for businesses to promote themselves.
Instagram has now over 150 million monthly active users, so your customers are most likely using it daily and this is a huge marketing opportunity for businesses to display their products and/or services.
Although Instagram should soon offer ad services, your profile is all what you have right now to make a good first impression to your potential customers. And this means you need to get it right.
Thankfully, Gerry Moran of Marketingthink.com has designed the blueprint for a perfect Instagram profile: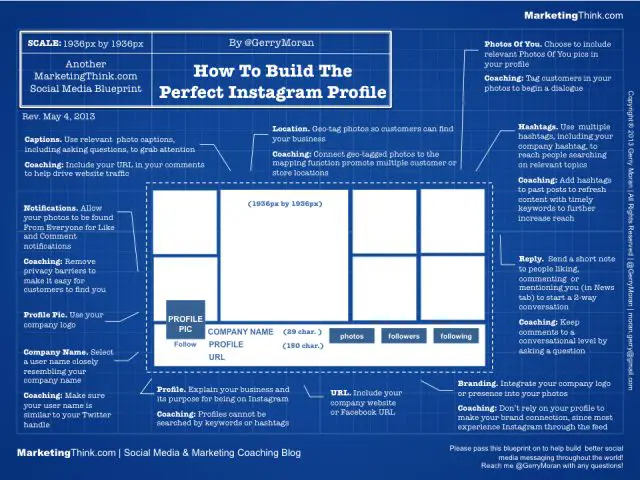 How To Build The Perfect Instagram Profile For Your Business
Here is direction to help you build the perfect Instagram for business profile:
Profile Pic. Use your company logo. Simple enough.
Company Name. Select a user name closely resembling your company name and your Twitter handle.
Profile. Explain your business and its purpose for being on Instagram. Unlike other social channels, Instagram profiles cannot be searched by keywords or hashtags.
URL. Include your company website or Facebook URL.
Captions. Use relevant photo captions, including asking questions, to grab customer attention. Make it easier for your customers to find you by include your company URL in your comments.
Notifications. Allow your photos to be found From Everyone for Like and Comment notifications by removing all privacy barriers to make it easy for customers to find you.
Branding. Integrate your company logo or presence into your photos. Most people experience Instagram through the feed, so don't rely on your profile to get your customers' attention.
Reply. Send a short note to people liking, commenting or mentioning you (in News tab) to start a 2-way conversation. Try to keep comments to a conversational level by asking a question to incite a response.
Hashtags. Use multiple hashtags, including your company hashtag, to reach people searching on relevant topics. Further increase your reach and keep your content fresh by adding hashtags to past posts.
Photos Of You. Include relevant Photos Of You photos in your profile to embrace your customers as brand advocates. Also, tag customers in your photos to begin a dialogue by getting on their radar.
Related Stories:
You might also like
---
More from Instagram
---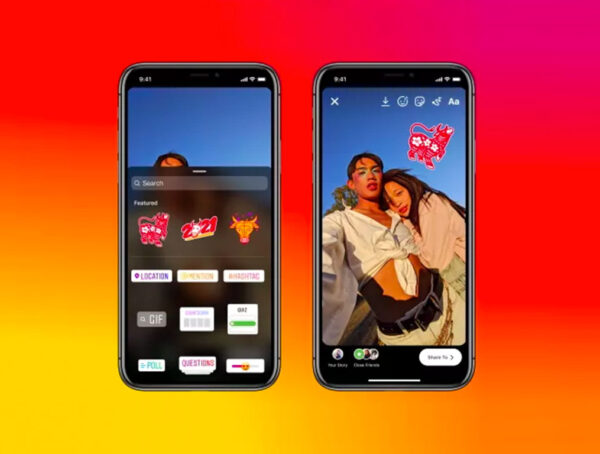 Instagram is celebrating the Lunar New Year with special stickers, an AR filter, and special appearances by Creators.