LinkedIn has announced that it is building a new Talent Insights tool to help recruiters better manager and recruit talent, by giving them access to rich data on talent pools and companies.
LinkedIn has been receiving thousands of requests from companies, for data that can best inform their talent decisions. They want to find out where to find the best talent, how their employer brand compares to other companies, or whether they are losing "critical skills to other companies." LinkedIn believes that "talent intelligence" is the part of the "next wave of recruiting," and is building a new tool called LinkedIn Talent Insights to give companies access to rich data.
LinkedIn Talent Insights, planned for launch in 2018, will be a self-service tool that will tap into the platform's wealth of data from over 11 million job listings and over 500 million members active on the platform. In the announcement for Talent Insights, Eric Owski, Head of Product at LinkedIn's Talent Insights and Talent Brand explains that the tool is meant to "provide a dynamic view on rapidly changing market conditions."
LinkedIn Talent Insights will give companies access to two types of reporting: the Talent Pool report, and the Company report.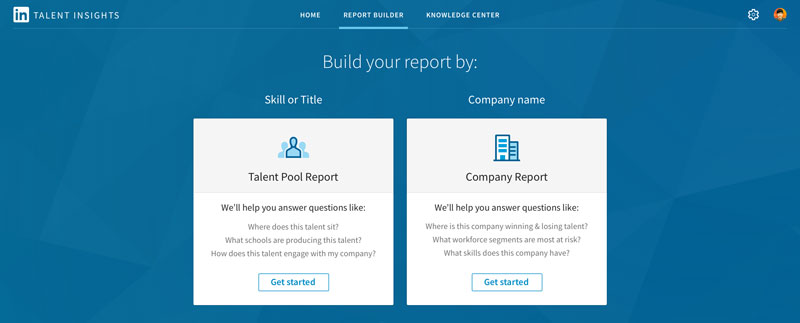 Talent Pool Report
Owski explains that the Talent Pool report, will help you "precisely define and understand specific populations of talent you're interested in," giving you "a clear picture of what you need to know to recruit and hire for those hard-to-fill roles."
Recruiters will be able to get information like where talent lives and what companies and industries they work in, how difficult it is to hire them, what schools are producing the talent they are interested in, as well as how this talent is actually engaging with their company.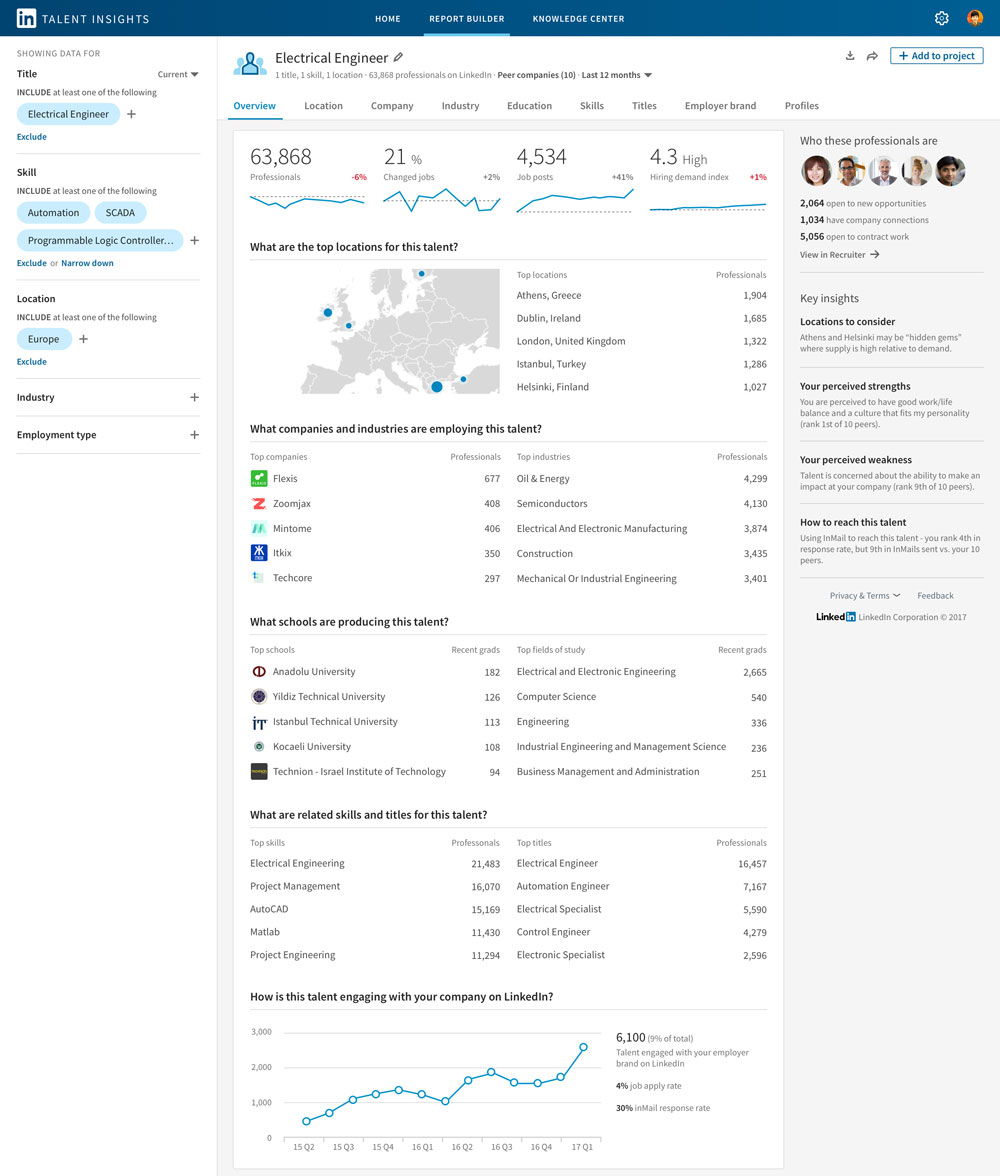 Company Report
The Company report allows recruiters to understand their company's talent, so that they can better attract and retain the right people. It also informs them on how to get better at what they do – including how to develop the right employment branding and recruiting strategies.
The report can provide information about,
– How a company's workforce is distributed by function and geography
– Where a company is gaining talent from and losing talent to
– Which skills at a company are growing the fastest
– What schools a company is hiring talent from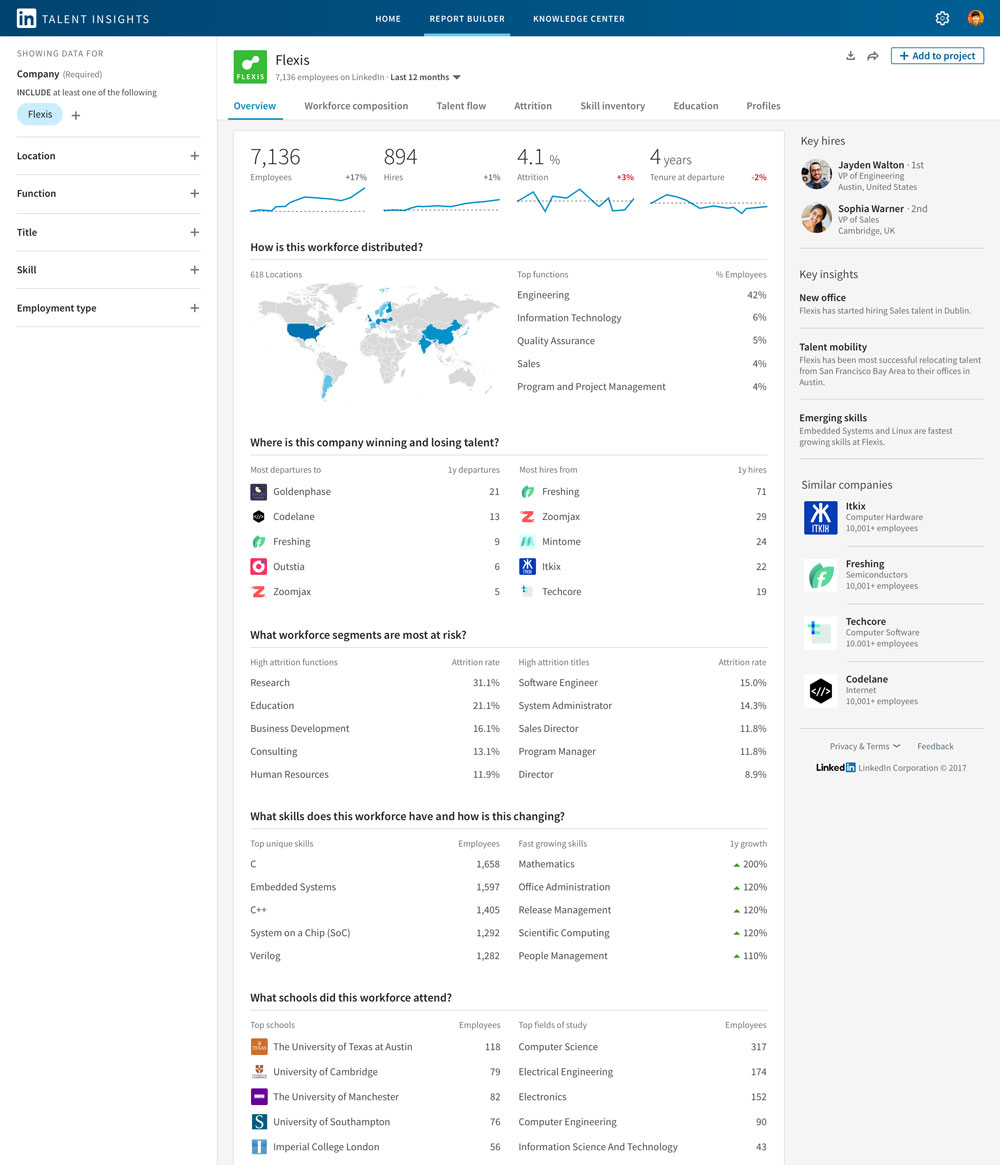 Additionally, recruiters will get tips on their recruiting strategy based on insights from the tool. For example, they can find out where there is a high supply of specific talent "relative to the demand."
All information in both reports will be presented in an easy-to-understand way, making all talent professionals feel right at home. Now, all we have to do is wait until LinkedIn launches the Talent Insights tool in the summer of 2018.
There's no doubt about it: LinkedIn is one of recruiters' top sources of talent and the main access point to data about potential hires. Access to data is a big part of any recruiter's arsenal, and without it, it's more difficult to plan for the future, measure performance, or make effective talent considerations on a daily basis. LinkedIn Talent Insights is a first step to give companies more data and insights to help them make better decisions.
---
You might also like
---
More from LinkedIn
---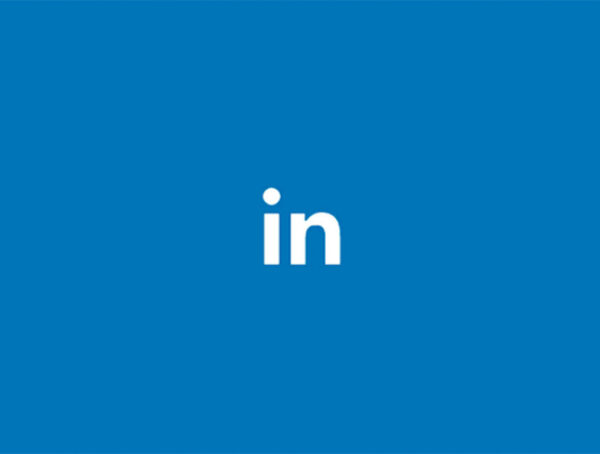 LinkedIn Marketing Solutions has announced the launch of LinkedIn Product Pages - a dedicated tab on company pages for products.