Klout has recently updated its platform and introduced us to brand new tabs that encourage you to create and share content through your Klout profile. Is this the start of a new era for online influence?
Klout is a tool that measures your influence on social networks, ranking you among other users on a scale from 1 to 100. Its ranking has been questioned a lot in the past, since you don't really know the secrets to a higher Klout score. As it seems, Joe Fernandez, the CEO of Klout, has decided to help users increase their Klout score by inviting them both to create and share content through its site.
According to a recent blog post by Klout:
[quote]People always ask us, "How can I raise my Klout Score?" While the math is complicated, the answer is simple: create great content.[/quote]
Klout has introduced 3 tabs, Create, Schedule, and Measure, in order to help you discover interesting articles, but also to improve the online distribution of your own content. Thus, it turns into a content aggregation tool, and reminds you once again the importance of being a good content curator nowadays.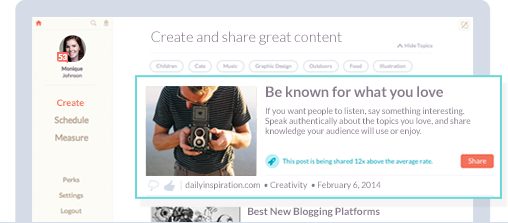 Since Klout measures your online influence, it knows that you're gradually improving in your area of expertise, which occurs by providing interesting content to your followers. And just like that, they decided to prove you that they're on your side in terms of social influence, by educating you on the new ways to increase your Klout score, before questioning their ranking algorithm along with the others.
We are expecting in the next weeks a set of tools and tips by Klout on how to improve your content and grab your followers' attention, which will ultimately increase your Klout score, but also your general online influence.
Even if you were skeptical up to now on Klout's algorithm, it now seems the right time to give it a try. Even if you don't mind about your ranking on the specific platform, its new way of content aggregation and distribution seems interesting and allows you to discover articles on the topics that you're most interested in.
Don't forget, it's all about content lately, both for your personal branding, and your business, which means that you can't ignore anything that might take your content marketing to the next level.
Is it time to try the #NewKlout then?
Related Stories:
You might also like
---
More from Other Platforms
---
Google Meet has a new feature that will help you save battery power by restricting data and decreasing the power …