Even cycling seems to be constantly exploiting women in a not so unfamiliar fashion – sexualising women… on a bike.
And I'm serious.  If you're not a cyclist, you would never actually know. A cheeky internet search, and boom! Perspective! I recently came across this article by bicycling.com introducing me to the 'trend's' humorous counterpart… Instagram account, @gravel_tryhard.
What started as an inside joke amongst cycling friends, the creator who chooses to remain anonymous launched the account on January 8 to pay homage to the trend in a different way… via parodies! And these humorous snaps are taking off – with the account amassing her nearly 4k followers organically, creating a fun community of cyclists!
Admittedly and ironically… the creator is not a social media whiz. Could have fooled us, because this prankster is killing it with content! And a quick search for 'women's cycling' on Instagram will give you a clear picture of the MASSES of content the creator has to work with – it's ludicrous. See how they're having some fun with it below.
https://www.instagram.com/p/BuxC-ZVAIA8/?utm_source=ig_web_copy_link
So what's the purpose of the channel? To inspire women to consider cycling through humour and relatable content, by showing women that cycling isn't JUST for guys. It isn't about looking 'cute' or working hard and getting muddy or conquering your limitations. It's about having fun and doing something you love.
And the creator admits, while female cyclists are aware of the outrageous depictions, and are saddened by the stereotype, they also have a laugh about it! Which is what inspired the satirical content.
https://www.instagram.com/p/Bu9uBOglP_b/?utm_source=ig_web_copy_link
They are not trying to offend anyone, and they're not directing anything more than humour at those pictured #bossbabes. They even tag those in the photos to ensure credit is given where credit is due.
So why call them #bossbabes if you are poking fun?
Because ultimately, the creator respects them:
"You can tell just looking at them that the majority have athletes' bodies. They're obviously working hard. It takes a hell of a lot of work, too, to get yourself made up like that, to create beautiful, curated, consistent lifestyle images. I am genuinely and sincerely impressed by it."
And perhaps the most heart-warming of all? The fact that this is a community that isn't offended. They want to laugh, and they do. With influencers joining the community, and having a laugh at their own expense – sparking a more positive reaction than a negative one.
https://www.instagram.com/p/BvPAQf_ARp0/?utm_source=ig_web_copy_link
But massive kudos to the creator for developing such an open, light-hearted and fun community on their own! This is a single person with the exception of the occasional extra hand needed for SOME photos. And they aren't afraid to shout about it because they find humour in the way they capture the content itself as well.
Let's be honest, who doesn't have a giggle when you see someone laying on the ground for the 'perfect' angle?!
Nonetheless, this creator is having fun with a community of like-minded people spilling humour into the most politically correct era on earth. And they certainly can teach us all a lot about crossing the line… gently through humour that does NOT offend!
---
You might also like
---
More from Social Fun
---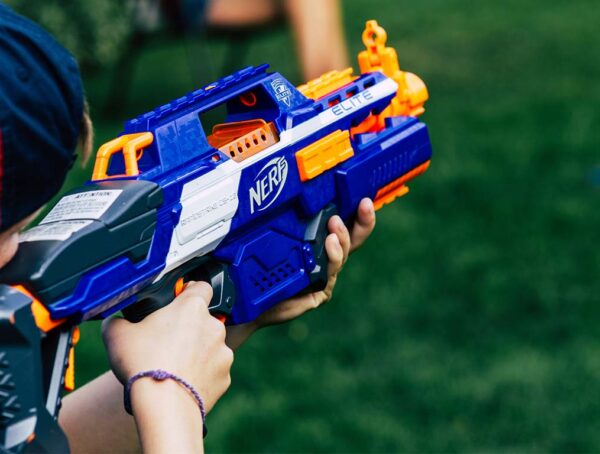 Most people have probably grown out of their Nerf obsession; if you haven't, you could become the new NERF Chief …