Your Newsfeed is an overloaded space. With Facebook continuing its ongoing takeover of the world, friends as well as businesses dive in every day, trying hard to grab your attention. But, while scanning my newsfeed the other day, I realized that I always see posts from the same group of people.
I know, Facebook wants to provide the best user experience and makes it easy to keep up with people that matter to you. But still, I have more than 600 friends and I see posts from a handful of them. Additionally, I also noticed that most of the posts on my newsfeed were from brands. Where are all the cool photos from my friends? Is my friend moving to another place? I want to see it!
I carried on scrolling down and I thought – Well, I need to fix this… because I can!
Even though most users let Edgerank do the gargantuan work of filtering posts, Facebook also gives you a number of tools to curate YOUR perfect newsfeed.
"I don't want to see this"
Out of the tens (or hundreds!) of updates we see every day, some of them we like while others literally clog our feed. In case you find an update that you don't want to see again, just go on the top right arrow and click on "I don't want to see this".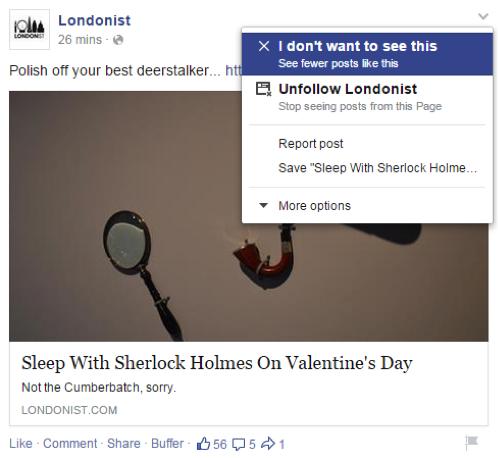 It will hide this particular post from your newsfeed, but Facebook also gives you the option to take the extra step:

You can either leave it as it is, or choose to see less post from the publisher. If the content is offensive, feel free to report.
Unfollow
Sometimes you're not interested in stuff some of your friends share on Facebook, but for personal or professional reasons, you simply can't afford to unfriend them. This is when the "Unfollow" option comes in. As the option puts it: you will stop seeing posts but stay friends. You can do the just the same with pages too!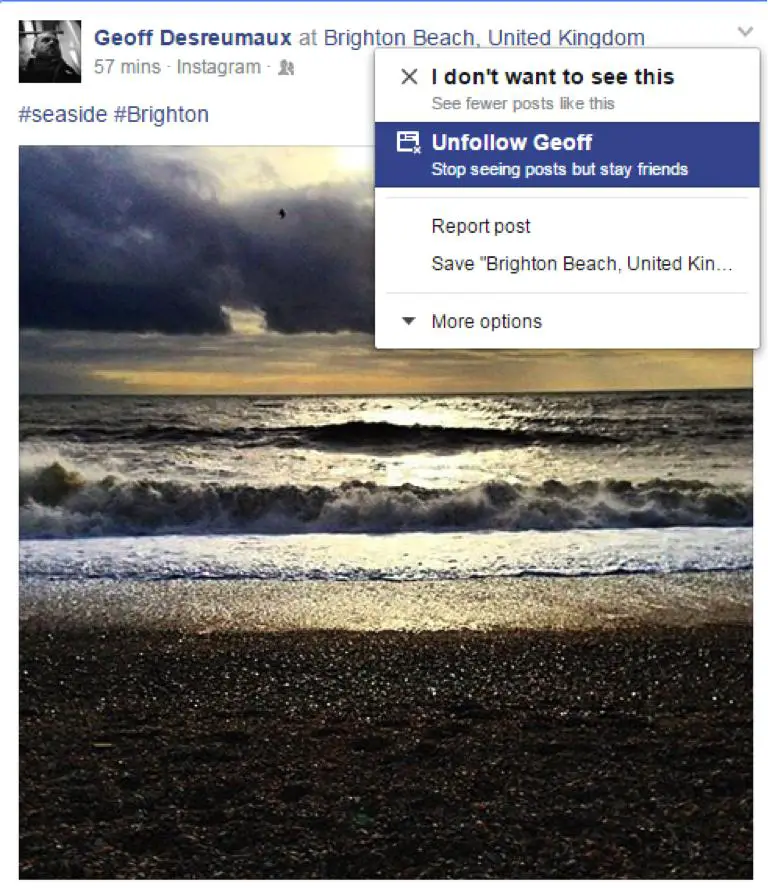 Take a Survey!
In order to disassociate ads from posts of your friends, you can easily take a survey to help Facebook distinguish what posts are promotional. Go on any post you see, click on 'More options' and take the survey.
15 entries will be showed to you, and you decide whether they are promotional or not.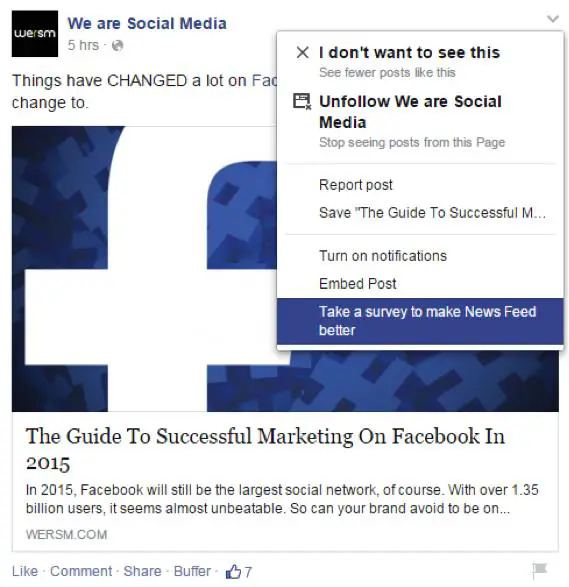 Move friends
This gem is a little-known tip – in fact, it's hidden a hidden tool and the only way to access it is via facebook.com/friends/organize.
Basically, it comes up with a list of friends you haven't recently interacted with. Pick the friends you want to see less from, and they will be moved to "acquaintances", narrowing the chance to see updates from them in your News Feed.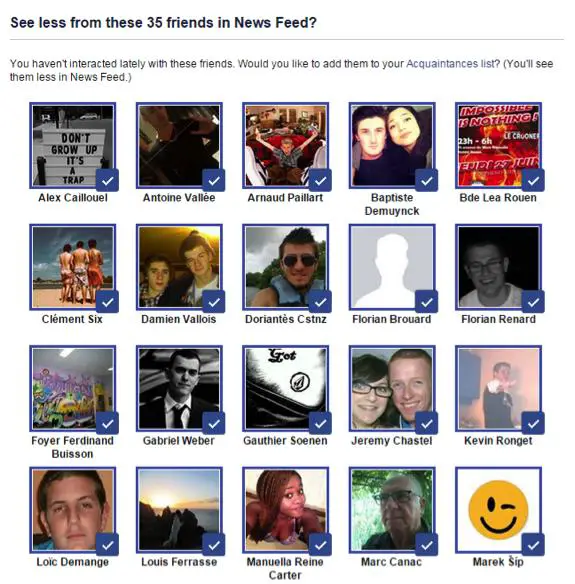 Ads
I hope you don't mind ads on social networks. In the foreseeable future, it's safe to say that they will take up more space, and with the help of (very) advanced targeting options, they'll be ever more tailored to your specific needs. Right now, the ads you see are based on:
– What Facebook knows: your gender, nationality, age, where you live and work etc.
– What you engage with: pages, type of updates, your best friends and so on.
Changing the type of ads you receive is super easy. Click on the little "x" on the right-hand column and hit "Why am I seeing this?".
Facebook will then tell you why you have been selected to see this ad, but if you click on "Manage your ad preferences", you will be presented with a generic list of interests you've liked, influencing what ads make it to your Facebook account. Feel free to remove or add a few Interests – it will impact the types of ads you see!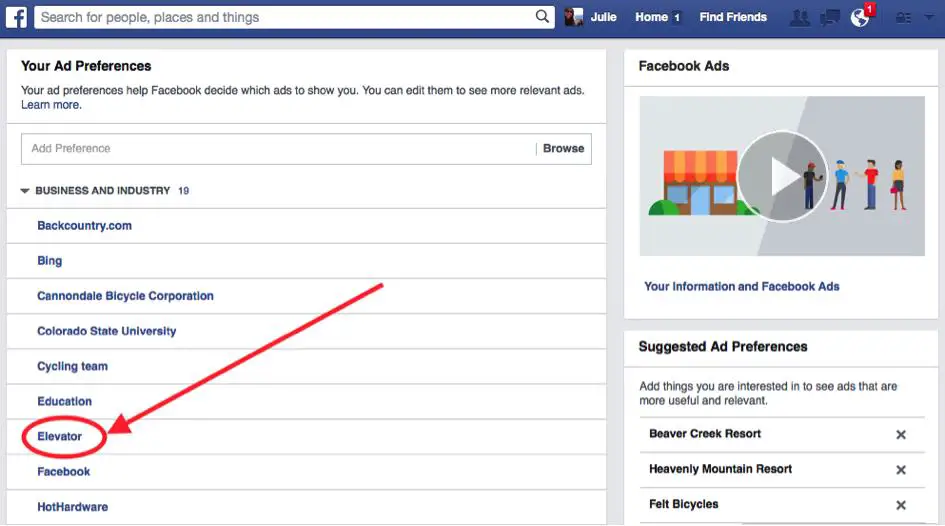 You're now fully geared up, folks. An Algorithm can't have it right. Make sure you give it a helping hand!
Related Stories:
You might also like
---
More from Facebook
---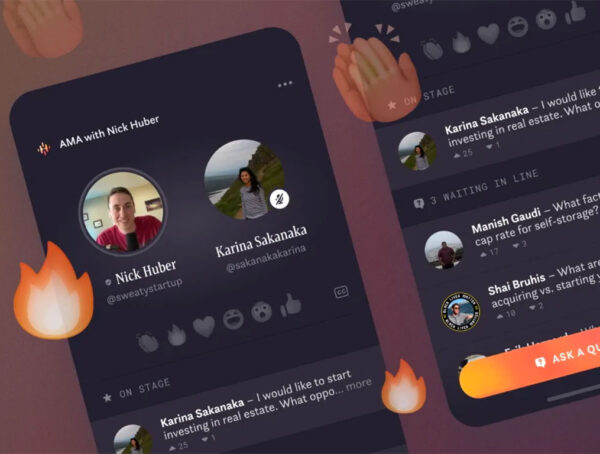 Facebook Hotline is a slightly different take on Clubhouse that puts more power in the hands of attendees who can …