Facebook advertisers should constantly strive to achieve better results for their campaigns. There are many tools out there to help optimise for success, but Journey reports in Facebook Analytics is a hidden gem that provides great insight into a customer's conversion path.
So, what are Journey reports? Found within your Facebook Business Manager, Journey reports help to visualise your customer's conversion path; the channels they started from and the ones they ended in, or the days it took for your audience to convert. The information found here can help you inform your Facebook ad strategy.
Getting Started With Journey Reports
Head over to your Business Manager and click on Analytics under the "Measure & report" menu. Next, click on the "Journeys" options on the left-hand side. If it's your first time using Journeys, you need to create an Event Source Group (you need to be an admin in Business Manager for this). This will allow you to see activity across your Facebook Page, Pixel, App, and any other channels that you might have.

How to create an Event Source Group for Journeys
Click on the Business Manager menu and select Analytics
In the top right-hand corner, choose the Facebook Page, Pixel, and any other data source you want your group to consist of (at least 2).
Click on the "Create Group" button and name your new Event Source Group.
Head over to the Journeys tab, and set up the desired variables you want to analyse. In this example, we'll use 7 days for the timeout period, and Purchase as the conversion event.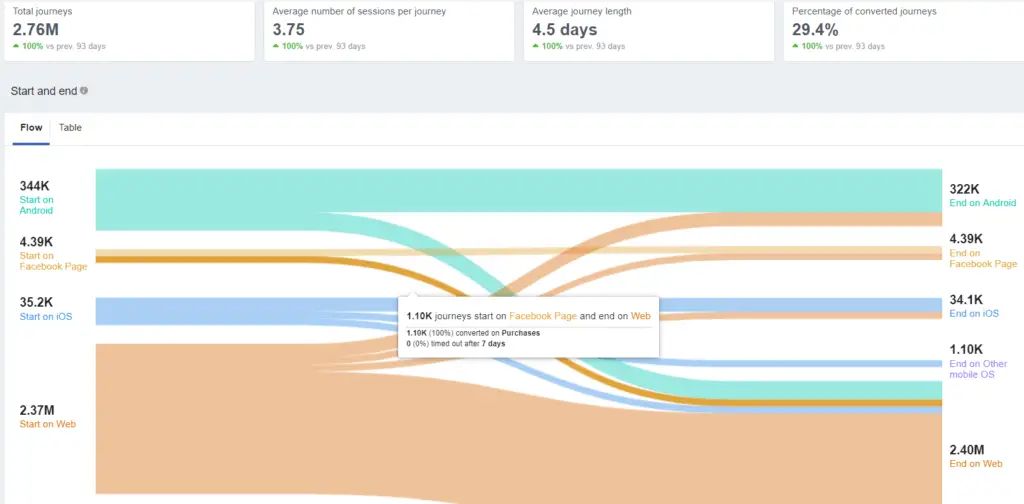 Once everything is set up, you will be able to see two types of Journeys; converting and non-converting. A converting Journey ends when someone performs a desired event (conversion) chosen by you (AddToCart, Purchase etc.) while a non-converting Journey ends when someone stops being active for a specific time period – also specified by you.
On the screenshot above, we have a total of 2.76 million journeys (converting and non-converting). On the top, you see key insights of the journeys such as sessions per journey, average length, and percentage of converted journeys.
Let's say that a new customer reviews your products on a mobile browser on June 1. On June 14, the customer returns to the web on mobile and downloads your mobile app. Then, they log in twice to your app during the day before they decide to buy. Finally, the purchase is completed at the end of the day on their laptop.
So far, your customer has completed 5 sessions – 2 on your mobile site, 2 on the mobile app, and 1 on a desktop browser. In total, the customer has completed 2 journeys – non-conversion and conversion. The first was a non-converting one because the customer did not buy within 7 days from the first session. The second was a converting-one because it led to purchase in less than 7 days.
In our example, you can see that a high number of non-conversion routes does not necessarily mean that something is wrong in your funnel, but it brings you closer to your customer's behaviour on Facebook. Journeys are just one of the ways to better understand your business.
What To Look For In Journey Reports
If it's your first time using this feature, you may feel overwhelmed by the wealth of information available. Here are the key things to look for when using this report:
The most common converting and non-converting routes: In the screenshot above, we see that only 1k out of the 4k journeys that started on our Facebook Page led to a purchase. Depending on your overall data, you may consider investigating what you can improve in order to increase conversions.
Which first interaction leads to the most purchases: Look at the data to find the start channel that brings in the most conversions and capitalise on that. You might find that the people who started on your Facebook Page convert better, so shift your strategy to focus on creating engaging content with a call-to-action to lead people to the website.
Using Journey reports helps you get the complete picture on your customers buying journey, see the channels you need to invest in, and the time they need before you convert. By tapping on these insights, you can improve your site and apps, and optimise your Facebook campaigns for success – faster and smarter.

---
You might also like
---
More from Experts Talk
---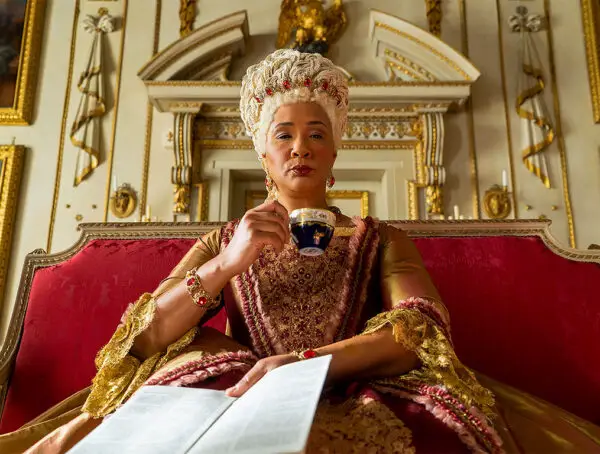 A new musical could soon come to life on TikTok, WhatsApp users are flocking to Signal and Fiverr will run …