In this article, we will look at how to use Facebook's Dynamic Language Optimization feature to run better international campaigns. 
Facebook's Dynamic Language Optimization (DLO for short) was introduced back in 2017 as a feature that helps advertisers customize their campaigns for international markets. The idea behind it is that a target audience will see an ad in a language that is more relevant to them. Advertisers can add up to 48 language variations to any single ad.
Let's look at how to set up international campaigns with Dynamic Language Optimization.
Limitations
The actual setup is very simple, but the most important thing to remember is that DLO is currently available only for the following objectives:
Reach
Brand Awareness
Video, Traffic (website)
App Installs
Conversions (website)
Also, the feature only works with the following ad types, currently:
Slideshow
Single video
Single image
DLO allows for one campaign, with one ad set and only one ad adapted for multiple languages. The Facebook algorithm will then adjust which language variants a user will see.
Setup
When your campaign is ready, navigate to the ad set level, choose the ad type and click on "Create In Different Language. Thus, your target audience will see an ad in a language that is more relevant to them"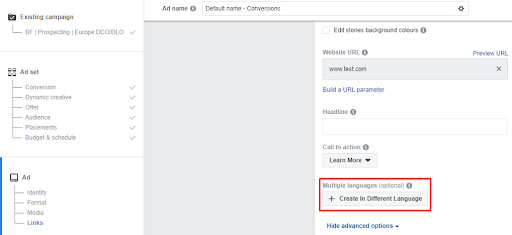 Facebook will always ask you to set a default language – this is the language that people will see the ad in if they use a different language that is not in your variations.
Next, add additional languages and creative elements.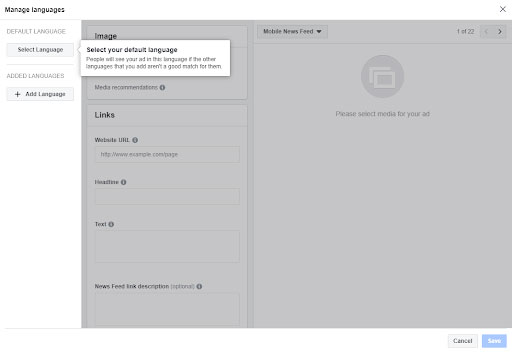 For each language, you must fill in the Visual, Copy, Headline, Newsfeed description and URL to the appropriate landing page on your website. Remember, that you're targeting people in their language, so you should probably be sending them to a landing page that matches it.
That's pretty much it!
To view the results, you can find them in Facebook Ads Manager or in Ads Reporting in Business Manager. You have to select "breakdowns by country" or "creative assets" to see which countries work best, and what people's reactions were to each visual.
Another option is to use Ads Reporting and create a graph. Click on "Create custom report" and then "Ads reporting." Reject breakdowns of campaigns, ad sets, and ads, as it's important to visualize the data for your entire account.
Then select performance breakdowns of countries within the selected date range. You can then export the table to Excel or CSV.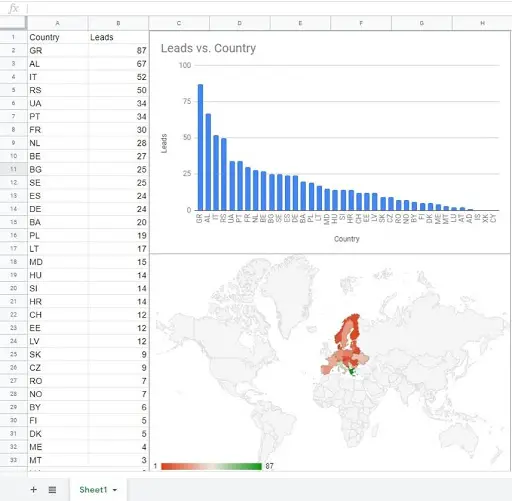 How effective is Dynamic Language Optimization compared to Dynamic Creative Optimization feature?
We recently conducted two tests to find out.
Test 1
In our first test, the objective was Conversions, the target group was both genders aged 18 to 65+ years, and the optimization was Lead (new user for the platform). The conversion window was set for seven days after clicking and one day after viewing. For targeting we used Interests, the placement was Automatic, the Attribution was set to default, and the test duration was 14 days.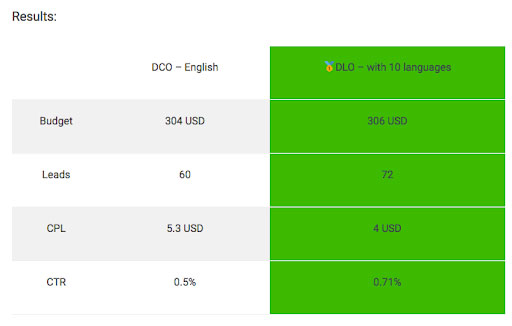 DLO campaigns generated 20% more leads, CPL was 25% cheaper at the same budget, and the audience showed more interest in the campaigns that were in the users' own language, rather than those that were in English.
Test 2
The second test was set up in the same way but used different Interests targeting. The DLO campaign generated twice as many leads compared to DCO at a 50% lower cost. Again, users preferred ads in their own language to those in English.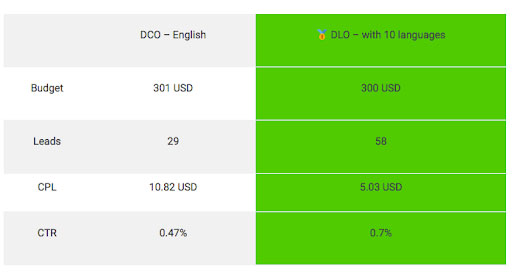 Have you tried DLO? How satisfied are you with your campaigns?

---
You might also like
---
More from Experts Talk
---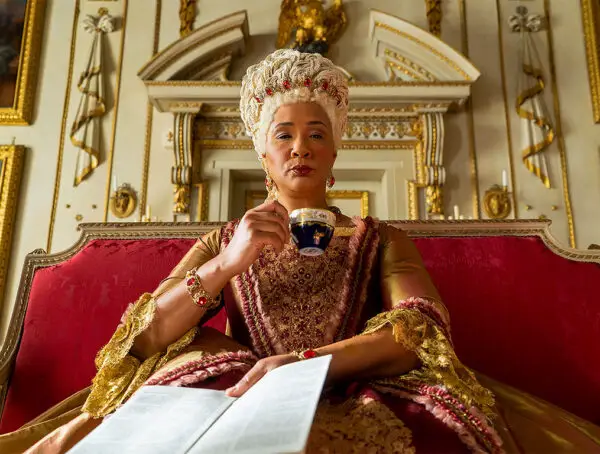 A new musical could soon come to life on TikTok, WhatsApp users are flocking to Signal and Fiverr will run …