Google this week rolled out new voices for its Google Assistant in 9 countries – the first time it's added secondary voice options outside the US.
One of the ways in which users can personalize their Google Assistant is to choose its voice. In the US, you can currently choose between 11 English voices. But as Google made Google Assistant in 30 different languages over the years, it created new voices for each. Now, for the first time, it's added secondary voice options for users outside the US.
A new voice is now available in Dutch, French, German, Italian, Japanese, Korean, and Norwegian; all available in their corresponding countries. New English voices will also be launched in both India and the UK. New Android phones across the above will feature random new and old default voices, but users can change them in their device settings after setting it up for the first time.
Google is rolling out the new voices to address the need for diversification of voice in smart assistants. At the moment, Google Assistant (and other voice assistants) launch with a traditional female voice.
And while Google's ultimate aim is to favor the genderless movement, these new voices will distinctively represent the male population, despite not coming with a gendered name or description.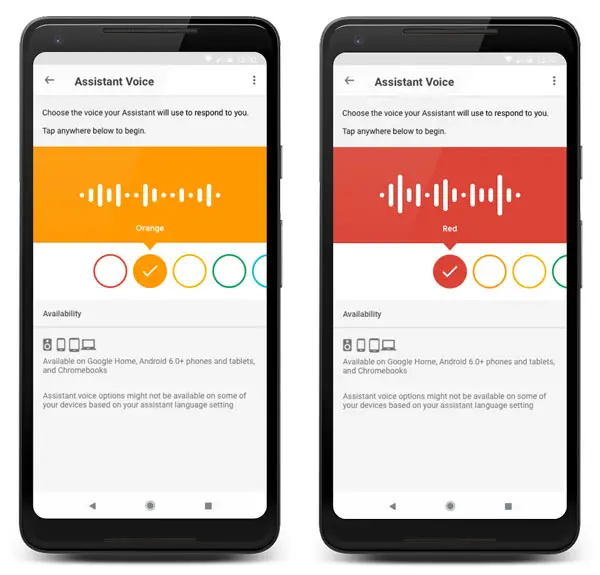 Instead, Google will refer to the voices by colors. For example, one will be "red," the other will be "yellow," and another will be "blue." To not sway the user to use one voice over another, the colors too will randomize. As Google explains in a recent announcement,
"We're also trying to help more people experiment with the different voices too. If you live in one of the countries that are getting a new voice, you'll notice that we randomly assign you a voice when you first set up your Assistant, giving you a 50/50 chance of getting one of two voices—either the 'red' voice or the 'orange' voice. "
That said, Google Assistant is not new to randomization. It randomized its presentation like this last year with Google's Google Nest and Home devices in the US with an already randomized default voice.
---
You might also like
---
More from Google
---
A new "Show Editors" option in Google Docs makes it easier to see who edited a particular bit of text, …