Google announced its new Allo messaging app during I/O earlier this year, and after much anticipation it is here! It's launch was announced for iOS and Android.  
By design, Allo is meant to be smart and made to keep conversations going. Google says ti "helps you say more and do more right in your chats". How does it do so? Well, for one it improves over time, learning from you and your habits. And it provides assistance right when you need it most.
The app features the ability to respond quickly in conversations with Smart Reply, "allowing you to keep the conversation going, even when you're on the go." Simply tap and send a quick response to a friend's question, instead of having to write a full reply. The feature will also suggests responses for photos. For example, a friend sends you a picture of their cat. You can reply with the suggested "aww cute". If you answer as you would, Allo actually learns from your replies.
Allo also offers users richer ways to express themselves. For example,
[quote]You can make emojis and text larger or smaller in size by simply dragging the "send" button up or down. Make photos your own by scribbling on them before you send.[/quote]
Google also worked with artists around the world to create many different sticker packs for users. Over 25 of them in fact.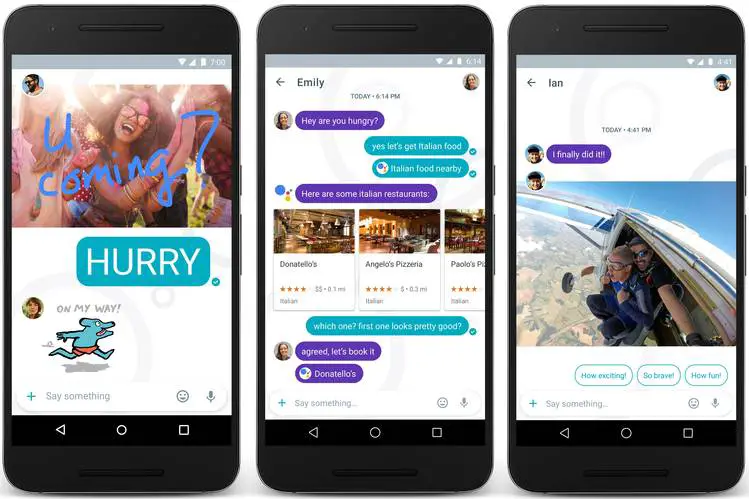 Additionally, Google Allo contains the "preview edition" of Google Assistant. You can have conversations with it, ask it questions and help you do things during your conversations. No need to leave the conversation to organise your social life, find an address, find a place to eat dinner, etc. All you have to do is type @google, to add the Assistant to any group chat. One-on-one conversations with your Assistant are also encouraged.
Finally, Allo is secure. Google takes your privacy seriously, and has created a mode called Incognito – just like on Chrome. Messages are end-to-end encrypted when you chat in Incognito. Incognito also brings discreet notifications and message expiration.
Google Allo is available to download for free on the iTunes App Store and Google Play within the next few days.
---
You might also like
---
More from Tech
---
The creator of the Nyan Cat meme has confirmed the sale of the digital artwork for 300 Ether (ETH) - …